Vehicle accidents are one of the leading causes of spinal cord injuries. In fact, more than 35% of new spinal cord injuries each year are from car or motorcycle accidents. In 2015, just after the second semester of his senior year of high school began, Mason Ellis was involved in a car accident that left him a quadriplegic. From the beginning, he refused to allow his injury to beat him. Instead, he has made it his focus to defeat his injury one day at a time.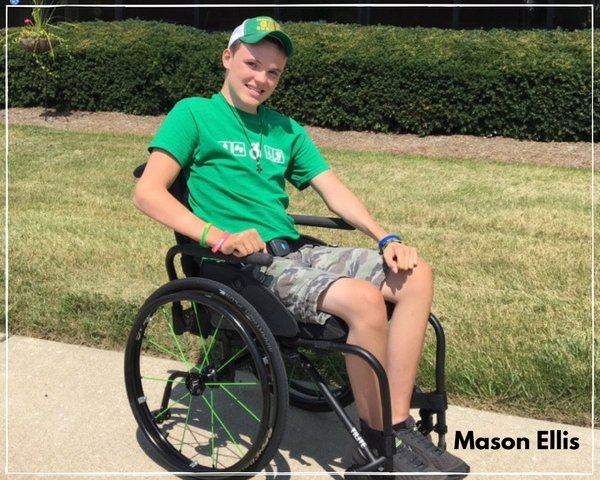 The Accident That Led to Mason's Injury
Mason couldn't have ever imagined that a fun night out with a friend driving along country roads in his home state of Indiana would lead to life in a wheelchair. After an unexpected four-way stop that dipped into a decline on loose gravel, his car went out of control. The car hit an embankment, ejecting Mason nearly a hundred feet away. While his car was totaled, Mason was still alive, against all odds.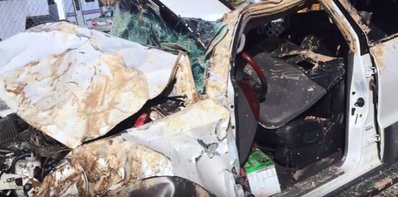 He was rushed to the hospital. However, doctors and nurses weren't sure he'd make it due to the extent of his injuries.
In the crash, Mason broke his left shin, left femur, left collarbone, top and bottom jaw, the palate in his mouth, and some of his teeth.
In addition, he cracked his skull and sustained a traumatic brain injury, and the fifth, sixth, and seventh cervical vertebrae in his neck were injured. He was now quadriplegic (C5, C6, C7).
Mason's Recovery and Rehabilitation
Mason recovered in the hospital for 30 days. However, finally, he transferred to the Rehabilitation Hospital of Indiana to start physical therapy, occupational therapy, and speech therapy (due to his brain injury). Also, he started learning how to gain independence again by eating and brushing his teeth on his own.
Although he looked forward to returning to his old routine when he got home from rehab, he realized that life as a quadriplegic was going to be far more of a challenge than anticipated.
Mason says, "I was clueless when I came home, and I didn't know anybody else who had my level of injury."
After a few visits from his therapists, Mason was left on his own. Now, he had to learn how to maneuver in the world as a newly paralyzed young man.
Finding the Right Catheter After Spinal Cord Injury
On top of navigating life in a wheelchair, he also had to become responsible for his own catheterization routine. Mason was introduced to 180 Medical through his rehabilitation hospital, and once he discovered an intermittent catheter that worked well for his limited hand dexterity, he began to feel more confident about self-cathing.
Mason says, "I have to say the MTG EZ-Gripper really helps in preventing UTIs for me. It's a closed system, so you don't have to touch the tubing. Plus, it has an introducer tip to bypass bacteria in the urethra."
Making a Positive Impact
Sharing Knowledge Through Videos
As time went on, Mason says, "I hadn't really figured out how to do many things post-injury." Left with few options for information on how to complete tasks as a quadriplegic, such as daily strength exercises and getting dressed independently, he began scouring the internet for helpful resources.
Unfortunately, his search came up short. The few videos he found weren't quite what he was looking for. He knew other people with spinal cord injuries might also be searching for the same information.
Mason wanted to share his experience and the tips he'd learned along the way. That's when he decided he would take matters into his own hands. He would use his experience to create new video content to share on his YouTube channel.
Soon, he started to hear from other people with spinal cord injuries who wanted to let him know how helpful his videos were. Family, friends, and loved ones of those living with spinal cord injuries also gave him positive feedback. To his surprise, he even heard from doctors, caregivers, therapists, and students learning about quadriplegia in medical school.
Every day, more and more people discover the multitude of helpful videos Mason has personally worked so hard to create. He's looking forward to continuing to develop his channel to connect with others.
Some of Mason's most popular videos include:
Peer Mentoring Others with Spinal Cord Injuries
"People say I came a long way based on everything I broke. I haven't had many complications, and I feel really thankful for that," Mason says. Quadriplegics often face complications such as pressure sores and urinary tract infections. Knowing this, Mason wanted to do what he could to help them.
He is now a certified Christopher and Dana Reeve Foundation peer mentor, and he visits his old rehab to talk with recently injured patients before they are discharged to go back home.
During these mentoring sessions, Mason likes to share some of what he's learned, such as:
maintaining and gaining strength
proper hygiene
products that have helped him
staying mindful of the importance of doing pressure reliefs to minimize the risk of pressure sores
I'm passionate about peer mentoring, because [my injury] really affected my life. I like to try and help out the community.
Staying Active & Meeting New People
Mason is more physically active now than he was before his injury. "I feel like I took being able-bodied for granted," he says, "So I never tried. Now, this is like proving to myself that I can do it and proving to others they're wrong if they say I can't do it." Some of the things he loves to do are hunt, fish, and ride in his adaptive UTV to visit friends and roam around the town where he lives.
One place he loves to visit in the summer is a local camp in Indiana for disabled adults, ages 18-35, who have conditions like spina bifida, muscular dystrophy, and spinal cord injuries. At Camp PossAbility, young adults get the opportunity to meet and befriend others like them and participate in fun outdoor adventures like adaptive horseback riding, swimming, kayaking, zip-lining, and more. Mason learned about the camp when someone reached out to him about it through his YouTube channel.
He was also able to connect with the creator of Able Outdoors Magazine, and now Mason is a contributing columnist for the magazine. He writes about some of his experiences with hunting and other fun adaptive outdoor activities.
When he mentors others, he likes to talk about some of these hobbies. This helps let them know that life isn't over just because of their spinal cord injury.
Looking Forward to Whatever Comes Next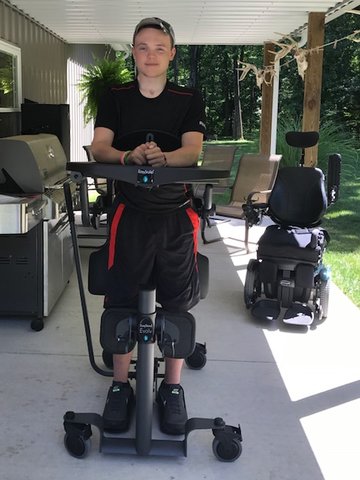 Outside of his growing YouTube channel, Mason keeps busy with college courses in Information Technology, and he hopes to have his car adapted so he can start driving again. He just wants to keep moving forward.
I think it feels good to beat your injuries. It took me a while to figure everything out, but I like to say that I beat my injury when I learn certain tasks. I don't want the injury beating me.
Mason has already positively affected hundreds of lives. We're sure he's going to go on to do many more great things and continue impacting others in significant ways.