Proper peristomal skincare is essential for everyday life for people living with ostomies. That's where the new line of Convatec ESENTA™ ostomy care supplies comes in. We're excited to share these new ostomy skincare options, which may help enhance your pouching routine and overall quality of life.
All About ESENTA™ Ostomy Skin Care Products
Convatec's new ESENTA™ ostomy care products combine the skin-friendly results of the discontinued line of Sensi-Care™ products with a brand-new redesign for discretion, portability, and simplicity.
ESENTA™ products offer sting-free, silicone-based skin protection and adhesive removal. Plus, they're available in both wipes and spray bottle options.
Learn more about each option and how they can benefit you below!
First, you might wonder: why should I use a skin barrier product? Ostomy pouches and the ostomy wafer have to adhere to the skin around the stoma in order to collect waste. However, some adhesives can irritate the peristomal skin, especially with frequent pouch removals.
The ESENTA™ Sting-Free Skin Barrier, available in wipes or spray, creates a barrier between the adhesives from your pouching system and your healthy skin. This helps reduce the risk of damage and skin irritation, and it protects the skin for up to 72 hours.
Silicone-based formula
Protects skin for up to 72 hours
Reduces risk of skin damage and irritation
Safe and effective even with frequent use
Great for ostomates with sensitive skin or easily irritated skin
Made without natural rubber latex
Contact Us to Get Started
Adhesive residue doesn't just irritate the skin. It can also build up over time if it's not properly removed. This can lead to ill-fitting pouching appliances that become harder and harder to fully stick to the skin, resulting in ostomy pouch leakage.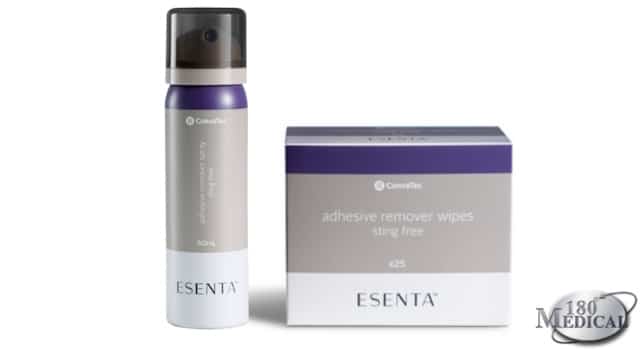 The new ESENTA™ Sting-Free Adhesive Remover, also available in wipes or spray, is a skin-friendly way to eliminate leftover adhesive residue between pouch changes. Its gentle silicone-based formula is easy on your skin, leaving it silky and smooth while removing adhesive.
Silicone-based formula
Quickly removes all adhesive residue
Reduces the possibility of skin damage
Skin-friendly
Made without natural rubber latex
Contact Us To Learn More
Available ESENTA™ Products at 180 Medical
ESENTA™ Skin Barrier Wipes and Spray Bottles
| | |
| --- | --- |
| Product Number | Size |
| 423392 | Wipes (25 per pack) |
| 423286 | Pump Spray (28 mL) |
| 423288 | Spray (50mL) |
ESENTA™ Adhesive Remover Wipes and Spray Bottles
| | |
| --- | --- |
| Product Number | Size |
| 423391 | Wipes (25 per pack) |
| 423289 | Spray (50mL) |
Where to Buy ESENTA™ Ostomy Care Supplies
180 Medical aims to provide a wide range of top-quality ostomy supplies and accessories, including Convatec's ESENTA™ ostomy care products.
We're an insurance-based provider of ostomy products. We're contracted with a vast and continually growing number of insurance networks, including Medicare, state Medicaid plans, and private insurance plans like Blue Cross Blue Shield, United Healthcare, and more.
You can get your ostomy supply needs fully handled while also getting world-class, personalized service from our caring Ostomy Specialists.
Contact us today to learn more, try a free sample, or get started on your first order.