Convatec Ostomy Supplies
---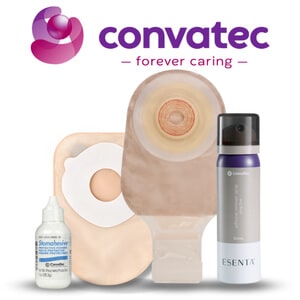 Convatec is a global manufacturer of medical products, which includes wound care supplies, ostomy supplies, and intermittent catheters. For decades, this company's goal has been to create product solutions to improve the quality of people's lives.
Convatec's continually innovative ostomy product solutions work to address actual ostomates' needs and preferences. For example, Convatec has a vast range of ostomy supplies that include popular offerings such as reliable leak-proof ostomy bags available in both one-piece and two-piece options, moldable ostomy wafers for a customized fit, and even Little Ones™ pediatric ostomy bags.
180 Medical proudly offers Convatec's entire line of insurance-covered ostomy supplies. Our Ostomy Specialists look forward to helping you navigate the wide selection of ostomy supplies available. Let us help turn your life around with high-quality ostomy products and the best customer service experience in the industry.
Contact us today to get started in finding out more about Convatec brand ostomy supplies and ostomy accessories.
Popular Convatec Ostomy Products
These are just a few of the many well-loved ostomy supplies by Convatec that we offer at 180 Medical.
View All Convatec Ostomy Supplies
Convatec Ostomy Supplies with Moldable Technology™
Moldable Technology™ is Convatec's solution to many common ostomy issues that people living with ostomies face. Some people have difficulty cutting trim-to-fit skin barriers, while others often find that pre-cut wafers don't always provide an optimal fit for their unique stoma. Plus, one of the most common issues facing ostomates is leakage.
When you use a skin barrier or another Convatec ostomy product with Moldable Technology™, you'll find it's super easy to use your fingers and thumbs to mold and shape the product to fit your stoma. Plus, it features unique additional benefits like no other, such as the patented Leak-Lock™ system, which swells on contact with liquid output. This helps reduce ostomy leakage.
Below are just a few of the many Convatec ostomy products with Moldable Technology™ available at 180 Medical.
What Customers Are Saying About 180 Medical:

ActiveLife by Convatec is a lightweight and flexible but reliable ostomy system that integrates its skin barrier with the pouch into an easy one-piece ostomy pouch. If you live an active lifestyle and want a discreet one-piece ostomy pouch, you may find what you need in our selection. For instance, Convatec ostomy supplies in the ActiveLife line include one-piece ileostomy bags, one-piece colostomy bags, closed pouches, stoma caps, and urostomy bags as well.
Convatec's SUR-FIT Natura® Ostomy Supplies offers a traditional but reliable two-piece ostomy system with options including cut-to-fit accordion flanges as well as the advantage and convenience of Convatec Moldable Technology™ skin barriers. Moldable Technology™ skin barriers give you an easier way to fit your stoma with no scissors or confusing sizing charts. Additionally, moldable ostomy wafers conform to your body's natural contours and hug it securely for a leak-proof, comfortable fit.
You'll find a wide variety of options in this line of Convatec ostomy supplies. For example, 180 Medical carries SUR-FIT Natura® two-piece closed-end pouches, two-piece disposable colostomy pouches, cut-to-fit or Moldable skin barriers with accordion flanges, convex ostomy inserts, two-piece urostomy pouches, and many more options.
Does your little one have a colostomy, urostomy, or ileostomy? Convatec ostomy supplies aren't limited to just adults. In fact, 180 Medical carries Convatec's entire line of pediatric ostomy supplies for kids.
From Convatec one-piece or two-piece ostomy pouches for children to skin barriers, we have it all.
180 Medical carries the entire line of Convatec ostomy products. Whether you have a colostomy, ileostomy, or urostomy, we have your needs covered.
First, check out our online ostomy product catalog. Next, give us a call or contact us online. Our Ostomy Specialists are highly trained, and many of them have years of experience in helping our customers find ostomy product solutions for their unique needs.
By choosing 180 Medical for your ostomy supply orders, you get access to a team of certified WOCNs (Wound, Ostomy, and Continence Nurses). Do you have questions about your stoma or your peristomal skin health? Are you dealing with skin irritation, leakage, or other problems with your ostomy? A WOCN can give you medical advice and troubleshoot any issues you may be having.
This is just part of the incredible customer service experience 180 Medical offers with our quality medical supplies, including Convatec ostomy supplies and intermittent catheters.
Our goal is to turn your life around!