If you live with a colostomy or an ileostomy, it's not uncommon to have concerns about your ostomy pouch odor. The new ESENTA™ Lubricating Deodorant is designed to stop odors while lubricating your pouch. Find out more details about this ostomy deodorant, including its beneficial features, directions for how to use lubricating deodorant, and much more!
All About ESENTA™ Lubricating Deodorant Spray
Convatec's new ESENTA™ ostomy pouch deodorant helps you live a more carefree life with an ostomy and avoid some common ostomy issues that happen, such as ostomy bag odors.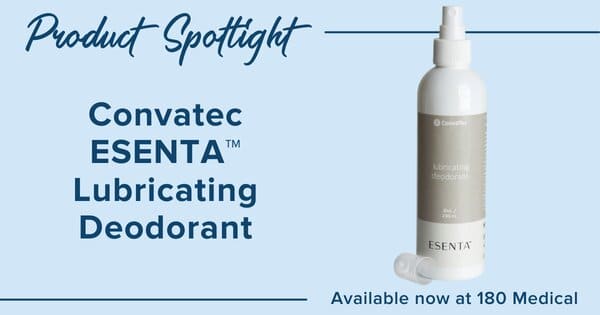 Request Free Sample
Convatec designed their ostomy lubricating deodorizer to be a dual-action product for odor control and pouch lubrication.
The lubricating spray helps to coat your colostomy or ileostomy pouch. This helps prevent stool buildup (pancaking) around the stoma, which can compromise the seal and cause ostomy pouch leakage.
You can apply it in both drainable and closed-end ileostomy and colostomy pouches.
Features of ESENTA™ Lubricating Deodorant
Stop ostomy odor before it starts with this ostomy deodorant. Here are some of the key features to know.
Controls and stops odor with natural ingredients (natural eucalyptus, pine oil, and lavender)
Easy-to-use pump spray bottle
68 applications per bottle (using 3 sprays per application)
Lubricates pouch to prevent pancaking
Suitable for those with a colostomy or ileostomy
Ingredients of ESENTA™ Lubricating Deodorant
What are the ingredients in Convatec lubricating deodorant for ostomy pouches? It's made with natural eucalyptus, lavender, pine oils, and other natural ingredients to feel fresh and confident without artificial smells or unwanted chemicals.
How to Use ESENTA™ Ostomy Deodorant Spray
So how do you use Convatec ESENTA™ lubricating deodorant for ostomy pouches? Start neutralizing your pouch odor and make it easier to empty your pouch in just a few easy steps.
Here are some helpful instructions for using Convatec ostomy deodorant.
Gather everything you need for your usual ostomy pouching process, including your ostomy bag deodorant.
Take the cap off the spray bottle and apply at least three (3) sprays directly inside the ostomy pouch (drainable or closed).
Make sure NOT to apply the spray to your skin or your ostomy skin barrier, as this may interfere with the proper adhesion of your pouching system.
Apply your pouch as normal and start living your life more confidently!
Where to Buy Convatec ESENTA™ Lubricating Pouch Deodorant
180 Medical is proud to provide high-quality Convatec ostomy supplies. Our Ostomy Specialists are knowledgeable on all available ostomy supplies, and we can help customize your ostomy order to suit your unique needs.
Contact us today to learn more, try a free sample, or get started on your first order.