Last fall, we announced the 2017 180 Medical College Scholarship recipients. Today, we'd love for you to meet Heidi, a Disabilities Advocate.
Heidi is an Educator and Disabilities Advocate
While Heidi goes to school, she works as an Adult Basic Educator. Through her job, she helps adults improve their basic skills in math, reading, and even with American Sign Language.
Heidi is a deaf and disabled Disabilities Advocate. She helps other adults and children living with disabilities. She uses dolls that have been fitted with MIC-KEY buttons (a low-profile feeding tube) and colostomy stomas in order to help familiarize children who may be new to living with a feeding tube or an ostomy.
But if you had asked her twenty years ago what she would be doing with her life, she would never have imagined that things would turn out quite the way they have.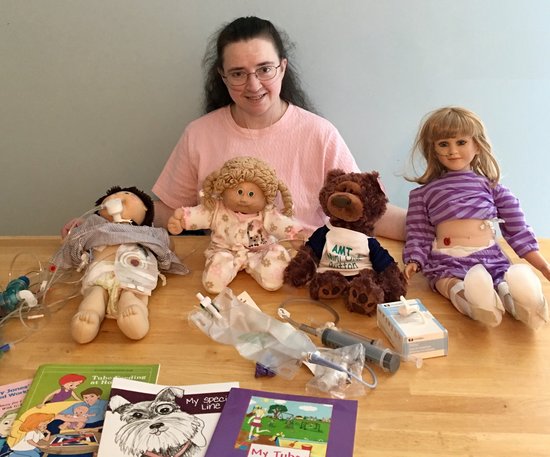 Unexpected Illness & Loss Changed Everything
Before Heidi started on her current career path, she earned degrees in Nursing as well as Music Education. For many years, she worked as a Developmental Nurse Educator.
Heidi says, "I provided families with the tools necessary to gently shape their precious children's global development, while also sharing in the celebration of successes, comforting them in times of grief, acknowledging their fears, validating their hopes, and empowering them to advocate for their children." Her profession, at the time, truly fed her soul and allowed her to use her experiences, education, and gifts in helping others.
But then, everything changed. Originally, Heidi had been diagnosed with MS (Multiple Sclerosis) for many years. Then she found out that the original diagnosis was incorrect; she had inherited Mitochondrial Myopathy.
Mitochondrial Myopathy, according to the Muscular Dystrophy Association, affects the cells of the body and can cause "both muscular and neurological effects" like:
Weakened muscles
Hearing loss / deafness
Balance issues
Seizures
Learning deficits
Around this time, her youngest child tragically passed away due to severe neurological disease. Then Heidi had to battle a form of drug-resistant pneumonia that caused multiple complications, and she entered hospice care.
However, Heidi says, "I had more work to do."
Using Her Experience to Help Others
To everyone's astonishment, including her doctors, Heidi worked hard to get her strength back. She made it through her illness and eventually returned to school to major in Deaf Studies.
Soon after, Heidi began working as an Adult Basic Educator. She tutored students "disadvantaged by disability, poverty, and inadequate social and educational support."
Today, Heidi is working toward earning her Master's degree in Higher Education, and she hopes to create a more accessible educational program for these students.
It's truly amazing to see someone who has gone through so much and is still so eager to keep moving forward and aid other people in need of a helping hand.
We wish Heidi the best of luck and blessings as she moves forward with her career plans and continues to use her personal experience to comfort those living with disabilities or families dealing with losses of their own.
About the 180 Medical Scholarship
We understand that college isn't easy to afford for many students, and it can be especially difficult for those living with conditions like spinal cord injuries, spina bifida, transverse myelitis, neurogenic bladder, and/or an ostomy (ileostomy, urostomy, or colostomy). That's why 180 Medical established a scholarship program to help those students who are determined to achieve their dreams.
Currently through June 1, 2018, 180 Medical is accepting applications for our 2018 scholarship program. You can find full information, eligibility requirements, and download an application at www.180medical.com/scholarships.