As the coronavirus pandemic continues in the fall of 2020, many of us are facing new issues we've never faced before. With many schools staying closed, reducing hours, or moving to online learning, parents and caregivers like me are trying to plan and figure out the best way to make sure our children get the best education while also keeping them safe. If you're a parent living with a spinal cord injury or another disability, you may face even more of a challenge. We need to be diligent in protecting our health now more than ever.
However, I believe we can all learn together from this moment. I'm sharing some of the tips and helpful resources I've found about distance learning from home, homeschooling, and more for parents with a disability.
Making the Decision to Homeschool
First, let me tell you a bit about what led me to the decision to keep Jamie, my youngest son, at home for distance learning in the upcoming school year.
Before the pandemic, I spent most of the day taking care of myself, as a woman with a spinal cord injury as well as Myasthenia Gravis. Due to my disability, I require a lot of care, including doctor's appointments, regular blood infusions, and resting. That doesn't include all the self-care that's involved when living with a spinal cord injury and paralysis. It takes me almost 2 hours to get ready every morning.
Nonetheless, once the pandemic began in March, I had more responsibilities. In order to help Jamie finish the remainder of his year in the third grade, I spent a lot of time sitting with him and helping him navigate the technology of remote learning. While I've always been able to help him with school projects, homework, and tutoring on trouble areas, I am not a trained teacher. So needless to say, I was a bit anxious.
However, when we finally received his final report card ending third grade, there was much relief, but it didn't help my anxiety. From the news and the CDC (Center for Disease Control), I had a strong feeling that I would have to homeschool Jamie again in the fall or until a vaccine becomes available. I knew if Jamie went to school, he could likely catch the virus and bring it home.
What would happen if I got hospitalized? Who would look after my children in the midst of a global pandemic? Who would pay all the medical bills if we all got sick?
Summer break meant that Jamie could just relax, have time to play his Nintendo games, and watch some television. Considering that he couldn't see many of his friends, I made it my mission that he will not feel negatively impacted by our current circumstances. Even though things are far from normal, I did what I could to keep our home life as normal as possible while staying quarantined. So Jamie got to enjoy being a kid, and I took this time to research everything I could find. Here are some of the homeschool tips and resources I've found for parents with a spinal cord injury.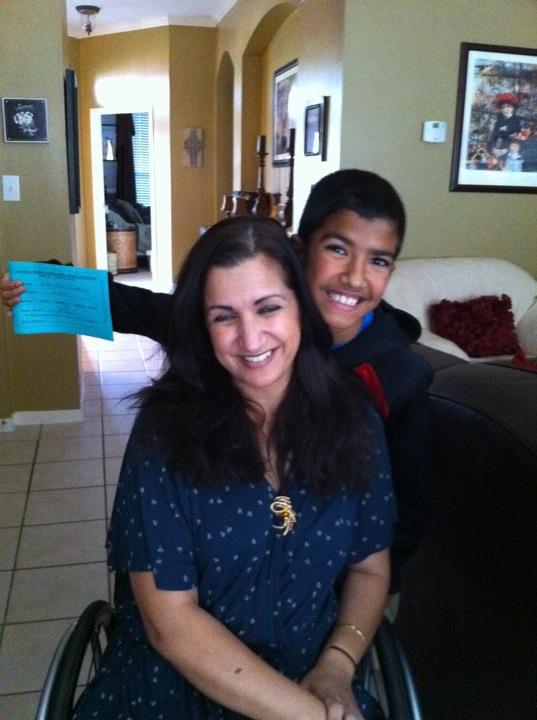 Options for Distance Learning and Homeschooling
First, let's go over the options for learning at home for your child.
If your child is already attending a local public school, there may be an option for online learning. Check with the school to see if they provide laptops or other necessary equipment for learning from home if this is an option.
Online public school is also an option, and you won't have to pay any fees for your child to attend classes.
Online private schools may cost more, but they will provide all the necessary learning materials and curriculum, and your child will have access to a teacher during the day if they have trouble completing their work.
Traditional homeschooling will involve you or a private tutor taking on the role of a learning coach for your child, so you would be responsible for making sure your child is working on all the core subjects for their age and grade level.
Homeschool Tips for Parents with a Spinal Cord Injury
I started talking to other moms I knew who were also living with a disability and had been homeschooling their children since before the pandemic began. When it came to their disability, they adapted and conquered as if it was another barrier they had to break. This gave me much comfort to know I can do this too.
Here are some of the tips I've learned about homeschooling as a parent with a spinal cord injury.
1. Create a schedule and stick to it.
I have heard this more than once from the other parents I spoke to. To maintain a sense of security and normalcy, it's a good idea to schedule the hours of your child's as well as your own.
2. Start out your day alone.
As a parent with a disability, you still need to make time for yourself. Try to get up early before your child and take some time to reflect on your day. Have a morning breakfast by yourself or with your spouse and prepare for the day. Think about how you would like to see your day progress. You can even meditate or pray.
3. Create a workspace for your child's school day.
Your child needs an area for learning at home that they can call their own. Set up a desk in an area of your home where you can keep their computer and supplies. You can make this into an adventure rather than a task by having your child help you organize and decorate it. Let them make it their own special space.
Whether you choose traditional homeschooling or online private or public school, your child will have a daily or weekly lesson plan. Make sure to tack that to the wall where your child's desk will be or hang it on the fridge. Make sure they know they've got to stick to that schedule and that they can come to you if they have trouble with anything. Be sure to find out how your child's school plans for standardized testing too.
4. Make learning fun.
Make sure your child gets to still have some fun and enjoy what they're being taught. You might want to get a library card to check out some helpful local resources. Consider checking out some educational smartphone apps, online games that can help assist with the learning process. Also, since you're going to be staying home, take some fun virtual field trips together.
I include some links in the Resources section below.
5. Carve out some family time outside of the school schedule.
With bringing school and work home during this time, it's important to still make your house feel like a home. With not being able to leave the house or have many people come over, you may be cooking and cleaning more often too. You can make these chores a fun family event in the evenings after your child finishes their schoolwork.
At my home, we've been coming together as a family to clean and cook. I taught my youngest how to make his breakfast and lunch. We even took on a fun DIY project and painted our kitchen cabinets together.
While this may seem irrelevant, I think it's fundamentally important and not just for maintaining a sense of normalcy. Our children are learning that they don't have to find happiness by going out every day, having big birthday parties, or going on vacations. As a person with a disability, this is something I appreciate seeing them learn since that's a coping skill that I'm very familiar with by now.
Throughout our time at home, we have learned so much about compassion for others. In addition, we have learned so much about culture, race, and acceptance by paying attention to current events in America. I believe these life experiences are just as important as formal education. This is what helps children grow into well-rounded adults. From this unique time in life, they will figure out what they can offer in terms of solutions to future generations. After all, our children are our future.
6. Lastly, give some grace.
This is my favorite tip of all. This means to honor this time and space you have with your children. This year has given you extra time that you normally wouldn't get to have. Use this time to talk to your children and learn more about them. Let them know more about you too as a person.
Give yourself some grace too. As a parent with a disability, homeschooling may be tiring at times. However, just remember that you are already equipped with inner strength and perseverance. Remind yourself that this time will go quickly, and before you know it, they'll be all grown up.
Resources for Homeschool & Distance Learning
The Homeschool Mom has a ton of resources I've found helpful, including homeschooling styles, state resources, standardized test preps, and more.
Connections Academy will help you find a tuition-free online public school in your state, or you can learn more about online private schools at K12.
Librivox offers free public domain audiobooks, which can be fun for both you and your child to listen to in the evenings while making dinner or completing chores. Not only will you likely find some books on your child's curriculum, but you may also find a new favorite story.
Libby is a fantastic smartphone app where you can borrow and read ebooks and audiobooks from your local public library for free. This is a great way to encourage your child to read at any age without spending any extra money.
Million Mile Secrets has a comprehensive guide of free virtual field trip activities for kids that can stimulate them socially and educationally.
Duolingo isn't just for adults wanting to learn another language. It's also great for kids! This is also easily downloaded as an app on your phone as well as a full website. Whether this is part of your child's school curriculum or not, learning another language can be helpful for improving memory and concentration.
Khan Academy is a popular nonprofit resource for teachers and parents too. Your child between the ages of 4 to 18 can learn and practice at their own pace with lessons in math, science, and more. Plus, if you're having a hard time keeping the school day structured and scheduled, Khan Academy offers daily schedules too.
Good Housekeeping compiled a huge list of all the virtual field trips you can take with your child, including aquariums, museums, and even the M&Ms factory.