If you are new to living with a disability after a life-changing illness or injury, you will no doubt be mentally and emotionally affected by this situation. However, your loved ones, including your children, may also be affected by your new disability. That's why I've learned that talking to your children about your disability is essential.
The worst thing you can do is not talk about it. Often, children may not want to burden their parents with their feelings, especially if they think you're dealing with enough already. Without open and honest communication, it's hard to know what they're feeling and going through too. That's why it's a good idea to keep an open flow of communication with your child, which may help them feel more comfortable with telling them how this new situation is also affecting them.
My daughter felt like she lost her mom when I had a spinal cord injury resulting in permanent paralysis. Up until the moment of my accident, I was walking. Then, the next time she saw me, I was coming home in a new wheelchair. What I learned most out of this is children need to know things are still going to be okay. I knew it would be up to me to make sure she saw and felt that. In addition, our family also found a reliable support system of family and friends. It took some time, but we eventually found better and brighter days together as a family.
So how do you talk to your child about your disability?
1. Pick the Right Time to Broach the Topic
You may notice your child looking at you and your new wheelchair (or another mobility device). They will probably watch you when they think you are not looking, or they may be bold and try to sit on it too.
These moments are great for starting a conversation. You can begin by saying something like, "Do you like my new wheelchair?" or "I noticed you looking at my wheelchair. How does it make you feel?"
2. Encourage Openness and Inclusivity in Your Conversation
As you begin your conversation, tell your child they can ask you anything. When they ask you questions, answer as directly as possible.
When you talk about your disability, be honest about how you are feeling too. Your new disability is a significant change, and it's important to acknowledge that. However, you can also emphasize the positives in your conversation.
For example, talk about the new things you're learning how to do on your own again. Relate it to something they can understand, such as when they've had to learn new things like tying their shoes. Let your child know how these new things you're learning will ultimately help you and your family.
Additionally, as you continue talking to them days and months after, it is also vital that they hear the right way to talk about disability. Do not use disparaging, outdated words like crippled, retarded, or handicapped. Instead, use words like independent or differently-abled.
3. Show Them What You Can Do
Of course, immediately after a severe injury or illness, you will need plenty of recovery time. However, if you begin to learn new tasks to increase independence, such as transferring from your wheelchair into your accessible vehicle, let your child see and know. Children need to understand that even parents have to learn new things.
However, it's also important for them to see that you can still do some of the things they remember you doing before your illness or injury. It can be as simple as making a recipe together in the kitchen or getting on the couch to watch a new television show together.
These tasks, no matter how big or small, can help you bond with your child. Plus, the more your child sees you, the better they may begin to feel about it.
In time, as they grow and see you living independently, this will help them cope in the same healthy manner in their own lives.
4. Make Friends with Others with Disabilities
Getting to know other people with disabilities is beneficial for your wellbeing and state of mind. Having peers who can understand what you are going through really helps you navigate through your journey a little easier. You may discover some helpful resources along the way from your new friends while also finding comfort and support.
It may sound strange at first, but actually, this is just as helpful for your child too. They will learn to adapt by watching other individuals with disabilities functioning independently and living normal, healthy lives with families. They may grow up to help foster inclusivity in their schools and future workplaces and more easily learn to accept everyone's differences.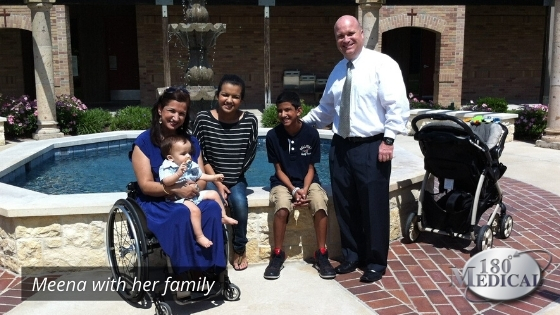 5. Know When to Seek Help
Lastly, please know that it is normal and natural to go through stages of grief after a spinal cord injury or another new disability. However, it's important to remember that your child will not only learn from the way you talk about yourself; they will also watch to see how you are coping.
If you are openly depressed or angry about your disability in front of your child, then it may be a good idea to seek help in the form of a therapist, counselor, or healthcare professional.
Do you feel your child is sad about your disability? Can you see that their behavior towards you has changed? It might be a good idea to find a family therapist who has experience in these issues.
You can check with your rehabilitation facility to find out if they have one, or they may be able to refer you to one. Either way, many therapists can help you and your family.
Above all, keep your children involved in your daily life. As you heal, they will heal too.