Since the inception of 180 Medical's Annual College Scholarship Program in 2012, we have been honored to help aspiring students each year in achieving their dreams through higher education. Today, we'd love for you to meet Kale, one of our Transverse Myelitis scholarship recipients!

Transverse Myelitis Scholarship Recipient Kale
For Kale, life as a teenager was pretty normal. In fact, he felt like everything was going his way. At just 15 years old, he was staying active and keeping on top of his grades. He participated in various community service projects, like being a representative for his school's Hunger Drive. He kept active with his social life and extracurricular activities, and he made the Honor Roll every semester, but his real passion was basketball.
Then the unthinkable happened.
One morning, in the summer of 2015, he woke up with tingling hands, and his shoulders were stiff. He felt weak, but the doctor couldn't find anything wrong.
The next day, the symptoms rapidly progressed, and he found he couldn't move. After multiple tests at the hospital, Kale found out he had a rare inflammatory disease known as Transverse Myelitis. This condition paralyzed him from the chest down.
Transverse Myelitis is an inflammation of the spinal cord, where one's body is essentially attacking its own nerves. Currently, there is no known cause of this disease. It can happen to anyone of any age, and it's estimated that 1,400 people in the United States are diagnosed with this disease each year.
Kale spent weeks in the hospital recuperating before transferring to a rehabilitation hospital to complete therapy over the course of six whole months.
After the Battle with Paralysis
Keeping his determination throughout the ordeal, Kale regained the majority of his muscle function. He can now walk on his own, thanks to his months in therapy and a neuromuscular stimulator.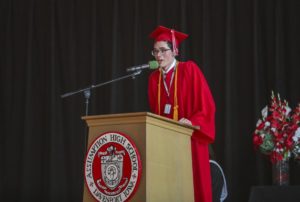 Kale missed the majority of his sophomore year due to all the therapy, surgeries, and appointments, but he worked hard to complete every bit of his class assignments and tests. His grade-point average kept climbing as he changed his focus to his education.
Kale was the National Honor Society President and graduated Summa Cum Laude with a 4.0 GPA. He also kept up his commitment to community service and extracurricular opportunities, including becoming a youth basketball coach and mentor, Fellowship of Christian Athletes Leader, Junior Rotarian, math tutoring, and much more.
After living through paralysis from Transverse Myelitis, Kale decided he wanted to use his experience to help others.
My goal is to become a neurologist who has both the knowledge and ability to treat patients with neurological deficits due to a spinal cord injury or disorder and produce meaningful research that can help make strides in this field of neuroscience.
Ever since 180 Medical's founder, Todd Brown, sustained a paralyzing spinal cord injury, one of his hopes has been to see a research breakthrough that will help those living with paralysis, whether due to spinal cord injuries or illness.
We believe Kale may make that dream come true someday. But first, he's focusing on his studies at Johns Hopkins University.
We wish him and all the students in college this year the best of luck!
About 180 Medical's Scholarship Program
You can find out more about our annual scholarship award, including eligibility and more, at www.180medical.com/scholarships.
We encourage you to watch for upcoming announcements regarding the 180 Medical College Scholarship on our blog and our social media. 180 Medical will begin accepting new scholarship applications on January 1st, 2019.