Laura, one of our inspiring 180 Medical College Scholarship recipients of 2022, is a shining example of resilience and determination. After triumphing over stage 3 rectal cancer, Laura turned her life around. Today, she's back in college with a new sense of purpose. We're proud to introduce you to Laura and share her story as one of our ileostomy scholarship recipients.
Meet Laura, 2022 Ileostomy Scholarship Recipient
Diagnosed with rectal cancer at the young age of 37, Laura faced the daunting challenge of a permanent ostomy while being a single mother to two children. As part of her diagnosis, she learned about her genetic predisposition to cancer, called Lynch Syndrome, which also affected multiple members of her family.
Dealing with a severe health condition like cancer is no easy feat, let alone adjusting to life with an ostomy. For Laura, the first few years after surgery were tough. She says she was living but felt disconnected from life.
However, the lockdown in 2020 gave Laura a new perspective. During this time, she connected with Imerman Angels, a supportive organization that pairs individuals who have experienced cancer with those currently undergoing treatment. This turned out to be a pivotal point in Laura's life. Through helping others, she discovered a new sense of gratitude and fulfillment that pushed her to turn her life around.
Laura says, "I know that my cancer diagnosis and the strength I have gained from living with an ostomy has made me a more caring and thoughtful person. As I learn of my own capabilities, I am reminded how remarkable we all are and what a gift it is to help others."

Pursuing Her Degree to Make a Difference
Inspired by her newfound purpose, Laura decided to return to college after nearly 25 years. She knew exactly what she wanted to do: become an elementary school teacher. "I'm so excited to become an elementary school teacher and share my love of learning."
As a non-traditional student and mother, Laura's determination to pursue her degree is a testament to her courage and resilience. Her goal is to inspire a love for life and learning in her future students. In her future work, she hopes to teach them to embrace their unique qualities.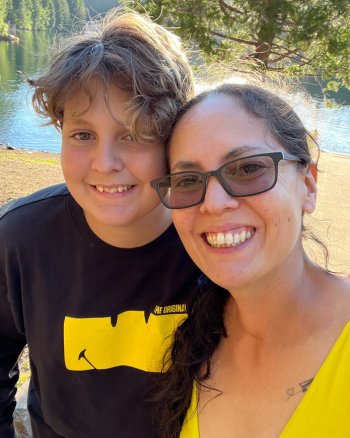 Beyond her role as a student, Laura enjoys staying active by hiking, biking, and paddleboarding. She is also actively involved in her community. She volunteers at an elementary school, and she continues to mentor cancer patients through Imerman Angels. Also, she volunteers with Store to Door, a charitable organization that delivers groceries to the elderly and homebound.
We're incredibly proud to contribute to Laura's educational journey through the 180 Medical College Scholarship Program. We believe in her ability to make a positive impact in her community and look forward to seeing her achieve her goals.
About the 180 Medical College Scholarship Program
Have you heard about the 180 Medical College Scholarship Program? We offer a $1,000 college scholarship award to seven college students with specific medical conditions, including those living with an ileostomy, urostomy, or colostomy.
We're very close to announcing the recipients of 2023, and we can't wait to introduce all these inspiring students to you and help support their journeys too.
You can find all the need-to-know details, including eligibility requirements and when you can apply for the 2024 Scholarship Program at www.180medical.com/scholarships.