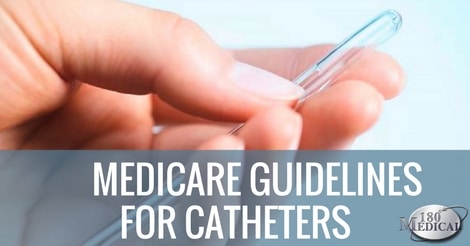 **UPDATED: March 25, 2021
Medicare has specific guidelines for covering urological supplies such as intermittent catheters, which are in place to protect you, your doctor's office, and the supplier.
As a fully ACHC-accredited and Medicare-accredited catheter company, 180 Medical follows all insurance guidelines. One of our founding values at 180 Medical is integrity, which means we always do what's right even if it takes some more effort and time on our part.
While the process of getting the required Medicare documentation may sound confusing, don't worry. Because we specialize in providing insurance-covered catheters, we understand the process and will follow Medicare guidelines to the letter. We also will work directly with your doctor's office to get the required documentation.
Take a look below to learn more about the Medicare guidelines for coverage of catheters.
What are the Medicare Guidelines for Catheters?
Does Medicare cover intermittent catheters? Yes! Medicare covers catheter supplies when medically necessary. You may be eligible to receive enough catheters for one-time sterile-use catheterization, which is based on your unique needs and amount of times you have to catheterize per day. Medicare will cover up to 200 straight uncoated catheters and sterile catheter lubrication packets per month (every 30 days), depending on the prescription.
However, this does require proper documentation as well as a prescription for catheter supplies, which is also known as a Plan of Care.
Does Medicare cover catheters?
Yes. For Medicare-insured people, Medicare Part B will cover catheters.
However, the catheters must be medically necessary. The person needing catheters must see their doctor in order to get a diagnosis and treatment plan. If the healthcare provider determines intermittent catheterization is necessary due to conditions such as urinary retention, urinary incontinence, or incomplete bladder emptying, this must be documented.
Do I need a prescription so Medicare will cover my catheters?
Yes. In order to approve and cover catheters, Medicare will require a valid prescription or Plan of Care. Also, documentation must notate specifics about the condition that requires the use of catheters as well as the determined length of need.
PDF: Documentation Requirements for Catheters
In order to cover sterile catheters and lubrication, Medicare requires proper documentation in the prescribing doctor's notes. These notes, which are referred to as PDF, must also match the plan of care/prescription.
PDF stands for the permanence of the condition, the diagnosis, and the frequency of cathing per day or per week, etc.
Permanence
The doctor's notes must indicate that the need for catheters is a chronic or permanent condition. If the medical record indicates the condition is of long-term or indefinite duration (at least 3 months), this meets the measure of permanence.
Diagnosis
Approved ICD-10 diagnosis codes:
Retention of Urine R33.9
Incomplete Bladder Emptying R39.14
Other Specified Retention of Urine R33.8
Urinary Incontinence R32
Urge Incontinence N39.41
Frequency
Documentation must also show the recommended number of times the patient should catheterize per day (or week/month). Also, this must match the prescribed frequency listed on the Plan of Care.
Additional Doctor's Progress Notes
Any additional notes in the records may be helpful for approval.
Notes may include:
Duration of the patient's condition
Clinical course
Prognosis
Nature and extent of functional limitations
Other therapeutic interventions and results
Past experience with related items
Anything else that might provide information on a patient's need or use of catheters
Coudé Catheter Justification
If the patient cannot use a straight catheter, Medicare may also cover the use of sterile coudé catheters.
However, the prescribing doctor must document this in the progress notes (in addition to the above-discussed PDF). The notes must demonstrate why a straight catheter is not sufficient for use. Also, it must include justification as to why a patient requires the use of a coudé tip catheter for catheterization.
Medicare Catheters Coverage for Closed System Catheters
In order for Medicare to cover advanced catheter products, such as closed system catheters, for example, your progress notes will need to contain additional documentation regarding the below as well.
UTI Documentation for Medicare
You must have had two UTIs (Urinary Tract Infections) documented at your doctor's office while you were practicing the sterile use of intermittent catheters and sterile lubrication packets. These must occur within a twelve-month period of one another as well as documented concurrent symptoms at the time each UTI was documented.
Examples of Accepted Concurrent Symptoms with a UTI
Fever greater than 100.4 F
Systemic leukocytosis (abnormal increase in the number of circulating white
blood cells in the CBC/complete blood count)
Change in urgency, frequency, or incontinence
Sweating, bradycardia, blood pressure elevation
Prostatitis, epididymitis, orchitis
Increased muscle spasms
Documented pyuria (greater than 5 white blood cells (WBCs) in Urine
Exceptions to the UTI Guideline
Also, a few exceptions to this guideline requiring proof of UTIs exist. Medicare may cover advanced catheter products if documentation proves:
The patient resides in a nursing home/facility as their primary residence
Chronic use of immunosuppressant drugs post-transplant
Chemotherapy
HIV or AIDS diagnosis
Drug-induced immunosuppressed state, such as chronic oral corticosteroid use
Radiological vesicourethral reflux while on sterile intermittent catheters
Spinal cord-injured pregnant female with neurogenic bladder (covered for the duration of pregnancy only)
Where to Buy Medicare Catheters
Have more questions about how your insurance will cover your intermittent catheters? Are you wondering how to get your catheters covered by your current Medicare plan?
Our friendly, trained customer specialists are happy to help you. Plus, we can verify your insurance plan to determine your catheter coverage and product options. Just reach out to us to get started!