Since October is Spina Bifida Awareness Month, it's a great time to recognize one of our 2020 scholarship recipients living with spina bifida. Meet Alexander and find out how he discovered his passion thanks to a unique surgery he had.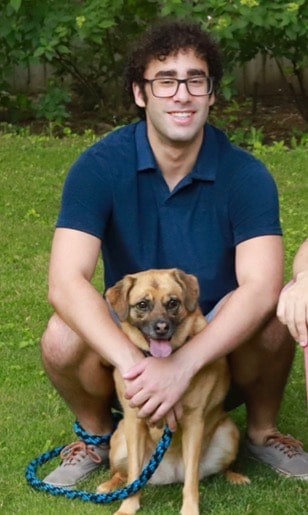 Spina Bifida Created Obstacles and Opportunities for this Scholarship Recipient
2020 180 Medical Scholarship Recipient Alexander was born with spina bifida. However, neither he nor his parents knew until he was five years old when doctors diagnosed him with spina bifida. According to the Spina Bifida Association, spina bifida occulta, which is sometimes known as "hidden spina bifida," isn't discovered until late childhood or even adulthood in some cases.
Additionally, Alexander and his family found out he had an immune deficiency disease. This unfortunate diagnosis meant that Alexander would need to be more vigilant about his health than other kids. He has to take antibiotics every day to prevent infection and kidney failure.
Alexander's medical conditions have put a lot of challenges in his path over the years. However, he says that all of these obstacles ultimately helped him. "As I got older, I got better at advocating for myself and others."
I was able to create a new path for myself through perseverance, grit, and inner strength to embrace my future.
He began spending time mentoring other kids with spina bifida and volunteering locally. Also, he worked hard and kept his grades up. He became a member of the National Honor Society and graduated as an Illinois State Scholar. On top of that, he kept a busy schedule of extracurricular activities, such as being on his school's swim team and robotics team. Plus, he's an artist with award-winning designs. He created an architectural design that became a permanent installation in a community shopping center in 2018.
Robotic Surgery Helped Alexander Find His Passion
Because of spina bifida, Alexander is no stranger to the hospital. However, he never expected to discover his future career path in one. When he became one of the first patients to ever have robotic neurogenic bladder surgery, Alexander's life was turned around.
"Knowing that technology and engineering could vastly change people's lives completely changed my life too," he says.
Not only was the surgery a success, but also Alex realized he could use his skills to help others in similar ways. He decided he wanted to someday "develop and build products that will help people with disabilities live a more inclusive life."
We're glad to be able to provide Alex with our spina bifida scholarship opportunity. He deserves this recognition for all he has accomplished so far. Everyone here at 180 Medical gives their best wishes to Alex as he continues his sophomore year at Purdue University.
180 Medical's Spina Bifida Scholarship Opportunities
The 180 Medical College Scholarship is open not only to students with spina bifida but also to students with other chronic medical conditions, including:
Spina bifida
Spinal cord injury
Neurogenic bladder
Transverse myelitis
Ostomy (colostomy, urostomy, and/or ileostomy)
You can find out more details about our annual scholarship award, including eligibility and more, at www.180medical.com/scholarships.
Also, in 2020, we created a brand new scholarship opportunity for caregivers in our former President's honor. The 180 Medical Ron Howell Caregiver Scholarship is a new program open to full-time college students who are also unpaid caregivers to a loved one with a disability.
The application period for both scholarship opportunities will begin on January 1, 2021, so be sure to watch for coming announcements by subscribing to our email newsletter and following us on social media!