180 Medical, the nation's leading supplier of home-delivered catheters and ostomy supplies, has had a mission of helping turn lives around since the very beginning. Founder Todd Brown created 180 Medical with the goal of providing the very best service and supplies as well as ongoing support and tools for success like tips for learning how to cath and other helpful resources.
180 Medical's Patient Advocates support team takes our mission to a whole new level by providing in-person and virtual care, encouragement, and resources.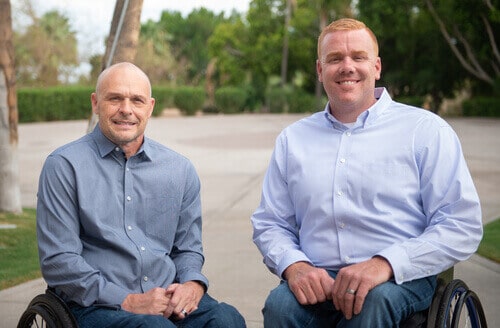 Our Patient Advocates Team Provides In-Person and Virtual Support
Our Patient Advocates, Brendan Downes and Steve Kearley, visit regularly with patients in children's hospitals, rehabilitation centers, and other healthcare facilities across the country.
180 Medical Patient Advocate Steve Kearley has been living with a C6 spinal cord injury since he went through a car accident in 1988. He knows firsthand how it feels to be told that not only will you not walk again but you also have to start using catheters.
When someone is new to using catheters, they're going to have a lot of questions and concerns. Having someone there who really knows what you're going through is important, especially for folks who are new to living with a spinal cord injury.
Reach Out to Steve
180 Medical Patient Advocate Brendan Downes
was born with spina bifida. In the beginning, his parents faced a lot of challenges. Luckily, having person-to-person support and resources that could answer their questions made all the difference.
I like to 'pay it forward,' and I get to do this through my job where I can support and help out kids with spina bifida as well as their families and caregivers.
Contact Brendan
Personalized Support Can Make All the Difference
The Patient Advocates at 180 Medical use their experience of navigating life with disabilities to provide personalized peer support, whether in-person or virtually through online video meetings and chats. This one-on-one support can be crucial for helping patients adjust to using catheters while also finding the right product that works best for their unique needs.
Urinary catheters aren't a one-size-fits-all kind of medical supply. Using the wrong intermittent catheter can have an impact on the overall quality of life. Plus, not knowing how to hygienically self-catheterize can lead to costly issues like recurring UTIs (urinary tract infections). That's why having that in-person care from real people can be a life-changer.
180 Medical's Patient Advocates support individuals while helping to ease the transition to home from rehab or the hospital. Also, they can be the caring connection many patients need in addition to a great resource.
Talk to Our Patient Advocates
Get Started and Get Support with 180 Medical's Patient Advocates
180 Medical is the company of choice for thousands of patients and healthcare providers across America. We're known for our high level of personalized service and care. Plus, we offer you the freedom the choose from a wide variety of catheters from all brands and types, depending on your insurance coverage and catheter prescription.
As an ACHC-accredited provider, 180 Medical is in-network with thousands of health insurance plans, including Medicare and state Medicaid programs as well as private insurance plans, including Blue Cross Blue Shield, UnitedHealthcare, and Cigna.
We offer free catheter samples, free shipping, and no upfront costs. Contact us today!