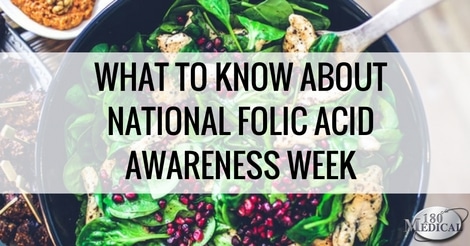 January 8th through the 14th of this year is National Folic Acid Awareness Week is this week (January 8-14). Let's take some time to learn about folic acid and the important role it can play for women who are pregnant or planning to become pregnant.
What is Folic Acid?
Folic acid is an essential B vitamin the body needs to produce new cells. This is helpful for fetal development in the womb. However, some people supplement their diets with it for cardiovascular, brain, and nervous system support.
Folate and folic acid are essentially the same things. Folic acid is just the man-made version.
What Do I Eat to Make Sure I'm Getting Enough Folic Acid or Folate?
If you're pregnant, your doctor may recommend you start a prenatal vitamin with folic acid or folate. However, you can also get folate naturally in certain food sources, including:
Lentils
Dark green vegetables such as spinach, turnip greens, or asparagus
Beans (pinto, garbanzo, black, kidney, and more)
Cruciferous veggies like broccoli
Does a Lack of Folic Acid Cause Congenital Disabilities?
It's possible. Primarily, two possible conditions may occur due to a lack of folic acid.
One condition commonly associated with a lack of folic acid is spina bifida. Spina bifida is a life-long condition that occurs when the neural tube doesn't completely close while in the womb, leaving the spinal cord often unprotected, depending on the severity of the condition. This can result in paralysis or poor limb function, neurogenic bladder and bowel issues, muscle weakness, and more.
Also, anencephaly may be another condition related to a lack of folic acid during pregnancy. This condition, unfortunately, causes death in most cases because the brain does not completely form.
This is why raising folic acid awareness this week and all year is so important for new mothers.
The CDC says that an adequate amount of folic acid could reduce the chances of birth defects by as much as 70%.
How Much Folic Acid Do I Need Daily?
Most recommendations state that women should aim for at least 400 micrograms of folate or folic acid at least a month before getting pregnant and every day during pregnancy. The easiest way to achieve this is by taking a prenatal multivitamin supplement, although folate can also be taken in through natural food sources, such as the examples listed above.
For more information about Spina Bifida, visit us at 180medical.com today.