Intermittent Straight Catheters
---
What Are Intermittent Straight Catheters?
First, what are intermittent catheters? They're thin, flexible tubes that you insert into the bladder to drain urine. This is only done when medically necessary.
Uncoated Straight Catheters
Intermittent straight catheters are considered the original catheter technology. If you're looking for an inexpensive catheter, straight catheters may be a good option, depending on your insurance coverage.
Because straight catheters are uncoated, they require manual lubrication prior to insertion. If you use straight or coudé tip uncoated catheters, be sure to use a water-soluble, sterile catheter lubricant. This will help reduce friction inside the urethra and make catheterization more comfortable.
180 Medical carries a complete selection of straight and coudé tip catheters in a wide variety of sizes and materials, including PVC vinyl, POBE, silicone, and red rubber latex.
Do I Need a Prescription to Get Catheters?
Yes. Before using a medical device like an intermittent catheter, be sure to speak with your doctor or another qualified healthcare practitioner to ensure catheter use is right for you. Your safety is our top concern. Also, in order to get intermittent catheters, you must have a valid prescription. Some insurance plans, such as Medicare, may also require additional doctor's notes.
You can rely on 180 Medical to navigate the entire process of getting catheter supplies with you. From verifying and explaining your insurance coverage for catheters to getting any required documentation from your doctor, 180 Medical goes above and beyond for our customers. Plus, we can provide free catheter samples so you can find out what works best for you.
Reasons for Catheter Use
So why are catheters used? Catheter usage may become medically necessary due to certain medical conditions.
Bladder retention (urinary retention)
Urinary incontinence
Incomplete bladder emptying
Neurogenic bladder, which may occur due to spinal cord injury, spina bifida, multiple sclerosis, or another issue
Indiana pouch after cystectomy (bladder removal surgery)
Urinary blockages due to enlarged prostate, kidney stones, etc.
After nerve damage due to surgery, childbirth, or injury
Certain prescription medications
What is Intermittent Catheterization?
Catheterization is the process of inserting a catheter to drain the bladder (or Indiana pouch). This is done through the urethra or a stoma.
What Does Intermittent Mean?
The word "intermittent" in the phrase intermittent catheters refers to the scheduling of catheter use. Rather than a catheter that stays inside the bladder, such as a Foley catheter or indwelling catheter, intermittent catheters go into the bladder to drain urine. Then once the urine has stopped flowing, the user removes the catheter.
The Importance and Benefits of Intermittent Urinary Catheter Use
Intermittent catheterization offers more independence because users don't have to remain attached to a leg bag or urine drain bag. Plus, it helps the bladder fill and drain similar to a normally functioning bladder.
Intermittent catheterization, which is also known as in-and-out catheterization or clean cathing, helps the bladder empty regularly throughout the day on a physician-prescribed schedule.
When the bladder doesn't completely empty, sometimes there may be remaining urine in the body, which is postvoid residual or PVR. For those who need intermittent catheterization, failing to stick to a prescribed cathing schedule can lead to increased postvoid residual, which may cause overflow incontinence. In addition, it can lead to severe issues like infection and even damage to the kidneys.
How Do I Learn How to Use Straight Catheters?
Those new to intermittent catheterization can be overwhelmed or even nervous about the process. You might be afraid using catheters will be painful. Or maybe you're not sure if you'll be able to insert or remove the catheter properly. Sometimes, people are worried that others will find out about their need to use catheters.
However, when it comes to your need for using catheters, you should rely on your healthcare provider first and foremost. They can educate you on the proper way to use your intermittent catheters at the time when they prescribe catheters to you.
However, 180 Medical is also here for you. We provide a wealth of helpful resources for learning how to catheterize, including online instructions for men, women, and children. We can include informational booklets with step-by-step catheterization instructions in your orders. Also, our compassionate Catheter Specialists can offer support and help in using your catheters.
Just reach out to us to get started or try out some free catheter samples. We can help you find the catheter that works best for you from among one of the widest varieties of catheter types and brands on the market.
How to Maintain Privacy When Using Straight Catheters
Concerned about your privacy when you need to use catheters throughout the day? First and foremost, it's important to adhere to your prescribed intermittent catheterization schedule, even when you know you'll be away from home. For example, if you go to work, on vacation, or to school, you'll still need to drain your bladder to avoid complications as your doctor prescribed.
Luckily, with intermittent catheters, you have the freedom to participate in daily activities without being attached to a leg bag or drain bag. Plus, it may help reduce the risk of urine leakage if you deal with overflow urinary incontinence.
Some people find it helpful to set an alarm on their phone or watch to make sure they can go to the bathroom exactly when they need to during the day. You might need to plan a little when traveling or enjoying an activity outside your typical routine. However, planning ahead can help.
Also, there are plenty of discreet catheter options that you can use in any bathroom without fear of lack of privacy. 180 Medical offers pocket catheters as well as other discreet catheters. Just reach out to us to find out what your options are based on your insurance coverage.
If you want to tell a close friend or family member about your need to use catheters, it can help to feel you have a support group. However, keep in mind that only qualified healthcare professionals should be relied on for medical advice.
Catheter Lengths and Catheter Sizes
Catheters come in three length options: male, female, and pediatric.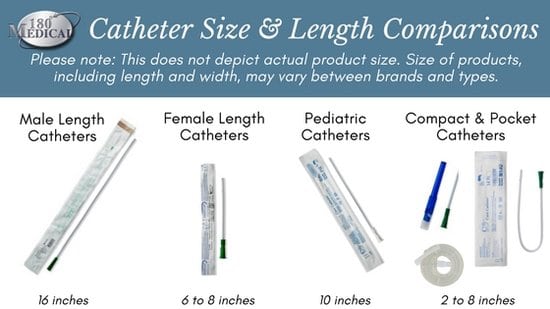 Catheter sizes are determined by French (Fr) size. The French size refers to the diameter of the catheter.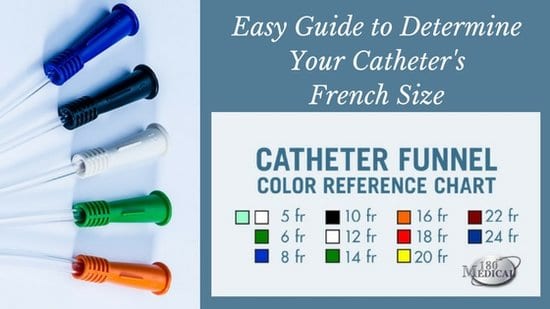 Catheter Insertion Tips
Intermittent straight catheters also come in two main types of insertion tips.
The most common insertion tip is the standard straight tip. However, not everyone can easily use straight tip catheters. Some catheter users, primarily males, may have difficulty inserting standard straight catheters. This can be due to issues such as urethral strictures, blockages, false passages, or even an enlarged prostate.
Coudé tip catheters are often the answer to this issue.
How Do I Know What Catheter French Size to Use?
The proper French size for your anatomy should only be selected with the assistance of your healthcare provider. If you have the incorrect French size, it can impact the effectiveness of catheterization. Also, it may create serious discomfort.
For instance, a catheter with a large diameter (French size) that's too big for the user's urethra or stoma could cause pain or damage. On the other hand, if a catheter is too thin, it may make the process of urine drainage slower. Plus, it may become messy, as urine can leak around the edges of the catheter tube.
The good news is that your healthcare provider can help you determine the best French size for your anatomy. 180 Medical carries a wide variety of catheter types in all lengths and available sizes. We can help you get the catheter that best suits your needs based on your doctor's orders.
How to Lubricate a Catheter
There are different ways to lubricate a catheter. The first option is to tear off both ends of the lubricant packet and slide the catheter back and forth through the packet (as shown below).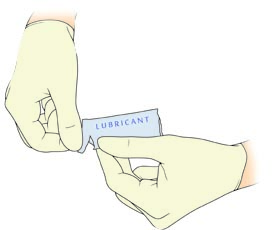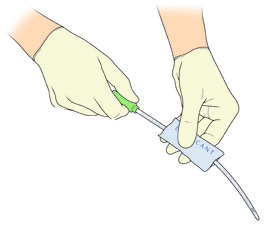 Another option is to tear off the top of the packet (or use a tube of lubricant) and squeeze the lubricant all along the catheter. Make sure to use a water-soluble lubricant.
When you order catheters from 180 Medical, your satisfaction is guaranteed. We deliver superior service, and we stand behind it. If you are a catheter user ready to discuss your catheter options, please give us a call at 1-877-688-2729.