We're continuing to feature all the amazing winners of the 2014 180 Medical College Scholarship Program on our blog. Today, we"re proud to introduce you to Kayla, 2014 180 Medical Scholarship recipient.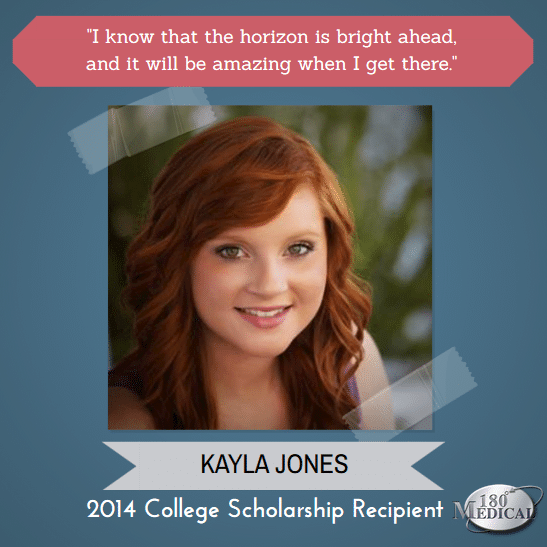 Meet 2014 180 Medical Scholarship Recipient Kayla
Kayla was born with Spina Bifida Occulta. This condition was caused by an extra bone in her back, which severed her spinal cord and damaged the nerve that ran to her left foot. At just three months old, she had the first of many surgeries in her life.
Doctors said Kayla would never be able to walk because of her condition. While Kayla certainly faced many difficulties in life, she proved her doctors wrong.
I don't remember my first steps. However, I know the spirit I had…the spirit that says never, ever give up.
What's Next for Kayla
Throughout her life, Kayla has worked hard to defy the odds. In high school, she received numerous awards and honors, such as the Superintendent's Rigor Award and the Phi Theta Kappa Honors Society. She also stayed very busy with extracurricular activities and clubs, such as DECA, FBLA, Spanish Club, Beta Club, Prom Committee, and more. On top of that, she has stayed active with sports, including JV and Varsity basketball and JV softball.
Kayla just entered her Freshman year as a major in Public Policy at the University of Virginia. We here at 180 Medical are awed by her story and her optimism. We're excited to play a part in contributing to her bright future.
About the 180 Medical Scholarship Program
180 Medical offers an annual scholarship program for college students with spinal cord injuries, spina bifida, transverse myelitis, or a neurogenic bladder. Learn more details at https://www.180medical.com/Scholarships.