We're proud to announce that our founder and CEO, Todd Brown, has been named one of Oklahoma's Most Admired CEOs by The Journal Record. This prestigious award honors business leaders who demonstrate great leadership and dedication to their companies and communities.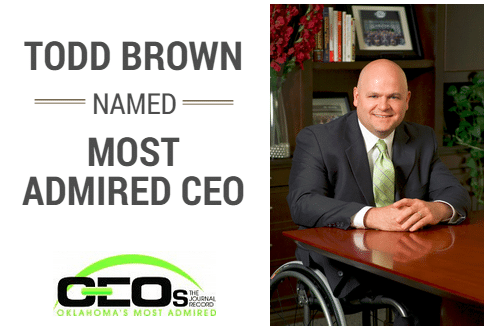 Everyone here at 180 Medical is so excited for Todd. It's great to see him recognized publicly as the wonderful leader of our company that we know him to be. To say that I'm proud to work with Todd Brown and to consider him a friend and mentor is an understatement. I can't think of anyone who deserves this honor more than him."
Todd's Life Changed With an SCI
Many of you may already know the inspiring story of Todd's life. Always one with an adventurous spirit and entrepreneurial mind, Todd was already trying to start up his first business as he worked through college and started his family.
When he became paralyzed in a tragic motocross accident, he was determined that he would never give up. But the road to recovery was not an easy one.
As a new paraplegic, Todd dealt with frequent urinary tract infections. On top of that, he encountered multiple medical supply companies with under-educated staff who had no compassion or understanding.
One day, while attending a wheelchair race, Todd was introduced to closed system catheters by a fellow athlete and friend. After using this advanced catheter and quitting his washing and reusing routine, his health began to improve.
He felt that anyone who goes through similar problems should have access to these products.
Shortly after this, Todd and his wife started a medical supply company out of their own garage. Over the years, the company has grown to become a nationwide company with headquarters in Oklahoma City.
Todd's Vision for 180 Medical
Todd knew that our customers would often already be going through a difficult time with their health. So his ultimate goal was to staff his company with people who are passionate about helping others.
Through Todd's vision and planning, our company continues to go above and beyond to treat customers as though they were members of their own family.
We are so proud of Todd and all his achievements. The sixth-annual Most Admired CEO event is on February 12, 2015, at the Skirvin-Hilton Hotel in downtown Oklahoma City.