If you're new to living with an ostomy and using ostomy supplies, it's normal to have some questions. Here are some answers to the top FAQs about an ostomy.
Top FAQs About Life with an Ostomy
Ready to learn more about what it's like to adjust to life with an ostomy? Let's start with some of the most frequently asked questions.
What is an ostomy?
One of the most common FAQs about an ostomy starts with this. What exactly is an ostomy?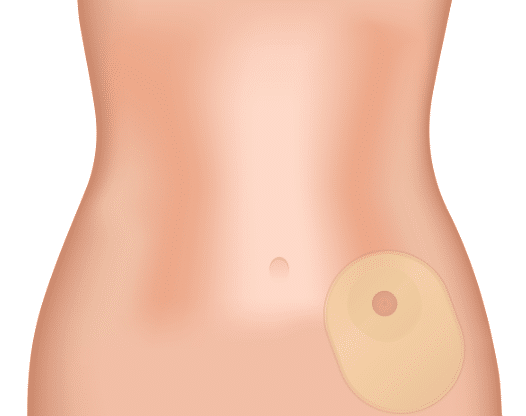 An ostomy is the surgical creation of an artificial opening, which is known as a stoma. This artificial opening helps divert the flow of bodily waste.
So what kinds of ostomies are there? It depends on the reason for needing the ostomy as well as where the surgeon creates the opening.
Colostomy (from the colon to divert the flow of formed stool)
Ileostomy (from the ileum, or small intestine, to divert the flow of loose stool)
Urostomy (from the urinary system to divert the flow of urine)
Ostomies may be medically necessary due to chronic illness, cancer, an injury, or another reason. For example, people who get a colostomy or ileostomy commonly do so because of living with severe Crohn's disease or ulcerative colitis, which are forms of IBD (inflammatory bowel disease). Someone with bladder cancer might undergo a urostomy procedure.
What kind of ostomy supplies should I use?
Each case is unique to the individual. However, you can count on needing to use the basics, which will typically include an ostomy bag and a skin barrier. The skin barrier is what adheres to the skin. The pouch then adheres to the skin barrier while collecting body waste.
One-Piece Ostomy Pouching Systems
If you prefer an all-in-one ostomy pouch, you may want to try out a one-piece ostomy bag. Rather than the skin barrier and pouch being separate, they come already pre-attached. Therefore, each time you need to change your pouch, you'll need to remove the entire pouching system, including the skin barrier. Some people find these more convenient since it involves fewer steps and product parts.
See below for a few examples of the many one-piece pouching products at 180 Medical.
Two-Piece Ostomy Pouching Systems
A two-piece ostomy pouch is just what it sounds like: two separate components including the ostomy pouch and the skin barrier. One of the benefits of using a two-piece system is that it may be a little easier on your skin since you can change the pouch several times without removing the adhesive barrier from your skin. This may be ideal, especially if you are prone to experiencing peristomal skin irritation.
These are some of the wide variety of two-piece ostomy products available at 180 Medical.
Each person may require different types of ostomy products. This is due to the variety of outputs. For example, someone with a colostomy will have firmer, more fully formed stool while someone with an ileostomy may have more liquid stool. Therefore, one person may need or prefer a closed-end ostomy pouch, while another may need a drainable ostomy pouch option. On the other hand, someone with a urostomy will need a drainable urostomy pouch to collect their urine throughout the day.
As you might imagine, there are a lot of options out there. 180 Medical's Ostomy Specialists can help you navigate through the many ostomy product options available. Plus, we can help troubleshoot issues like leakage or adhesive build-up with certain solutions, such as adhesive remover wipes or ostomy seals.
Here are just a few of the high-quality ostomy accessories we offer at 180 Medical to complement your current pouching routine.
Request Free Ostomy Samples
How do I know which ostomy products are right for me?
With the guidance of your prescribing healthcare professional, you can find the right regimen and basic product types that will work best for your particular situation.
No one product or system works for everyone, since each situation and body type is different and unique. For instance, stoma size and protrusion, skin condition, ostomy type, and personal preferences will all need to be taken into consideration when determining the right products for you.
At 180 Medical, we're knowledgeable about the newest ostomy supplies available as well as the tried-and-true products that have stood the test of time. Our Ostomy Specialists can help evaluate your options and even give you a few samples to try so you can be confident about what items you will receive before you place the full order.
Will I be able to live a normal life with an ostomy?
Lastly, this is another one of the most common FAQs about an ostomy. We're happy to tell you, yes! Plenty of people across the world live totally normal lives with their ostomy. From going to work and school to playing sports, people with ostomies can live a full life.
Of course, you'll have to learn how to apply and change your ostomy pouch. You'll also have to take care of the skin around your stoma to make sure it doesn't get infected or irritated. However, the rest of your day-to-day life will likely be normal.
Talk to your doctor about any other precautions or dietary changes you may need to make. Also, wait to get back into exercising after ostomy surgery until your doctor clears you for physical activity.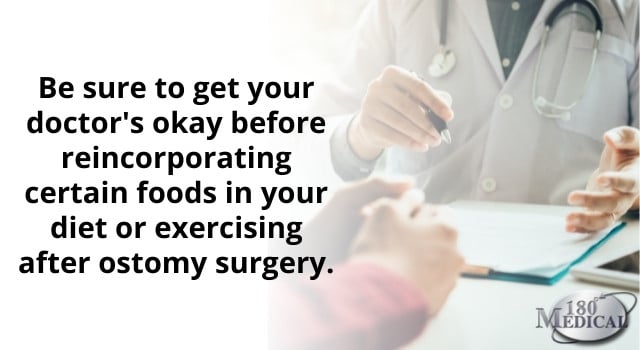 Also, keep in mind that ostomy issues do happen sometimes. For example, your product needs may change over time, especially while you're still healing after recent ostomy surgery. Your body size and shape could change, your stoma could settle, and more. So occasionally, you may find yourself needing to update the size or shape of your products.
If you notice that your ostomy pouching system isn't working the way it should for you (not fitting correctly, leaking, causing skin irritation), you may want to discuss this issue with a healthcare professional.
At 180 Medical, we have direct access to a team of trained WOC (Wound, Ostomy, and Continence) nurses who can help with any questions you may have. Give us a call, and we'll get you connected. Often, the solution is simple, and an easy size change or accessory addition to your regimen may solve your problem.
How do I start getting ostomy supplies?
Now, how and where do you start when it comes to getting high-quality ostomy supplies and accessories? Contact 180 Medical.
We'll gladly take care of your ostomy supply needs so you can get back to living the life you love.
Contact 180 Medical