If you're having trouble sleeping after your ostomy surgery due to worries about leakage or rolling over on your pouch, that's completely normal. But some options will help you relax and get back to a restful sleep schedule. Here are our top tips for improving your sleep after ostomy surgery.
Top 4 Tips For Better Sleep Quality After Ostomy Surgery
Is it possible to get a good night's sleep after an ostomy procedure? Yes! In some cases, just the fact that you have had the procedure to address the underlying condition that required you to get an ostomy may help you sleep better.
Of course, some people may experience sleep interruptions, increased stress, and fear of pouch leakage right after ostomy surgery. However, you may need to make some adjustments based on the type of procedure you have had.
Tip 1. Try Sleeping On Your Back Or Side
After ostomy surgery, your doctor may suggest that you sleep on your back or side. Of course, you'll want to stay off of the side of your abdomen where your stoma is located.
Many ostomates find they prefer sleeping on their back. It may take a little time to get used to your new sleep position. However, you'll be getting better sleep again in no time.
Tip 2. Put Pillows Around You
Do you tend to roll around or move a lot in your sleep? If so, that's a potential problem when wearing an ostomy bag at night.
You've got options though! One way people help limit their movement and stay in one position at night is by using pillows or foam wedges. Just place them around you snugly, whether on your back or side.
Tip 3. Wear a Snug Shirt or an Ostomy Wrap
When you're ready to sleep, wear a snug shirt or an ostomy wrap. This will help keep your pouch snug against your body during the night.
While this won't support your pouch exactly the same as an ostomy support belt, a snug shirt or an ostomy wrap may still help support the weight of your pouch overnight too.
Tip 4. Empty or Change Your Pouch Before Bed
One way to reduce the need to get up in the middle of the night to empty or change your pouch is to do it right before bed.
180 Medical Community member Darlene lives with an ileostomy that often has high output. One solution she's come up with is to set an alarm to get up in the middle of the night to empty or change her pouch. This helps her avoid leaks or messes in bed.
While it will certainly be an adjustment, she says it's like second nature now.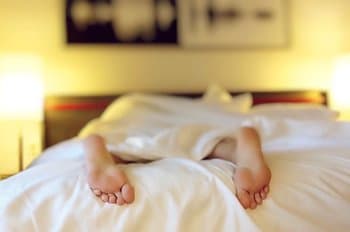 Sleep Options for Different Ostomy Surgery Types
Depending on your surgery type, there are different ostomy supplies and accessory options.
Urostomy Surgery
If you're living with a urostomy, you have the option to use the Convatec Night Drainage System. This system features a urinal jug with a tube that connects to your ostomy pouch.
This should help eliminate concerns about the amount of water or other liquids you may intake before bed. Also, you won't have to worry about getting up to change or empty your urostomy pouch in the middle of the night.
Ileostomy or Colostomy Surgery
If you have had an ileostomy or colostomy procedure, you may need to empty your pouch in the middle of the night to avoid leakage or overflow.
You may also want to avoid eating after a certain time to avoid having a large amount of output while asleep. Your prescribing healthcare professional can also offer additional tips to improve your sleep, as well as any diet and liquid intake recommendations based on your individual needs.
Adjusting to living with an ostomy and using ostomy supplies can take some time to get used to. But with a little more time and practice, your new nighttime routine will feel normal, and you should be able to enjoy a healthy sleep schedule again too.
For more information regarding Convatec ostomy supplies, contact our trained Ostomy Specialists. We'll be glad to help with your ostomy supply needs.