At 180 Medical, we believe all children deserve the chance to feel special and participate in fun dress-up holidays. If your child is in a wheelchair or a walker, they still have plenty of options for amazing adaptive Halloween costumes. These costumes are also great to reuse for spirit days at school, costume dances, and even Comic Conventions.
We're excited to drop a few of our top picks for adaptive Halloween costumes. Many of these are options that you can buy online or in stores, although we also cover a few easy DIY ideas that you can make at home. In addition, we're also sharing a few non-profit organizations that can make some truly show-stopping wheelchair costumes.
Ready-Made Adaptive Halloween Costumes
It's not always easy to find time to make a memorable costume for Halloween. However, big name-brand stores like Target, Walmart, and Spirit Halloween now carry options for everyone, including wheelchair covers and other adaptive Halloween costumes for kids. Plus, some awesome small businesses on Etsy offer handmade adaptive costumes for kids in wheelchairs and walkers.
This is due in large part to a continually growing awareness of disabilities and special conditions like muscular dystrophy, cerebral palsy, spinal bifida, spinal cord injuries, and more.
Now you can find ready-made adaptive costumes for your child easily just by shopping online. Take a look at a few of the costume options we found and loved!
Adaptive Costumes and Wheelchair Covers from Walmart
Walmart offers a ton of fun adaptive Halloween costumes for kids, including Paw Patrol, Disney, and more. Here are just a few!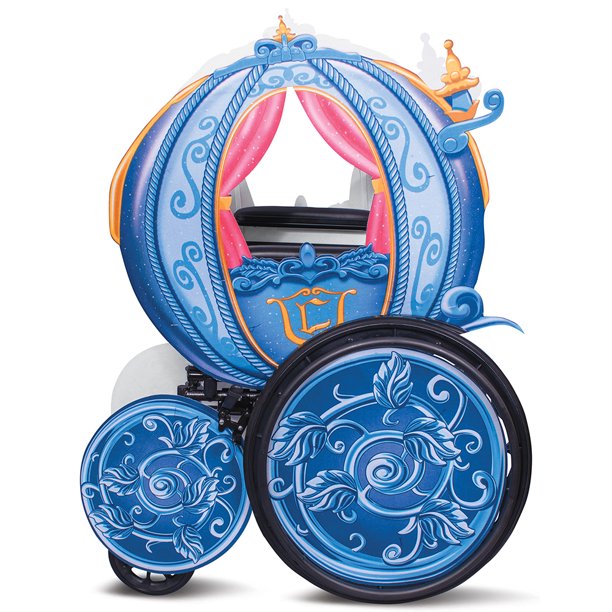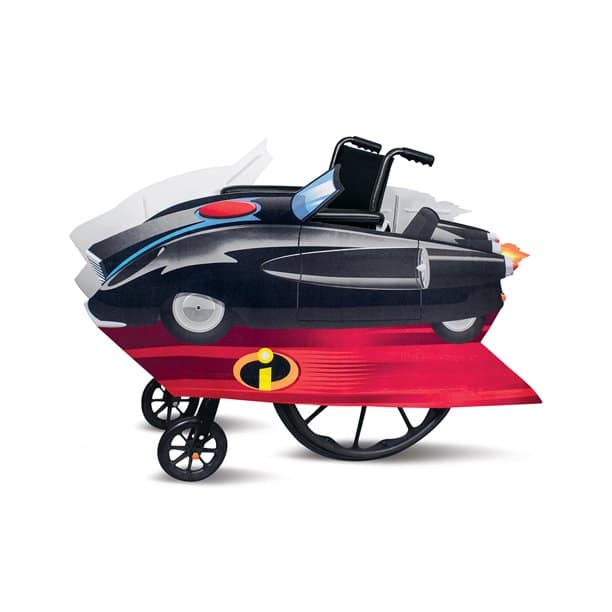 More at Walmart
Spirit Halloween Adaptive Costumes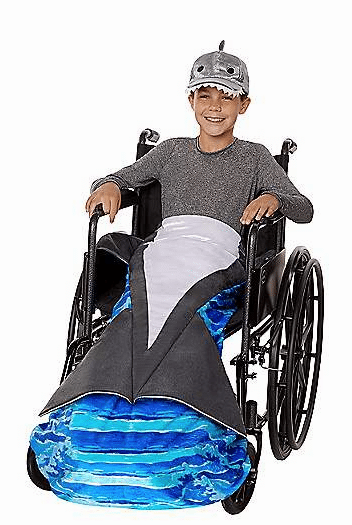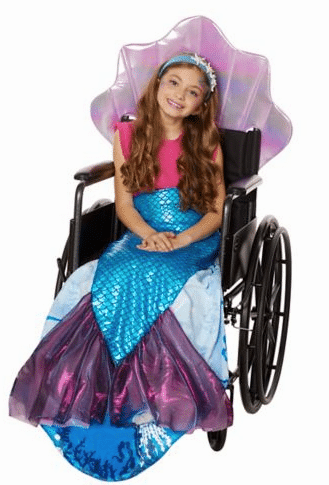 Adaptive Costumes and Wheelchair Covers from Target
Target has a line of adaptive costumes for kids and adults too! They offer some fun ideas that can work for your child whether they're in a wheelchair or a walker.
Adaptive Wheelchair Costumes on Etsy
This great company creates costumes for kids that are fun and age-appropriate. For example, you can find awesome ready-to-buy costumes like an alien spaceship or the Scooby-Doo Mystery Machine, just to name a few.
SusieRegina's shop on Etsy offers some beautiful adaptive costume options for children who want to feel like a princess for a day. We especially love this glamorous Belle costume that fits perfectly over your child's wheelchair.
DIY Ideas for Adaptive Costumes
It can be a truly special experience to help make a creative costume for your child. We found a few awesome tutorials as well as some cute ideas just by searching a little bit online. Plus, these easy-to-make costumes won't break the bank.
Amber Bobnar shares her tutorial for making your own rainbow wheelchair costume for your child. This tutorial may be easier than it looks. Also, you can put it together with a few simple materials like cotton balls and pool noodles from your local craft store.
Casey Arledge came up with a precious idea for her little toddler, Kinley, who loves Hello Kitty. This costume is sure to bring smiles everywhere. With some cardboard, paint, and glue, you could have a wheelchair costume like this too. Plus, you could probably alter this design to just about any idea that includes a car.
Tresa Edmunds' whole family loves the long-running British tv show, Doctor Who, so she shared how to make her son Atticus's Doctor Who wheelchair costume on her blog. It's a cute idea that just takes a little crafting to put together. Plus, you'll be sure to draw the admiration of fellow Doctor Who fans.
More Wheelchair Costume Ideas
We're lucky to get to see so many of our wonderful customers' adaptive Halloween costumes each year that truly warm our hearts. For example, our customers have shared homemade costumes like Superman, a John Deere tractor, Mario in a Mario Kart, Snoopy in his dog house, and so much more.
Our customer Grant always has some of the most creative Halloween costumes we've seen. This year, Grant is going as the Pope for Halloween with a costume that perfectly fits his wheelchair.
Charitable Organizations That Create Adaptive Halloween Costumes
We love supporting organizations like these with fundraisers during Spina Bifida Awareness Month at 180 Medical.
Lon Davis originally began his non-profit in a way he might never have expected. In 2005, Lon Davis's son was born with a type of cancer that crushed his spinal cord. With limited mobility in his legs, he would have to be in a wheelchair. In 2008, Lon went all out and created a Wall-E wheelchair costume for his son. Every year, he works to outdo the last costume. Pretty soon, newspapers and blogs were sharing pictures of his costumes, and people from across the country began reaching out to Lon with requests.
Today, this non-profit creates amazing costumes for free for children in walkers and wheelchairs.
Ryan Weimer's son Keaton was born with Spinal Muscular Atrophy (SMA). In 2008, Keaton decided he wanted to be a pirate for Halloween. Even though he was in a wheelchair due to his condition, Ryan decided he would draw out some plans and build the costume around his wheelchair. The costume took a lot of work and time, but it ended up an intricate pirate ship perfect for rolling around and collecting candy on Halloween. They even made the front page of their local newspaper.
Today, Magic Wheelchair is a non-profit organization that works to make incredibly detailed costumes for children in wheelchairs for free. Many of these costumes have been featured in the news and at large events like the San Diego Comic-Con.
180 Medical is Ready to Help
No matter your child's level of ability, they can still enjoy a special day of dressing up. We hope these ideas help you find the perfect costume that will make your child feel like a hero because that's exactly what they are to us!
If you need pediatric catheters for kids, 180 Medical is here to help. We have the expertise to help you find the right product along with the compassionate care and reliable shipments that we believe all our customers deserve.
Reach out to us today to get started!

Request Free Catheter Samples