It's summer, and for many children, teens, and young adults, that means it's time for camp! If you're a parent or caregiver of a child with spina bifida, a spinal cord injury, special needs, or any other challenges, you want them to have opportunities for fun activities.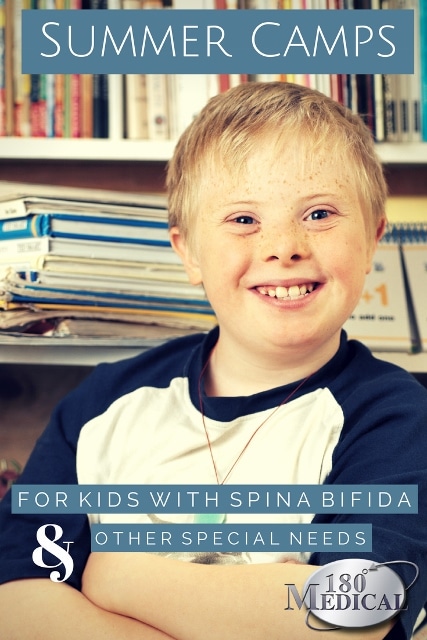 Summer Camps for Kids with Spina Bifida and Other Special Needs
Take a look at our compiled list of various camps and programs across the United States. Some are even available year-round!
Alabama
Camp ASCCA (Alabama's Special Camp for Children and Adults)
ASCCA is a nationally recognized leader in therapeutic recreation for children and adults with both physical and intellectual disabilities. Providing weekend and week-long sessions, Camp ASCCA is open year-round.
Camp SMILE
Camp SMILE offers recreational opportunities for campers with disabilities in age ranges from 5 to 50 years old. A unique aspect of this Mobile-based camp sponsored by United Cerebral Palsy is their one-to-one camper-to-counselor ratios to help campers adjust and foster genuine relationships. Activities include swimming, boating, arts & crafts, horseback riding, zip-lines, and more.

Arizona
Camp Patrick
Camp Patrick was created to offer kids with spina bifida a week of fun with a dedicated and friendly staff. Includes wheelchair-accessible cabins, great food, and lots of fun like horseback riding.
Arkansas
Camp Aldersgate
This non-profit camp serves kids with special needs like spinal cord injuries and spina bifida. It offers week-long and weekend camping opportunities that help campers grow and cultivate new friendships in the community.
Leaping Beyond Sports Camp
A non-profit organization that provides children with disabilities opportunities to participate in adaptive sports, allowing them to "leap beyond" expectations.

California
AbilityFirst's Camp Paivika
This camp has helped thousands of children and adults with disabilities make friends, try new things, and become more confident and independent.
Camping Unlimited – Camp Krem
Enriching the lives of those with special needs, this fun and safe program offers attendees recreation, socialization, and education.

Camp Ronald McDonald at Eagle Lake
Dedicated to supporting children with disabilities and disadvantages and their families. Arts and crafts, water sports, group activities and more.

Easter Seals Central California – Camp Harmon
Residential camp program for children and adults with disabilities at Boulder Creek.
Painted Turtle Camp
It offers various different camp options for children with chronic and life-threatening illnesses including those with spina bifida and paraplegia, Crohn's and colitis, and more.
Colorado
Challenge Aspen
Week-long day camps including an outdoor adventure camp, music and dance camp, teen camp, and a rocky adventure.
CFCE Summer Camp
This four-week camp runs Monday through Friday for children with motor disabilities.
Camp Roundup River Ranch Roundup
River Ranch is a medically-supported camp for kids with chronic and life-threatening illnesses.
INSPIRE Adventure Camp
INSPIRE Adventure Camp is a month-long summer camp session for kids over the age of 5. This camp offers numerous activities and special classes that enhance the campers' quality of life through healthy choices and recreation.
Connecticut
The Hole in the Wall Gang Camp
Dedicated to providing a different kind of healing to seriously ill children and their families throughout the Northeast, free of charge.
Camp Harkness
Camp providing individual support, with intellectual and developmental disabilities in Southeastern CT.
Hospital for Special Care Ivan Lendl Adaptive Sports Camp
Week-long day wheelchair sports camp for children ages 7-18 living with physical disabilities.
Delaware
Children's Beach House, Inc.
Camp programs on the Delaware Bay providing a unique experience for children with special needs to explore and learn from our natural environment. Activities include swimming, sailing, kayaking, arts and crafts, and more.
Florida
Camp Boggy Creek
For ages 7-16 who have been diagnosed with a chronic or life-threatening condition.
CECO (Conductive Education Center of Orlando) Summer Camp
This fun and educational summer camp offers a physical, social/emotional, and cognitive program for kids with motor disabilities, such as cerebral palsy, spinal bifida, and other conditions.
Georgia
Camp Krazy Legs
Overnight summer camp for children and teens with spina bifida who meet eligibility criteria.
Lindsey's Place Camp
A year-round recreation program for ages 7-30, providing activities for those with special needs.
BlazeSports Georgia Blaze Camps
Several locations, ages 8-19. Two-day and one-week sessions sports summer camps for youth with physical disabilities.
Camp ASCCA – Easter Seals
Ages 6 and up. One-week sessions for people with disabilities. Aquatic activities, arts and crafts, horseback riding and more.
Camp Sparrowood
Ages 8+, one-week sessions for high functioning, special needs individuals. Includes nature activities, crafts, games, and swimming.
Camp Twin Lakes
Ages 7+, traditional camp with swimming, sports, nature activities, canoeing, and archery for campers with a variety of medical disabilities.
Hawaii
Camp Imua
Camp Imua is a week-long camp for kids ages 6 to 16 with a range of special needs or disabilities. Camp Imua allows them to be themselves in an environment that is inclusive and supportive. Imua has a wide range of activities that campers may participate in that they may not otherwise have the opportunity to experience.
Illinois
Camp Independence
An overnight camp run by the YMCA of Metro Chicago and Illinois Spina Bifida Association designed especially for people with spina bifida. Designed to learn self-care, develop new friendships, and try new adaptive sports.
Indiana
Camp Millhouse
Surrounded by 45 acres of woods, a residential camp for differently-abled people of all ages.
Camp Riley
Held at Indiana University's Bradford Woods, this camp is open to kids from ages 8 to 18 who live with disabilities.
Iowa
Camp Courageous
Camp Courageous offers year-round recreational opportunities with kids with special needs, including a specialized week for individuals with physical disabilities including spinal cord injuries and spina bifida. Activities work to empower campers with courage and explore their capabilities.
Camp Sunnyside
For children and adults with and without disabilities ages five and older, features an accessible indoor pool and the Meredith Tree House.
Camp High Hopes
Designed to offer a fun, safe, and adaptive recreational environment for people with disabilities, their friends, and families.
Kentucky
Center for Courageous Kids
Camp for children living with life-threatening illnesses to have fun and forget about their everyday struggles.
Maine
Camp CaPella
Providing camp programs for children and adults with disabilities, and their families.
Pine Tree Society Camp
It offers seven six-day overnight sessions geared toward various ages and disabilities.
Maryland
Camp Greentop
Year-round camping & therapeutic recreation program provides life-changing experiences in a safe environment for youth and adults with disabilities.
Easter Seals Camp Fairlee
Accessible camping opportunity located near Chestertown, Maryland. Residential/recreational camp for ages 6 and up.
Massachusetts
Camp Howe
Provides day, overnight, and weekly camping programs for persons of all ages with a primary focus on creating a community in which everyone is included and has a sense of belonging.
Michigan
Camp Grace Bentley Camp
Hosts campers with a range of physical and mental challenges ages 7-16.
Minnesota
Camp Friendship, Camp Courage, Camp Courage North, Camp Eden Wood, Camp New Hope
Providing life-changing experiences that enhance independence and self-esteem for children and adults with disabilities. Follow link for more information and 2014 schedule.
Camp Fish Tales
Wheelchair-accessible camp on 67 acres devoted to providing a unique camping atmosphere for those with special challenges.
Mississippi
Camp Dream Street
5-day camping program for children with physical disabilities.
Missouri
Camp MITIOG
A week-long summer camp in Excelsior Springs, MO devoted to children living with Spina Bifida.
Wonderland Camp
Wonderland Camp provides a safe, fun, and educational experience for campers who have disabilities. This camp works to provide and nurture personal development for each counselor and camper.
New Hampshire
Camp Allen
A private non-profit residential summer camp for individuals with physical and/or developmental disabilities. Located in Bedford, New Hampshire.
New Jersey
Camp Merry Heart
Recreation and activities for people of all ages and all types of disabilities and special needs in Hackettstown.
Camp Chatterbox
Therapy camp for non-speaking or severely speech-impaired children, ages 5 -16, who functionally use synthesized augmentative and alternative communication (AAC) devices.
Rising Treetops at Oakhurst
Rising Treetops Camp Oakhurst enhances the quality of life of children and adults with special needs. This year-round camp provides a safe and accepting environment with accessible services for all campers to participate, allowing them to gain confidence and reach their potential.
New York
Camp Paquatuck
Camp for children and young adults, ages 6-21, with physical and developmental disabilities.
Camp Anne
A fun-filled, safe environment for children and adults who require various levels of support, and who may also have physical and/or medical needs.
Camp Huntington
Offers therapeutic recreative programs during summer and weekends for individuals with developmental disabilities.
Southampton Fresh Air Home
Serving physically-challenged children ages 8 to 18.
Double H Ranch Summer Camp
Camp for ages 6-16 dealing with critical or life-threatening illnesses, giving them a chance to experience the magic of the Adirondacks.
Camp Oakhurst
Camp options for adults and children, available for those with physical or developmental disabilities to enjoy a memorable summer experience.
North Carolina
Camp Victory Junction
Victory Junction offers nine weeks of summer camp and is open to children with special needs, ages 6 to 16. Each week serves children with different needs and medical conditions, including one week just for kids with Spina Bifida. Victory Junction serves up to 128 kids at a time and works to enrich the lives of children with illnesses and special needs by providing fun and empowering camp experiences at no cost to children or their families.
Camp Carefree
Free one-week camping experience for kids with chronic illnesses including spina bifida and spinal cord injuries.
All Abilities Camp
Ages 5 to 16, open to children with and without disabilities. Campers participate in a variety of activities, including horseback riding, arts and crafts, and more.
Camp Free Spirit
Ages 2 and up, for those with physical or developmental disabilities. A day camp that uses outdoors and animals, especially horses, to teach individuals everyday living skills and an understanding of animals and the great outdoors.
Ohio
Camp Echoing Hills
Different camp opportunities for various age groups and mild to severe physical and/or developmental disabilities.
Camp Cheerful
Camp for children with disabilities and autism. Therapeutic horsemanship sessions are also offered year-round.
Oklahoma
Kamp Wildfire
Five-day retreat for children with spina bifida. Also open to children with Cerebral Palsy. Located in Pryor, OK.
Camp ClapHans
Residential summer camp for children with disabilities for ages 8-16.
Oregon
Camp Attitude
Christian camp with a safe and inclusive environment for kids with special needs.
Camp Yakety Yak
A two-week, therapeutic day camp that helps children with special needs grow socially and emotionally by improving their communication skills.
Pennsylvania
FireFly Camps & Retreats
Provides year-round opportunities for personal development and skill-building for individuals with spina bifida and related disabilities.
Club LilyCamp
For adults 19 and up with any disability.
York County Day Camp
A six-week York County day camp, specifically designed for those with disabilities ages 5-21.
Dauphin County Day Camp
Three-week day camp specifically designed for those with disabilities ages 5-21.
Cumberland County Day Camp
Three-week, Cumberland County day camp for those with disabilities ages 5-21.
Adams County Day Camp
Three-week Adams County day camp in a therapeutic environment.
Camp Woodlands
Camps available for children and adults with disabilities and chronic illnesses.
Camp Spifida
A camp for children with spina bifida ages 6-18. A week full of fun activities like arts and crafts, fishing, swimming, paddle boats, hayrides, rope courses, climbing walls, and more.
South Dakota
Spirit Camp
Spirit Camp offers experiences for kids with disabilities to enhance self-confidence and improve independence.
Tennessee
Camp Discovery
Camp Discovery is built to create long-lasting positive memories for campers with physical and mental disabilities that may not be able to have the summer camp experiences. This is a week-long camp that builds relationships and independence through daily activities.
Texas
Camp John Marc
Six-day residential camp for children with Spina Bifida ages 8 to 15.
Camp For All – Camp LIFE
Created to promote an inclusive environment for all kids accepting children with a variety of special needs including autism, cerebral palsy, spina bifida, and more.
Camp Summit
This camp, based out of Paradise, TX, welcomes all campers, regardless of their disabilities. Camp Summit provides a fun environment where your child can reach new potential through recreational, social, and therapeutic activities.
Camp That Love Built
This completely adaptive summer camp gives those with spina bifida opportunities for independence and fun!
Texas Lions Camp
Texas Lions Camp provides a safe place for kids (ages 7-16) with physical disabilities. This week-long camp experience encourages campers to explore, exercise, and find new interests and abilities through daily activities.
Utah
Camp Kostopulos
Dedicated to improving the lives of people with disabilities through the medium of recreation and leisure education. It offers fishing, horse riding, swimming, campouts, arts and crafts, and more.
Virginia
Camp Easter Seals UCP
A camp designed to offer children and adults with disabilities the opportunities for sing-a-longs and talent shows to canoeing, nature walks, swimming, and arts and crafts.
Washington
Easter Seals Camp – Stand By Me
Fully accessible recreational camp for children and adults with any disability.
Camp Holiday Trails
A camp for children with special health needs.
Outdoors for All Summer Day Camps
It provides an active camp environment for children with and without disabilities ages 5-21.
Camp Prime Time
A camp for terminally ill and disabled children and their families.
Wisconsin
Badger Camp
It provides a positive natural environment where individuals with developmental challenges can learn about their surroundings and realize their full potential.
Although the contents of this list are believed to be reliable when posted, 180 Medical cannot guarantee this information to be current, accurate, or complete. Please contact the organization holding the camp for additional details regarding the events.
Need Catheter or Ostomy Supplies?
180 Medical is here for all your supply needs. Contact us.