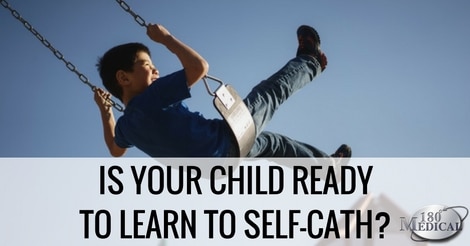 Does your child need catheters to drain their bladder? Are they at an age where they're ready to take over their bladder management routine and learn to self-cath?
While you may be in charge of your child's prescribed intermittent catheterization routine for their first formative years, you may wonder when is the right time or age for them to learn to self-cath on their own.
Some children as young as 5 years old successfully self-cath daily. However, reaching a certain age is actually not as important as a few other factors that can indicate if they are ready to self-catheterize. This includes your child's level of reliability and responsibility. Also, they need to be physically able to cath on their own. Plus, they may demonstrate a desire for more independence by wanting to learn to intermittently catheterize on their own.
Activities to Test If Your Child is Ready to Learn to Self-Cath
Louisa Salvin, an RN in the Pediatric Urology Department at SSM Cardinal Glennon Medical Center, has graciously provided the below information. This may help you determine if your child is physically ready to begin self-cathing.
"Certain physical and mental abilities are required in order to successfully learn to do self-catheterization," says Louisa.
She recommends trying these different activities to determine if your child may be ready to learn:
Hold a pencil with a pincer grasp and do up and down strokes.
Thread a shoelace.
With eyes closed, feel a hole and place a peg in it.
With your child watching you, place three objects in a bag. Do something else for a few minutes. Then have your child tell you what's in the bag and in what order the objects were placed in the bag.
Tips For Successful Self-Catheterization for Kids
If your child seems physically ready to start using catheters all on their own, let's move on. Next, make sure they have all the materials and information they need to take over their self-cathing routine on their own while maintaining proper hygiene and privacy.
Here are a few helpful tips:
Ease your child into self-cathing on their own.
First, remember you don't have to rush this process. The transition to having your child learn to self-cath can take time.
Use reminders to cath on time.
Consider setting alarms on a smartphone or a watch similar to these options. You can set multiple alarms during the day according to your child's prescribed catheterization regimen. These can remind your child when it's time to cath so they stick to a schedule.
Have the catheter supplies on hand and ready to go.
Depending on the catheter type your child uses, make sure you have all the necessary accessories, such as additional catheter lubricant, gloves to fit their hands, antiseptic wipes, and the right amount of catheter supplies for the day. For your kids who are ready to go to school with their catheters, having an all-in-one kit, such as a closed system catheter, can really make a difference in ease of use.

Make sure they understand proper hygiene.
Talk with your child about their hygiene before and after cathing, particularly washing their hands thoroughly. You may also look into supplying your child with gloves and/or antiseptic wipes to reduce the risk of urinary tract infections or spreading germs.
Watch for the signs of urinary tract infections.
Especially when they are first learning the process of how to properly cath, it's important to watch for symptoms such as pain, burning, blood or sediment in the urine output, increased urgency or frequency, or a fever. If symptoms of a urinary tract infection (UTI) start, contact your child's doctor as soon as possible.
Offer support throughout the process.
Be supportive and patient as your child learns to self-cath on their own. Positive encouragement and making sure they follow their catheterization schedule is crucial to their success.
Sign up for the 180 Medical Kids Club.
A great starting point for your child will be to sign up for the 180 Medical Kids Club. This awesome program was created just for you and your child to begin adjusting to the new process of independently cathing.
Right off the bat, you will receive a drawstring backpack filled with one-of-a-kind educational materials and activities, along with a few additional fun surprises, and your child can begin learning more about Ethan & Emma, 180 Medical's own storybook characters who help emphasize the normality of using catheters.
The Kids' Club also teaches proper hygiene when using pediatric catheter supplies.
Keep in touch with your child's doctor.
Keep in mind that each situation and condition is as unique as the individual who needs catheters, so please consult with your child's prescribing healthcare professional to determine if they believe your child is ready to use catheters on their own and what type of catheter may be best for their needs.
Where to Get Pediatric Catheter Supplies
Ready to find the right pediatric catheters for your child? 180 Medical has been specializing in intermittent catheters, incontinence supplies, and ostomy products for nearly 20 years. We have experience in helping children as young as newborns. We're here to help you and your child find the best intermittent catheters to fit their unique needs.
If you have any other questions or would like more information, contact our friendly specialists.