Summer is in full swing, and with that comes the sun and plenty of heat! I hope you and your loved ones are enjoying your summer so far and participating in lots of fun activities. That's why I'd like to share some of my top tips for staying healthy in the summer with a disability.
For me, some of the biggest highlights of my summers are playing wheelchair softball, going to our cabin, and going for the occasional swim.
My Tips for Staying Healthy in the Summer with a Disability
As an adult with spina bifida that loves to stay healthy and active, I also have a few things I always keep in mind regarding my health when it comes to being outdoors during hot summer months.
Since many summer activities involve being out in the sun or in the water, let's focus on ways we can still enjoy the outdoors while having a happy, healthy, and safe summer.
Tip 1. Stay hydrated.
First and foremost, focus on your hydration. Without proper hydration monitoring, we can run the risk of overheating or getting dehydrated. That can not only mess with our health but also our summer fun, and nobody wants to experience that! This is especially important for people with spinal cord injuries to avoid overheating due to serious conditions such as autonomic dysreflexia.
During these hot summer months, make it your top goal to keep your body properly hydrated. This means you should be drinking the right amount of water for your body's needs. A standard goal that is often recommended is aiming for around 8 glasses of water per day.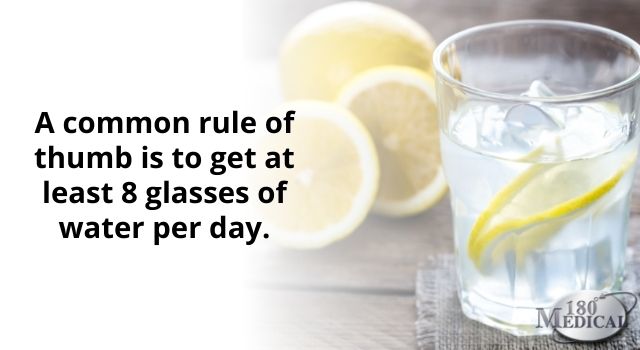 Of course, it's not that we can't enjoy other beverages like soda, juice, etc. However, water is the primary source of hydration our bodies need.
By focusing on hydration, we can help our bodies protect against a variety of issues (eg. dehydration, heatstroke, overheating, etc.). Plus, if you use intermittent catheters or if you deal with frequent urinary tract infections, your doctor may want you to drink plenty of fluids to keep your urine flowing. This helps flush the urinary tract of potentially harmful bacteria.
Tip 2. Perform regular skin checks.
When you're living with spina bifida, a spinal cord injury, or another condition that can easily lead to pressure sores and wounds, it's important to do daily skin checks.
Having healthy skin that's free of pressure sores, breakdown, and irritation is paramount in order for us to continue to enjoy the freedom to participate in any activity at any time. Focus on any common pressure points on the skin, such as the butt, back, and feet, especially if you have limited sensation.
Whether you have experienced it firsthand or not, we all know a pressure sore can lead to some terrible outcomes. By actively making sure we keep an eye on our skin, we can significantly reduce the risk for pressure sores to develop.
Tip 3. Prepare your wheelchair.
Do you use a wheelchair? If so, another important aspect of summer health is making sure you prepare your wheelchair in advance of outdoor activities.
For example, if you plan on going swimming or being in the water, bring along some extra towels. You'll need some for your body, but it's also a good idea to have some extra for your chair.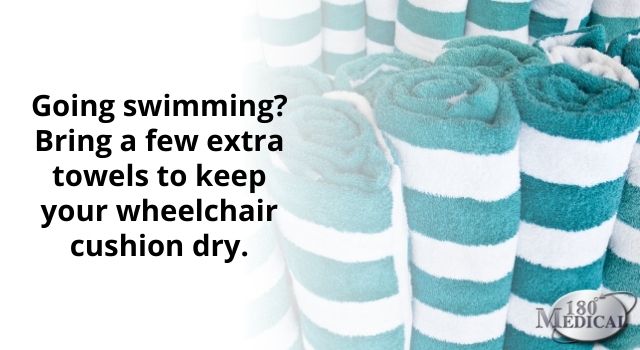 It's never a good thing to sit on a wet wheelchair cushion all day. Why? Because this is a common culprit for skin breakdown issues.
I used to volunteer at a camp that offered plastic garbage bags near the pool. These could be used to wrap wheelchair cushions in a bag to seal out any water.
Also, if you're not swimming but plan on spending some time out of your chair, use some towels to cover your chair so it doesn't get too hot. Another option is to flip your cushion over. This keeps the sun from directly hitting and heating up the part of the cushion you sit on.
Tip 4. Protect your skin from the sun.
Lastly, let's talk about protecting yourself from the skin. As a redhead, I know all too well what can happen when you are out in the sun for too long without sunblock or sunscreen.
If you consistently use sunblock when you're outdoors, you can avoid turning as red as a lobster during the summer. Plus, it can significantly help towards avoiding wrinkles and skin cancer.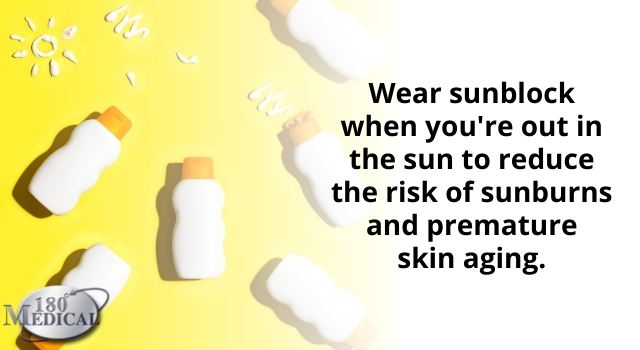 When applying your sunblock, remember to get it on all uncovered skin. This includes your nose, ears, and even your lips (thank me later!). Then just remember to apply often. I usually apply it to my face every two hours when I am outside for long periods of time.
Also, keep in mind that it often takes more sunscreen than you think to correctly protect yourself.
Have a Happy and Healthy Summer!
Of course, there are numerous ways to make sure we stay safe while enjoying a happy, healthy summer. However, hydration and skincare are usually my top tips for staying healthy in the summer.
I hope these tips I've learned help you get out there and enjoy some summer fun without worry about skin breakdown, sunburns, overheating, and other common issues. Cheers to having a happy, healthy, and safe summer!