If you use an intermittent catheter on a regular basis, you probably already know you have to keep track of several types of supplies every time you self-cath. For example, you need to have your catheter, lubricant, gloves, wipes, and more. However, did you know that there are some advantages of a catheter kit?
Closed system catheter kits are all-in-one intermittent catheters that provide all you need for a sterile, clean catheterization. Find out more about some of these benefits below.
Advantages of Using a Closed System Catheter Kit
Using a catheter kit comes with some unique advantages over using uncoated catheters alone. To start, here are just a few features to know.
Includes Everything You Need to Catheterize
A closed-system catheter kit includes everything you need to self-catheterize hygienically. Of course, what comes in each kit depends on the catheter brand you choose. However, most catheter kits include a flexible, sterile catheter, which is often pre-lubricated or hydrophilic (activated by water). In addition, you'll usually find a separate lubrication packet, sterile gloves, antibacterial swabs or wipes, and an underpad. Occasionally, some kits include a refuse bag for discreet disposal.
Privacy and Ease of Use
With an all-in-one package, a closed system catheter kit is easier to transport and use privately and quickly. You can self-cath just about anywhere – whether at home, in a public restroom stall, or any other private space.
Introducer Tip May Help Prevent UTIs
Most closed system catheter kits today include a flexible introducer tip. This is a lubricated tip that enters the first quarter inch or so of the urethra, which houses the highest concentrations of bacteria.
When the catheter advances forward from within that introducer tip, it emerges inside the urethra beyond that main area of risk of contamination. Therefore, it's less likely to push bacteria further into the body, which may help reduce the risk of infection.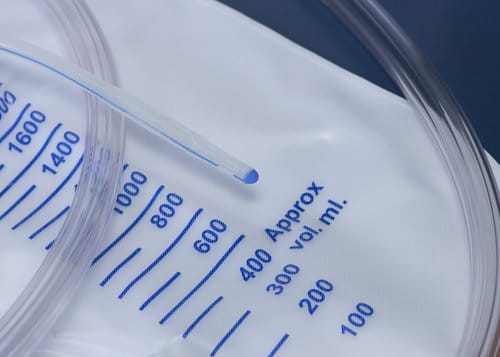 Pre-Lubricated for Quick, Easy Cathing
The majority of today's catheter kits feature a pre-lubricated catheter within the kit. This means you don't have to lubricate your catheter yourself, which minimizes hand contact with the catheter tube. This is another helpful preventative feature that may reduce the risk of infections like UTIs (urinary tract infections).
Integrated Urine Collection Bag
There are definite advantages of a catheter kit with a collection bag. These not only house the catheter and keep it sterile until it's advanced outside of the package. The integrated collection bag also allows you to inspect your urine output, such as measuring it, checking the color, and making sure you're not dehydrated or dealing with an infection.
Ideal for People with Spinal Cord Injuries
Whether you're in a wheelchair or if you have limited hand function, closed system catheter kits come in a variety of options for ease of use for people with spinal cord injuries. For example, the Cure Dextra and the MTG EZ-Gripper have unique features to help you grip, advance, and insert the catheter independently.
Also, the integrated all-in-one aspect of catheter kits makes it easy to carry around. You can even self-cath right from your chair without transferring to a toilet.
Ready to Try a Closed System Catheter?
180 Medical's Product Specialists are ready to help you out. We can verify your insurance to make sure this advanced catheter will be covered on your plan. Also, we're happy to help you find just the right catheter for your needs.
Contact us to try out some free catheter samples!
Request Free Samples