As a support group leader and a spinal cord injured person, I am privy to many concerns, thoughts, and feelings from within the disabled community. Lately, the most common concern I hear about relates to having feelings of anxiety and depression related to social isolation. Many people living with physical disabilities stay at home a lot of the time normally. Some are even homebound all of the time. Now, during the current COVID-19 pandemic, as we all shelter in place, many more of us, whether we live with a disability or not, are experiencing feelings of loneliness and isolation.
Tips to Connect and Stay Calm During Quarantine
Many find a sense of purpose and community in being able to go out, socialize, and even simply take care of daily errands like grocery shopping. Now that we're urged to stay at home and practice social distancing, what do we do? The following tips may help.
Talk It Out With Online Therapy
Lately, more resources are coming online to create better access for anyone to get therapy and counseling. I've even seen apps where you can chat with a licensed therapist via text messaging.
Depending on which service you choose, you may even be able to specify your circumstances. For example, you may be able to request a therapist who has worked with differently-abled patients.
Many of these work with your existing insurance plan, although if they do not accept your insurance, you might be able to ask if they offer discounts.
In addition to therapy, many physicians are offering virtual video and phone call appointments to keep their patients safe from virus exposure. This is a great opportunity to speak with a professional who can file your insurance.
Popular Online Therapy Options and Apps
Make New Connections on Social Media
While some aspects of social media may include "doom and gloom" posts, many more people are connecting with funny posts, inspirational quotes, and more. Some brave people even get on camera to make a video to share. No matter what platform of social media you choose, I bet you can find something to make you laugh or even put a smile on your face.
Social media is also a great way to meet like-minded individuals. Places like Facebook offers private groups where you can chat with others and share tips, stories, and anecdotes. Better yet, if you feel you have something to talk about that can inspire someone else, think about making a video of you talking and post it online.
Join an Online Support Group
Many support groups are still having meetings, but they are offering them as online video chats or phone conferencing. If you already belong to a local support group, check with your support group leader and see if they are planning to move to an online format to include everyone.
If you haven't joined a support group, take a look at this resource to learn more and find one to join.
Being in a group with others feeling the same way you do helps you remember we're not alone.
Keep Your Mind Active
When you have plenty of time alone at home, it can be easy to fall into a trap of negative thinking or even depression. Why not use this time as a way to enrich your mind? Escape and relax into an adventure or fictional story, or start a new non-fiction book to learn something new.
Many local libraries are now offering ways to sign up for their services online. Then you can start checking out e-books to read on your smartphone, tablet, Kindle, or laptop. Libby is a free app that will let you log into your local library for access to free e-books and audiobooks as well.
In addition, this is a great time to break out old board games and puzzles. It's a great way to keep your mind stimulated while having some fun. If you have family or roommates, play with them too. Live alone? Many apps now offer online games like Scrabble or chess, so you can play games with friends and family virtually as well.
Start a New Craft or Home Improvement Project
If you are a person who likes doing it yourself (DIY), then find a fun project to work on in your home. Something as simple as reorganizing your bedroom closet or painting a table can be a nice distraction. Plus, it may even give you a feeling of accomplishment.
You can also try out fun craft projects. Thanks to the internet, you can easily find a new crafty idea for a home project or craft. For instance, you might enjoy step-by-step artwork that you can print out and try to draw. If you like cooking, you can download new recipes to try out. Think about challenging yourself to cook a one-pot meal or replicating a favorite restaurant meal.
Whatever you choose to do, you may be able to find something to enjoy making. Remember it doesn't have to be perfect; the important thing is that you feel good.
Exercise at Home
Kick in some good-mood-making endorphins by getting in some exercise. Whether you live with a disability or not, you have options for physical activity – even at home.
The great thing about exercise today is there are so many forms that can suit you and your lifestyle. For instance, if you have limited mobility or need careful low movements, you may prefer a soft yoga routine with a breathing exercise or meditation. On the other hand, if you want to add some muscles, get some small dumbbell hand weights to get started.
If none of this excites you, you can turn on your favorite music and just dance. I've seen quite a few accounts on Instagram offering live DJ sessions or guided dance routines on live video. It's amazing how much technology can keep us connected and moving!
Also, you might think about checking out YouTube to find a nighttime meditation, positive affirmations, or music to help you sleep, especially if you're experiencing anxiety late at night that disrupts your sleep.
Talk to Your Family and Friends
Lastly (but certainly not least), remember your loved ones during this time. Chances are, they may be feeling just as lonely, anxious, or fearful as you during this time. Just because you may be far away from family or friends doesn't mean you can't still speak to them. Call them on the phone, or try out video chat options like Facetime, Skype, or Zoom to have a virtual family reunion.
A new fun app called Houseparty is a face-to-face way to talk to your social group while playing games together like trivia, Quick Draw, and more.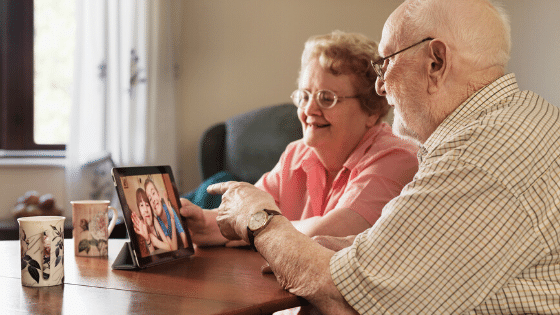 As you can see, you still have plenty of ways to connect with others and focus your mind on positive thoughts whether we are homebound or safely practicing social distancing.