At 180 Medical, we love to be one of the first to let you know about the latest news and product launches. The Hollister Infyna Chic Hydrophilic Catheter is a new female length catheter, now available at 180 Medical. We're ready to tell you about its fresh look and convenient features.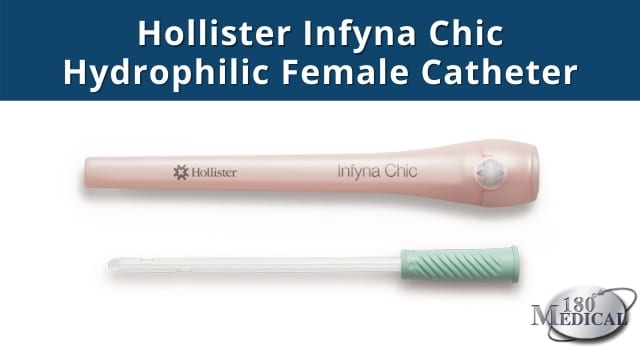 Since Hollister began in 1921, the company has strived to provide high-quality products that can help positively impact the quality of life of its users. Their newest product, the Hollister Infyna Chic Hydrophilic Catheter for Women, is designed to be easy to carry, use, and store.
In 2022, Hollister made some key updates to the Hollister Infyna Chic Catheter, which includes a clear PVC-free tube for better visualization, a longer female length catheter tube for confident drainage, and a more lubricious coating.
Hollister Infyna Chic Hydrophilic Catheter Features
One of the first things you may notice about this new touch-free catheter is its chic, discreet packaging. The pocket-sized carrying case is easy to open and close with just one hand. Plus, the case is recyclable, which means less plastic waste and a reduced carbon footprint.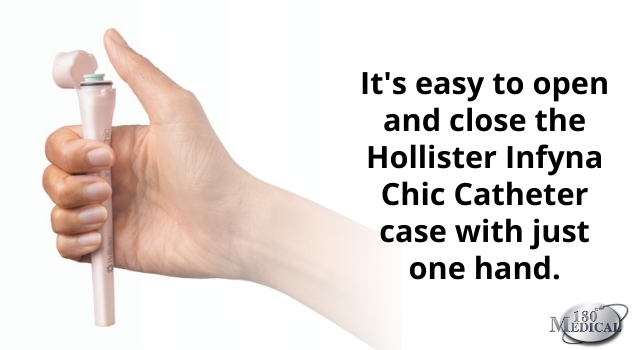 Inside the case, the 5.5 inch female length hydrophilic catheter is ready to use due to being pre-hydrated in its own water solution. You don't have to worry about carrying additional lubricant packets or activating its lubricated coating. It's ready to go when you are.
Additionally, it will not leak when the case is closed. However, if you spill it while the container is open, the liquid should not stain common fabrics like denim or polyester.
List of the Infyna Chic Catheter's Features
Pre-hydrated, ready-to-use with a new hydrophilic coating for easier insertion
5.5 inches long (female length)
Not made with PVC, BPA, phthalates, DEHP, or natural rubber latex
Color-coded funnel for easy French size identification
Heat-polished eyelets for comfort
Does not leak when reclosed
Non-staining
Optimal catheter rigidity for easy touch-free insertion
Discreet, recyclable carrying case
Easy to open and use
Hollister Infyna Chic Catheter Product Numbers and French Sizes
The Infyna Chic features unique pastel-colored catheter funnels to indicate French size.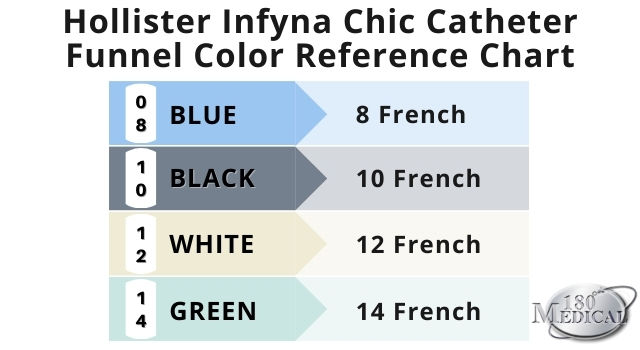 180 Medical is proud to offer Hollister Infyna Chic Female Catheters as part of our high-quality inventory. They're currently only available in 12 and 14 French, although the 8 and 10 French size options will soon be available.
| | |
| --- | --- |
| French Size | Item Number |
| 8 Fr | 8108-30 |
| 10 Fr | 8110-30 |
| 12 Fr | 8112-30 |
| 14 Fr | 8114-30 |
To determine which French size is right for your anatomy, be sure to consult with your prescribing doctor.
Self-Catheterization Instructions for Women Using the Hollister Infyna Chic Catheter
Do you want more information about how to use Hollister Infyna Chic Catheters? 180 Medical provides step-by-step catheterization instructions on our website for men, women, and children at howtocath.com.
Here are some helpful cathing instructions from Hollister for learning how to cath with Infyna Chic catheters.
First, wash your hands or use an alcohol-based hand sanitizer.
Assume the position most comfortable for you to self-cath, such as sitting or standing near a toilet. If your doctor advises using antiseptic wipes, use one hand to spread your labia open while using the other hand to clean the area gently.
Take out your Infyna Chic and flip the cap with your thumb, breaking the seal. Then remove it by its funnel, making sure not to touch the catheter tube.
Next, insert the catheter into the urethra by parting the labia with your non-dominant hand and slowly inserting the catheter with your dominant hand until urine starts to flow.
Slowly withdraw the catheter. If urine begins to flow again, pause and allow the remaining urine to flow. This helps ensure your bladder is empty.
Afterward, you can put the catheter back inside its case for disposal or carrying. It should not leak when reclosed. Alternatively, you can throw the catheter away and save the case to recycle later.
Lastly, be sure to wash your hands again after catheterization.
Remember, catheters are single-use devices. Washing and attempting to reuse this catheter may damage its unique hydrophilic coating or increase the risk of urinary tract infections.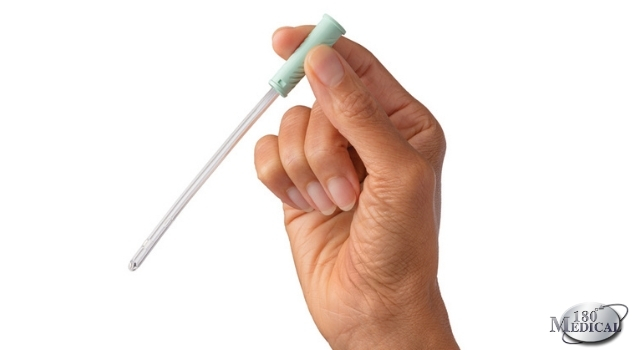 Where to Find Hollister Infyna Chic Catheters
All catheters, including the new Hollister Infyna Chic Female Length Hydrophilic Catheter, are distributed based on prescription only. So be sure to see your doctor to get a valid prescription and to find what size and type of catheter will work best for your needs.
If you're looking for where to buy insurance-covered catheters, 180 Medical is ready to help you. We're one of the leading specialized providers of intermittent catheters, ostomy products, and incontinence supplies in the nation.
We carry one of the widest varieties of catheters from all the top brands on the market. When you choose 180 Medical, you have the freedom of choice to pick the brand and type of catheter that best fits your needs, based on your doctor's prescription and your health insurance coverage.
If you're ready to try out the new Hollister Infyna Chic Female-Length Hydrophilic Catheter, contact 180 Medical today.
Disclaimer: This post is intended to provide a general understanding of this catheter product. It is not medical advice nor a product recommendation. Please consult your healthcare provider for any medical advice.