Did you know that urinary catheters aren't technically a new invention? Catheters may have been used as early as 5,000 years ago. Learn more in this comprehensive post about the history and evolution of catheters. Plus, find out about the latest developments in new catheter technology.
The History of Urinary Catheters
The history of catheters may have begun as early as 3000 BC. Back in those days, humans didn't have the level of technological advancement to create sterile, flexible catheters. They used what materials were available to them.
Ancient Syrians used hollow reeds to relieve built-up urine in the bladder. As technology continued to advance, they began to use stiff catheters composed of metal, such as brass, copper, gold, and lead.
Benjamin Franklin, the famous inventor as well as one of the 'founding fathers' of the United States, also played a part in advancing catheter technology. He created a silver catheter for his brother John. He saw that catheterization was painful for John, so he worked with a local smithy on a new, more comfortable catheter design.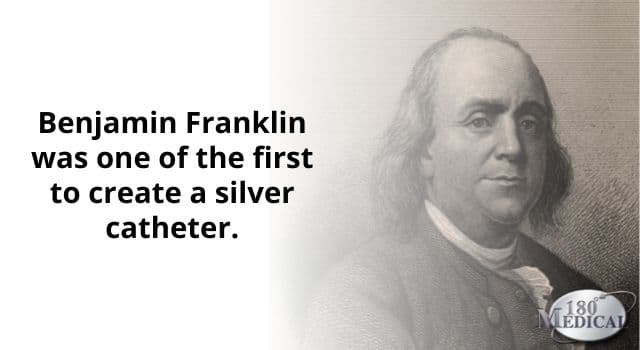 While we no longer have silver catheters today, silver is still used in certain medical supplies due to its antibacterial and antiviral properties. In fact, some types of Foley catheters have colloidal silver properties, which may help reduce the occurrence of urinary tract infections.
The Evolution of Catheters and Materials
The first rubber catheters came on the scene during the 1700s. These catheters were revolutionary because they were far more flexible than any catheter before.
However, there were a few drawbacks. Natural rubber weakens easily and can become brittle when cold. This made some rubber catheters disintegrate, leaving debris behind in the bladder and urethra.
In the 1800s, Charles Goodyear formulated the concept of vulcanization of rubber, which was later patented in 1844 by Thomas Hancock. This improved the overall quality of rubber while revolutionizing its production.
In the 20th century, latex red rubber catheters were one of the most popular materials.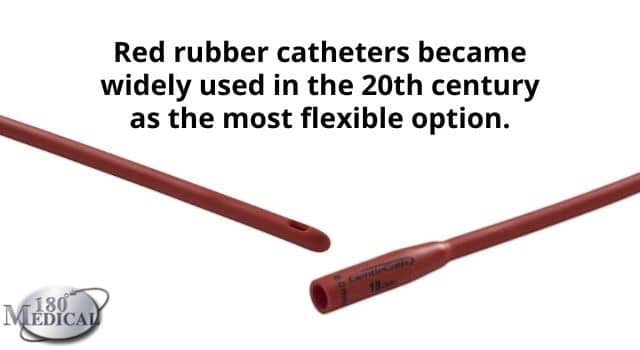 Near the end of the 20th century, other materials began to become more popular, including vinyl catheters, latex-free catheters, and silicone catheters.
Catheter Material Options
The material of a catheter plays a crucial role in functionality and comfort. For instance, if you're inclined towards a firm catheter, vinyl options might suit you. On the other hand, a red rubber catheter or a soft catheter may be preferable if you like your catheters to be more flexible.
The primary materials and material options for catheters include:
Plastic, vinyl, or PVC (polyvinyl chloride)
POBE (polyolefin-based elastomer)
Silicone
Soft
Rubber latex
These materials can also offer options like being made without latex or made without phthalates or plasticizers like BPA or DEHP.
Your selection will largely depend on your personal preferences and comfort. At 180 Medical, our Catheter Specialists are here to help you explore different options by offering free samples before you decide on a final order.
Want to try out a free catheter sample and find what works for you?
Request Free Samples
The Start of Sterile Catheterization
Overall, catheterization was a safe procedure. However, cases of urinary tract infections still frequently occurred because catheters were still being reused regularly.
After World War II, many disabled veterans had spinal cord injuries and other ailments that required the use of catheters. They also experienced frequent infections. This is when the concept of sterile intermittent catheterization was introduced by Ludwig Guttman, a British neurologist at the time who is now considered to be one of the founding fathers of organized physical activities for people with disabilities (including the Paralympic Games in England).
This practice of sterile catheterization helped reduce the occurrence of urinary tract infections.
The Evolution: From Uncoated to Advanced Catheters
During the 1990s and 2000s, there was another significant shift in catheter technology. For a long time, the most common catheter option, especially for people who use wheelchairs or senior citizens, was the Foley catheter (indwelling catheter). Foley catheters, typically inserted by a doctor or nurse, are designed to stay in the bladder for an extended period of time. This can leave folks feeling tied down to their catheter device and drain bags. Also, Foley catheters may be associated with a higher risk of urinary tract infections.
Moving from an indwelling catheter to an intermittent catheter (a catheter that is used once and thrown away) can be freeing and create a sense of more independence for some users. However, uncoated catheters still require the use of additional lubricating jelly.
As more people chose intermittent sterile catheterization, there was a call in the industry to begin advancing intermittent urinary catheter technology. More users wanted a safer, more sterile way to self-catheterize without directly handling their catheters. Many wanted an alternative that would help reduce their risk of catheter-associated urinary tract infections (CAUTIs). Others wanted more discreet catheters, something that could be easily toted to work, school, or on vacations.
Here are some of the more recent advancements in the evolution of catheters.
Pre-Lubricated Catheters
Pre-lubricated catheters are designed with user comfort and convenience in mind. These catheters are ready to use with a lubricant already applied to the catheter. This eliminates the need for manual lubrication before insertion, which not only simplifies the catheterization process but also reduces preparation time, making catheterization on to go easier than ever before.
Depending on the catheter brand or manufacturer, there are several different options for pre-lubricated catheters. From CompactCath pre-lubricated catheters that are lubricated with silicone oil to Cure Medical Ultra Catheters, which offer a CoverAll™ application for even distribution of lubricant as the catheter is removed from the package, you have plenty of options to try out and choose at 180 Medical.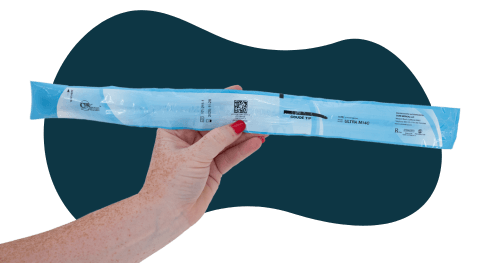 Hydrophilic Catheters
Hydrophilic catheters take this concept a step further. These catheters feature a special coating that, when activated by water, becomes extremely slick. This allows the catheter to glide smoothly and effortlessly through the urethra, reducing friction and discomfort. Like pre-lubricated catheters, many hydrophilic catheter options come ready for use or activate within seconds, making them a convenient choice for many individuals.
Both these catheter options can be provided with an insertion supply kit, subject to individual insurance coverage. The kit typically includes items like gloves, antiseptic wipes, a drape, and a collection bag – items that help maintain a sterile environment and make the catheterization process even more hygienic.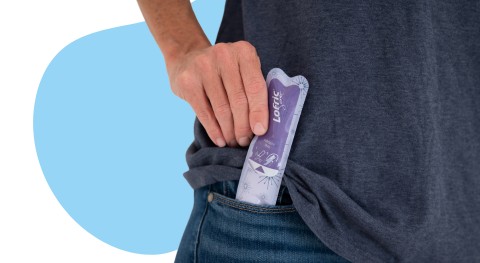 Closed System Catheters
Closed system catheters represent a significant advancement in catheter technology. These all-in-one systems include a pre-lubricated catheter housed within a collection bag. This design minimizes the risk of infection by reducing the need for direct contact with the catheter. Additionally, many closed system catheters come with an introducer tip, which allows the catheter to bypass the highest concentrations of bacteria in the urethra, further reducing the risk of UTIs.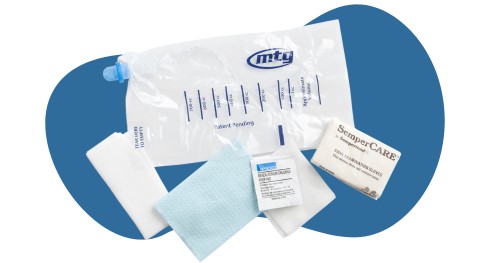 Over the years, closed system catheters have evolved to become more user-friendly and discreet, with many brands offering compact, travel-friendly options. Like pre-lubricated and hydrophilic catheters, these can be provided with insertion supplies, offering a comprehensive, hygienic solution for catheter users.
Request Free Samples
The Latest Developments in Catheter Technology
In the 21st century, catheter technology has seen so many advancements from where we were just a few decades ago.
Not only do today's catheters come in a variety of materials, sizes, and brands (manufacturers), but they also come in several different types, including pocket catheters and catheters made specifically for folks with limited hand function.
So, what are some of the newest catheter advancements? Convatec offers a breakthrough in hydrophilic catheter technology with GentleCath™ Glide Catheters, available in male length, female length, and coudé tip options.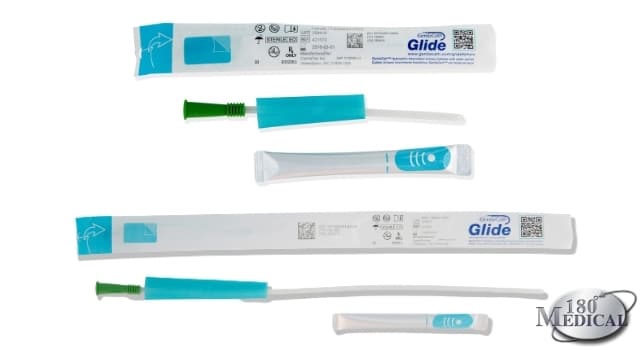 Unlike most hydrophilic coated catheters that use PVP (polyvinylpyrrolidone) in their coating, GentleCath™ Glide catheters are made with FeelClean™ technology. This means that the GentleCath™ Glide's hydrophilic properties are integrated into the catheter itself, eliminating the use of PVP (glue). GentleCath™ Glide catheters do not become sticky or dry out. This may help reduce the risk of urethral trauma and friction, making for a more comfortable cathing experience.
Request Free Samples
Looking ahead to the future, many catheter manufacturers are not only looking at creating options that are comfortable and help reduce hand contamination but are also discreet, easy to use, and eco-friendly. We're excited to see what's next.
As a leading catheter supplier in America, 180 Medical is one of the first to carry the latest catheter product releases. We've specialized in providing the best possible catheter supplies for over two decades.
Our friendly specialists are ready to work with your insurance and prescription to help you find the catheter that will work best for you from our wide variety of top catheter brands and types.
Contact us today to try out free samples and learn more!
References
Carr, H. A. (2000). "A short history of the Foley catheter: from handmade instrument to infection-prevention device."
Lapides, J., A. C. Diokno, A.C., et al. (1972). "Clean, intermittent self-catheterization in the treatment of urinary tract
disease." J Urology 107(3): 458-461.
J Endourol 7(2): 89-92.
Mattelaer, J. J. and I. Billiet. (1995). "Catheters and sounds: the history of bladder catheterisation."
Paraplegia 33(8): 429-433.
Nacey, J. and B. Delahunt. (1993). "The evolution and development of the urinary catheter." Aust N Z J Surg 63(10): 815-819.
Disclaimer: This post's intent is to provide a general understanding of product options that are available on the market. Please do not use this information in place of recommendations from your prescribing healthcare provider. Lastly, for medical advice, please consult with your doctor.