You might think catheters are a relatively new invention. While it's true that catheter technology is constantly advancing, the idea of a tube to drain the bladder has been around for centuries now. This post breaks down the history of catheters.
The History of Catheters
So what's the first documented use of catheters to drain the bladder? Would you believe the history of catheters may have begun as early as 3,000 BC?
Of course, back in those days, humanity didn't have the technology to manufacture sterile, flexible catheters. So they used what materials were available to them.
Ancient Syrians used hollow vegetation such as reeds to relieve built-up urine in the bladder.
Other Catheter Materials Throughout History
Humans used hollow reeds for a while. However, later, we know that humans made and used catheters composed of metal, such as brass, copper, gold, lead, and silver. While we no longer have silver catheters today, silver is still used in certain medical fields due to its antibacterial and antiviral properties. In addition, some types of Foley catheters have a colloidal silver coating, which may help reduce UTIs.
Benjamin Franklin, the famous inventor as well as one of the forefathers of the United States, had a hand in the creation of a silver catheter. He originally created it for his brother John. He saw that catheterization was painful for John so he worked with a local smithy on a new, more comfortable catheter design.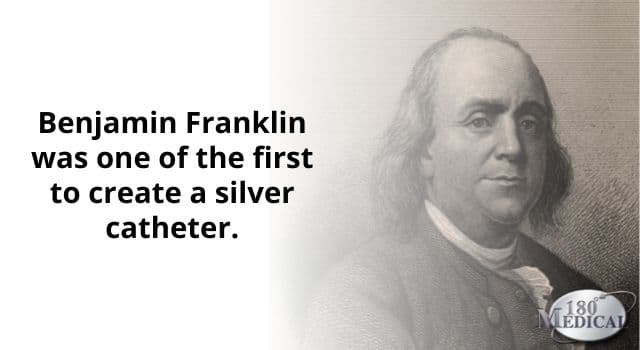 New materials continued to be discovered and used, as the quest to find a more comfortable and flexible catheter went on.
The Dawn of Red Rubber Catheters
The first rubber catheters came on the scene during the 1700s. These catheters were more flexible. However, natural rubber weakens easily and can become brittle when cold. Unfortunately, the rubber catheters of this time period would sometimes disintegrate, leaving debris behind in the bladder and urethra.
Next, in the 1800s, Charles Goodyear formulated the concept of vulcanization of rubber, which was later patented in 1844 by Thomas Hancock. This improved the overall quality of rubber while revolutionizing its production.
Soon, the majority of catheters were vulcanized rubber. In the 20th century, latex red rubber catheters were one of the most popular materials.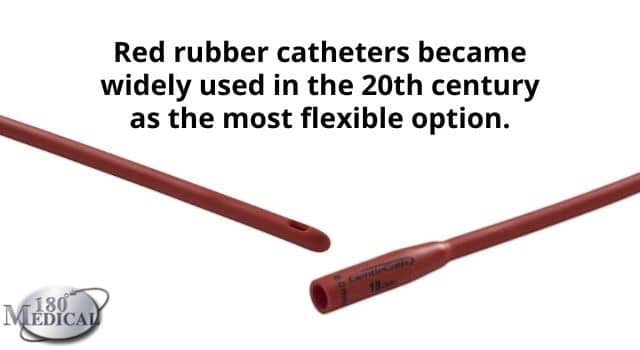 Technology continued to advance, and near the end of the 20th century, other materials began to become more popular, including latex-free catheters and silicone catheters.
The Advent of Sterile Catheterization
Overall, catheterization was a safe procedure. However, cases of urinary tract infections still frequently occurred.
After World War II, many disabled veterans had spinal cord injuries and other ailments that required the use of catheters. They also experienced frequent infections.
This is when the concept of sterile intermittent catheterization was introduced by Ludwig Guttman, a British neurologist at the time who is now considered to be one of the founding fathers of organized physical activities for people with disabilities (including the Paralympic Games in England). This practice of sterile catheterization helped reduce the occurrence of urinary tract infections.
The Latest Catheter Technology
Today, advancements in catheter technology are leaps and bounds ahead of where we were even just 20 years ago at the cusp of the new century.
Intermittent catheters exist in many materials, sizes, brands, and types, including hydrophilic catheters, pre-lubricated catheters, closed system catheters, pediatric catheters in sizes for children, and more.
180 Medical has specialized in providing the best possible catheter supplies for two decades. As a leading provider in America, we're ready to help you find the catheter that will work best for you from our wide variety of top brands.
Contact us today to try out free samples and learn more!
Request Free Samples
References
Carr, H. A. (2000). "A short history of the Foley catheter: from handmade instrument to infection-prevention device."
Lapides, J., A. C. Diokno, A.C., et al. (1972). "Clean,
intermittent self-catheterization in the treatment of urinary tract
disease." J Urology 107(3): 458-461.
J Endourol 7(2): 89-92.
Mattelaer, J. J. and I. Billiet. (1995). "Catheters and sounds: the history of bladder catheterisation."
Paraplegia 33(8): 429-433.
Nacey, J. and B. Delahunt. (1993). "The evolution and development of the urinary catheter." Aust N Z J Surg 63(10): 815-819.