180 Medical is a national supplier of intermittent catheters, ostomy products, and related medical supplies. We make it a point to hire positive, compassionate, hard-working individuals who want to enjoy going to work, not only for a paycheck but for a rewarding place where we can make a difference. 180 Medical offers a competitive benefits package, extensive training, and many fun extras and perks. We have also been named one of the Best Places to Work in Oklahoma for 9 years running.
We're excited to feature Wendy, one of our Executive Urology Territory Specialists, in this month's employee spotlight.
Wendy, congratulations on recently celebrating your 7th anniversary with 180 Medical! Tell us a little bit about yourself.
Twenty years ago, I moved from Florida to Colorado without a job and not knowing anyone because I love the great outdoors, and there is so much to do here. In the summer, I do a lot of hiking, camping, biking, and golfing. I have hiked five 14-ers. I also love live music and attend a lot of outdoor concerts in the summer. During the winter, I ski and snowshoe.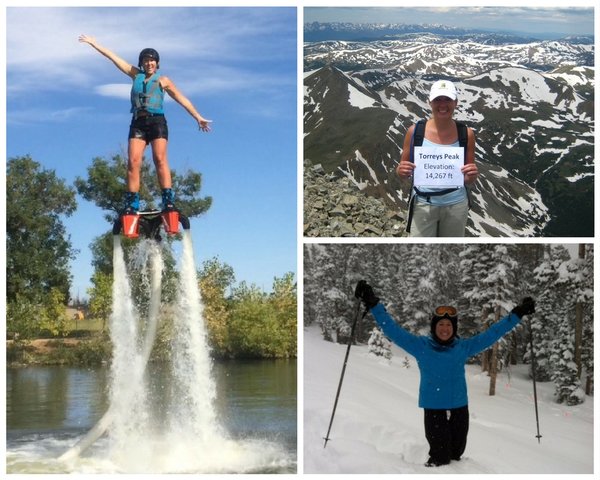 What is a typical day like as a 180 Medical Sales Rep?
My day starts early with emails and phone calls if I am working locally, and it starts even earlier if I have a lot of drive time to the area that I am working in. Due to the size of the territory that I cover, I have a lot of time between the wheel, but I'm always making calls to nurses along the way to answer questions and collect documentation such as prescriptions and Medicare documentation. The position requires a lot of multi-tasking, but my main responsibility is to call on any facilities in my territory that may have patients who will need to use intermittent catheters. I also like to make sure that all of my facilities are stocked with sample bags so that they have what they need when they teach a patient how to catheterize.
What are some of the best parts of your job?
The best part about working for 180 Medical is that we are the absolute best in the industry! We employ the most caring, knowledgeable specialists who truly go above and beyond for our customers every day, and this makes my job much easier. I can feel confident knowing that the patients our facilities send to 180 Medical for their supplies will be taken care of quickly with kindness and respect. The best part about being a territory specialist is that we get to make our own schedules, and I also enjoy getting to know the nurses and doctors and build relationships with them.
What sets 180 Medical apart from other employers, in your opinion?
180 Medical is just a rare gem that knows how to treat their employees as well as their customers. We have the most incredible company culture that I have ever experienced. Although I had been in sales for 10 years prior to 180 Medical, I had never worked for a company that gave their reps as much autonomy to run their business as 180 Medical does. One thing that working here has given me is the opportunity to learn discipline in managing my territory, such as scheduling, routing, and responding to the volume of emailed requests.
The longer I've been with 180 Medical, and the more the company has grown over the years, I've had some fun opportunities to ride along with and train more territory specialists to help them get their business going. I really enjoy training other reps and sharing my experience and knowledge with them, and 180 Medical has been a big part of allowing me to explore those strengths.
If you're interested in a sales job with 180 Medical and if you work hard and are smart, persistent, self-motivated, and driven, you will grow your territory and can be very successful!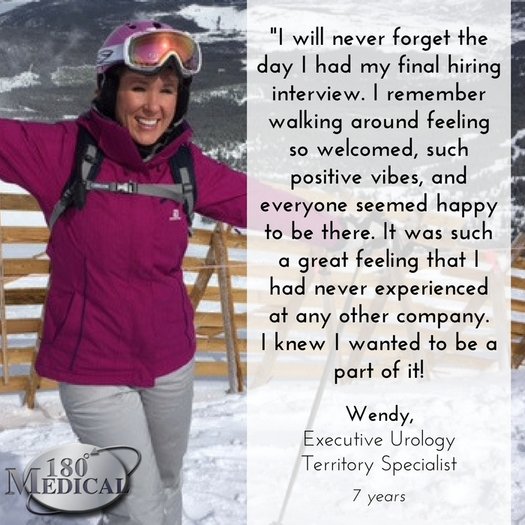 What's something about you that people might be surprised to know?
I'm a bit of an adrenaline junky, and I'm definitely the most adventuresome person in my family. I love trying new outdoor activities. I have been skydiving and fly-boarding a few times and have been a certified scuba diver since 1996.
What is one of your favorite 180 Medical memories?
My first favorite memory of 180 Medical is meeting Todd Brown (founder of 180 Medical) on my flight when I was working as a flight attendant. I will be forever grateful that I met him that day and that he gave me his card and the opportunity to interview. My second favorite memory is receiving the company coin, which was such an honor to me.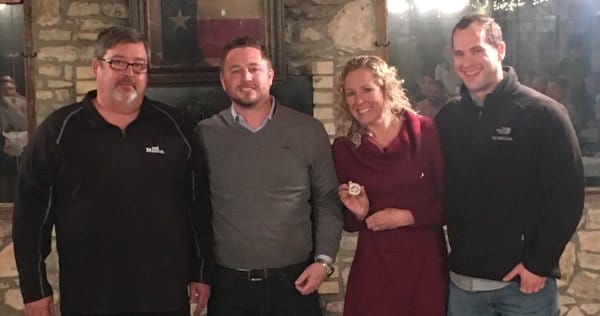 What are some fun community events you like to make time for outside of work?
I love getting the chance to attend as many charitable events in the community as I can.  A few of the major annual events I attend are the Spina Bifida Association Walk-N-Roll, Spina Bifida Association Education Days, Adaptive Adventures, Jam the Damz and several other adaptive programs for kids and adults with disabilities.  I also attend Boys Hope Girls Hope every year.
Wendy, thank you so much for taking the time to answer these questions! We truly appreciate you for all the hard work you put in, day in and day out, and all the compassion you show for not only our customers but for the doctors and nurses with whom you interact regularly to make sure we take care of their patients properly and compassionately. You display the 180 Way in all you do, and we're thankful for you and all of the hardworking Urology Territory Specialists every day!