Whether you've had a colostomy, ileostomy, or urostomy, you need to get your ostomy supplies from a reliable supply provider. Additionally, you probably want ostomy products from high-quality brands that will be both comfortable and reliable. Lastly, if you have Medicare, you probably want to find cost-effective ostomy supplies covered by Medicare.
Medicare Coverage for Ostomy Supplies
Millions of people across America rely on Medicare for their essential medical supplies, including ostomy products. Medicare typically covers a portion of the overall cost of each order (typically 80%), so there is usually an out-of-pocket cost to the insured customer. However, if you have a Medicare supplemental insurance plan or a replacement plan that covers 100%, you may be able to get your ostomy supplies totally free.
Either way, going through your insurance plan is less costly than paying cash for your supplies outright. You may have to consider the supply limits within a 30 or 90-day range that must be followed in order to have Medicare pay their portion.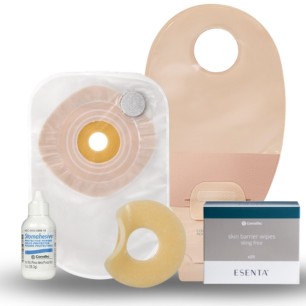 Take a look at the below chart, which lists some but not all of the ostomy products you may be able to receive with Medicare coverage.
| MEDICARE-COVERED OSTOMY SUPPLIES | ALLOWABLE QUANTITY PER MONTH |
| --- | --- |
| Drainable ostomy pouches | Up to 20 |
| Urostomy pouches | Up to 20 |
| Closed ostomy pouches | Up to 60 |
| Skin barrier with flange | Up to 20 |
| Adhesive remover wipes | 150 every 3 months |
| Ostomy belt | 1 |
| Skin barrier paste | 4 oz. tube |
| Protective barrier wipes | 150 every 6 months |
| Protective powder | 10 oz. every 6 months |
Medicare requires a prescription as well as related doctor's progress notes in order to cover this type of medical supply. However, you can rest easy when you choose 180 Medical, a Medicare-accredited provider, knowing that we will work hard to handle getting all documentation that Medicare requires to be in full compliance with their guidelines.
Other Insurance Coverage for Ostomy Supplies
180 Medical is also in-network with state Medicaid programs. Additionally, we accept a wide and growing variety of private insurance plans, including Blue Cross Blue Shield, Tricare, United Healthcare, Cigna, and more.
However, because each state Medicaid has its own guidelines for what and how much it will cover, it would be hard to list out all supplies and potential allowable and covered amounts. This is the same for private insurance plans.
Wondering if your insurance plan covers ostomy supplies? Our insurance experts can verify your plan and walk you through your product options.
Verify Your Coverage
Top 3 Factors of the Best Ostomy Supplies Provider
1. Specialization in ostomy supplies
First, choose a company that specializes in ostomy supplies. It's advantageous to have a supplier that knows its products inside and out. Unlike companies that provide medical supplies of all kinds, 180 Medical has Ostomy Specialists who are rigorously trained to meet the needs of our customers. Our ostomy specialists understand ostomy procedures, our product line including accessories, and all the latest technology. Plus, we have a wide selection of high-quality products in comparison to the limited inventories of local pharmacies.
2. A Medicare-accredited, ACHC-accredited provider
You want a supplier that operates with integrity and always does the right thing. 180 Medical is proudly accredited and contracted with Medicare and the ACHC (Accreditation Commission for Health Care).
We are also contracted with most state Medicaid plans and a wide variety of private insurance plans that continues to grow.
3. Will handle billing your insurance for you
You don't want to have to deal with the hassle of turning in claims on your products for repayment. Quality ostomy suppliers like 180 Medical will take the time to interface with your physician and your insurer to make sure you are getting the products you need to be covered.
With these tips, you may be on the way to getting quality ostomy supplies. To find out if Medicare will pay for your supplies or if you have other questions, call us at 180 Medical. Our friendly Ostomy Specialists are ready to help you.