For many people living with stomas, encountering occasional issues such as leakage, skin irritation, and other stoma problems is not uncommon.
Stoma problems can happen to anyone with ostomy stomas at one point or another. While some of these issues will require the help and advice of a qualified medical professional, many issues may resolve with the change or addition of certain ostomy products.
What Is a Stoma?
A stoma is a surgically-created opening in the abdomen. This opening helps waste (in the form of fecal matter or urine) exit the body.
What Are the Three Types of Ostomies?
The three types of ostomies are:
Urostomy (drains urine from the bladder or a surgically-created pouch)
Ileostomy (drains bowel waste from the small intestine)
Colostomy (drains bowel waste from the large intestine)
What Should a Healthy Stoma Look Like?
Healthy stomas should be somewhat moist and appear pink or pinkish-red. Some may compare the look to what the inside of your cheek looks like.
Immediately after ostomy surgery, the stoma may be red or swollen as it heals. However, if swelling or redness continues, stay in contact with your doctor or a qualified WOCN (Wound, Ostomy, and Continence Nurse).
When you receive your ostomy supplies through 180 Medical, our Ostomy Specialists can connect you to a team of certified ostomy nurses who can help you with any questions or concerns regarding your ostomy.
Ready to find an ostomy product solution that will fit your needs? Contact us to get started.
I'm ready!
What Are the Early Signs of Stoma Problems?
When you live with an ostomy, it's good practice to monitor your stoma and the skin surrounding it. Changes in that area are often the first indicators of an issue, which can range from minor to severe complications that require immediate treatment.
Bleeding or discharge
Unusual color changes to pale, blue, or black
Blisters or warts under the skin barrier
Frequent leakage
Peristomal skin irritation
Pus-like discharge
Pain
Swelling or size changes (after the typical healing time after surgery)
Unusual odor (outside of the normal waste odor)
If you notice some changes or any symptoms that are concerning, be sure to contact your doctor, an ostomy nurse, or a qualified medical professional as soon as possible.
What Are Some Types of Stoma Problems?
Let's go over a few of the common stoma problems that some people with ostomies may encounter.
Peristomal Skin Irritation
The peristomal skin (skin surrounding the stoma) should look like the rest of your normal, healthy skin on your abdomen. However, it's not uncommon for people with ostomy stomas to experience peristomal skin irritation at one point or another.
If you're experiencing unusual irritation, such as a rash, redness, bumps, or itchiness, you may have peristomal skin complications. The good news is that peristomal skin irritation can be easily resolved most of the time.
This issue may occur for several reasons, such as the type of skin barrier or ostomy wafer being used (contact dermatitis), adhesive build-up or skin-stripping due to adhesives, allergic reactions, ingrown hairs (folliculitis), excessive pressure from ostomy appliance, or ostomy bag leakage.
Constipation (For Those with an Ileostomy or Colostomy)
If you have an ileostomy or a colostomy, you may be at a higher risk of constipation. This is because the colon absorbs water. Since a portion of the intestines is usually taken out with this type of ostomy, this can lead to dehydration, which in turn can lead to constipation.
If you're experiencing constipation, you may want to make it a point to drink more water.
180 Medical Community member Darlene lives with an ileostomy, and one tip she offers is to carry a jug of water with you everywhere you go. She makes sure she is fully hydrated so she is at a lower risk of constipation and dehydration.
In addition, it's a good idea to go ahead and talk to your doctor or ostomy nurse about your options. Changing your diet with the addition or elimination of certain foods may also help this issue. Medications may also help.
Stoma Infection
Most people with stomas may have to go through a stoma infection. However, it is a possibility that anyone with a stoma should know about it.
The first sign of a stoma infection may be a pus-like discharge, unusual swelling, increasing redness, or color changes. Some may notice an abscess or an ulcer.
A Wound, Ostomy, and Continence Nurse (WOCN) or your doctor will be the best source for medical advice on this issue. However, if you see signs of a stoma infection, don't panic. You just need to talk to a medical professional so the issue doesn't worsen.
Sometimes, the solution may be as easy as a round of antibiotics or wound care. Other times, your doctor or nurse may suggest adding certain ostomy products or ostomy accessories to your daily routine, such as stoma powder.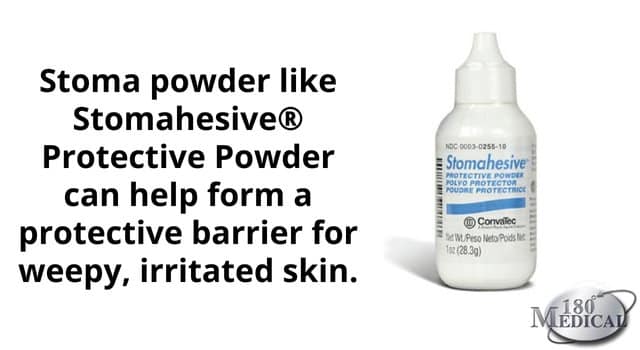 Ostomy Pouch Leakage
One thing ostomates dealing with stoma problems may face is ostomy leakage. This is, in fact, one of the most common ostomy issues, and it can occur due to a variety of reasons.
Luckily, this is also an issue that finding the right ostomy supplies for your unique needs may improve. 180 Medical's trained Ostomy Specialists will listen to what you're dealing with, go over your routine with you, and figure out what may help, whether that's a product change, a size change for your skin barrier, or something else.
In addition, you should always address these issues with your qualified medical professional to see if they have any advice that may help.
Granulomas in Stomas
Granulomas are another kind of common stoma problem. This is a type of growth that can appear on or around your stoma. They're considered benign, but that doesn't make granulomas any less irritating when you experience them.
They can cause your ostomy pouching system to fit poorly or loosen the skin barrier, leading to leakage and other issues.
Stoma granulomas may occur due to friction from a pouching appliance that doesn't fit well or due to irritation from leakage. Talk to your ostomy nurse or doctor about solutions to this issue.
Prolapsed Stomas
Unfortunately, sometimes complications like prolapse can occur. What is stoma prolapse? This is usually pretty obvious, as the stoma will visibly become larger and protrude more from the abdomen over time.
Typically, this doesn't cause pain, but it can still be frustrating, especially if the stoma becomes long enough to interfere with your ostomy pouch seal. Talk to your ostomy nurse or doctor. They will likely want to stay in touch with you and monitor the size and length of your stoma prolapse.
If the length of the stoma becomes severe, you may need to undergo surgery. However, this isn't always necessary. Your qualified medical professional will be the best source for advice on what you should do next.
Parastomal Hernia 
Hernias related to ostomies are also a common stoma problem that some people may encounter. This is more common in people who may be older, overweight, heavy lifters (weight lifting or lifting related to one's job), or smokers (due to frequent coughing).
What causes parastomal hernias? It usually happens due to abdominal muscle weakness. An ostomy-related hernia may occur when part of the bowel erupts through the abdominal wall, which will create a bump of swelling beneath the skin. Ostomy hernias can be uncomfortable and even painful.
One way to help prevent this common ostomy issue is by strengthening your abdominal muscles through exercise or using an ostomy support belt. Again, your best source of information will be your nurse or doctor.
Ostomy Stoma Necrosis
Stoma necrosis is a much rarer issue, but it is worth mentioning as it is a serious complication any ostomate should know about. Usually, this will occur early on after surgery.
The first warning sign of this rare ostomy complication is usually a color change from pink/red to a darker red, blue, purple, or black. Stoma necrosis is a serious issue that you must address with your doctor or stoma nurse as quickly as possible, as it indicates tissue death. Usually, this is due to swelling, blood loss, or decreased blood flow to the stoma.
Luckily, with immediate medical attention, it may resolve without the need for in-depth surgery.
Find an Ostomy Product Solution For Your Needs
180 Medical's mission is to provide the best ostomy supplies with the best possible service. That means we're going to treat you like a member of our own family as we work to help you get the products you need.
By choosing 180 Medical, you can get free samples and free shipping. Curious whether your insurance covers ostomy supplies? It's very likely. Plus, 180 Medical is in-network with an ever-growing number of insurance plans, including state Medicaid plans, Medicare, and private insurance plans.
Contact us to get started!
Disclaimer: This content is not intended to substitute for professional medical advice, diagnosis, or treatment. For medical advice, please see your physician, ostomy nurse, or another qualified healthcare provider.