Have you ever heard of a parastomal hernia? While not every person living with an ostomy will deal with this stoma problem, it's actually a fairly common ostomy issue.
While parastomal hernias are rarely dangerous, you still need to seek medical care if you think you have a hernia, even if it doesn't feel painful. Parastomal hernias can really impact your overall quality of life, causing fatigue and discomfort. Plus, some people might deal with ongoing stress or concern about having a hernia, which can impact mental health too.
What is a Parastomal Hernia?
First, let's go over what a parastomal hernia, also known as a stoma hernia, is. You may be able to quickly spot this type of hernia. It will likely appear as an abnormal bulge under the skin near the stoma, which is caused by the intestines pushing outward through the abdominal wall.
Parastomal hernias aren't always painful, although they can be. Also, it may be more noticeable if you're straining, laughing, or coughing.
Other symptoms may include tired abdominal muscles, a pulling or dragging sensation in the affected area, ostomy leakage, and difficulty attaching an ostomy bag.
What Causes Stoma Hernias?
Now that you know what a parastomal hernia is, you might wonder if you're at risk, especially if you live with a urostomy, colostomy, or ileostomy. So what causes this ostomy complication?
Actually, just having a stoma can be a risk factor. During ostomy surgery, doctors take a section of bowels to create a passage in order to divert the flow of waste (feces or urine). This passage then opens somewhere on the lower abdomen. That opening is called a stoma.
Because this process is a serious abdominal surgery, it can weaken abdominal muscles, which may then draw back away from the stoma. The weakened area around the stoma is a spot where part of the intestines may try to push through the abdominal wall, creating a hernia.
Other potential risk factors are possible. For example, according to Johns Hopkins, internal pressure due to weight gain or a chronic cough could increase the risk of developing a parastomal hernia.
Additionally, straining due to heavy lifting can also be a potential risk factor for parastomal hernias.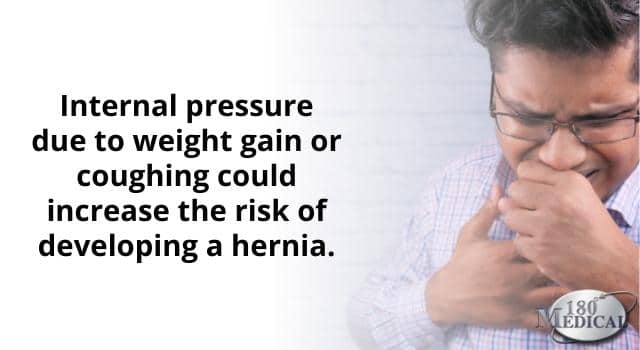 Tips for Reducing the Risk of Parastomal Hernias
So what can you do to help reduce your risk of this common ostomy complication? Keep in mind that your best source for any medical advice is your doctor, an ostomy nurse, or another qualified medical professional.
However, here are a few tips that may help reduce your risk of developing a hernia around or under your stoma.
1. Build and maintain your ab strength.
One common tip from healthcare professionals for reducing the risk of stoma hernias is to create and keep strong abdominal muscles. This is because weak abdominal muscles and a weak abdominal wall may make a hernia more likely.
Of course, always check in with your doctor before beginning any new exercise routine, especially if you're still recovering from ostomy surgery. But many people with ostomies exercise regularly, so don't let yourself think it's not possible for you.
Once you've got the okay to start physical activity, start out slow. Your doctor might even have some suggestions for easy ab exercises to perform in order to strengthen your core while living with an ostomy.
2. Wear support garments or an ostomy belt.
Ostomy belts and ostomy wraps not only help conceal your ostomy pouch but also provide additional support for your ostomy system.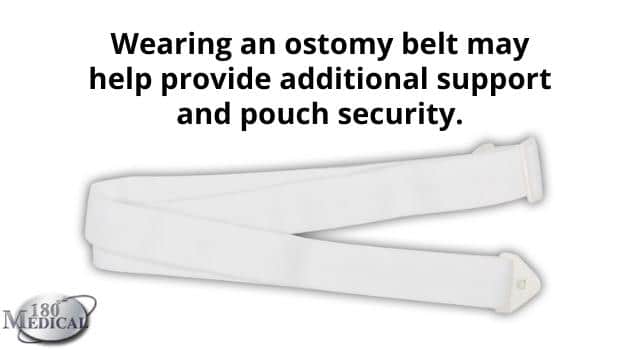 When an ostomy bag gets fuller throughout the day, the weight of the pouch can create skin barrier lifts and even leaks. Plus, it can irritate your skin by pulling or dragging down.
An ostomy hernia support belt may help prevent hernias while also supporting the weight of the ostomy bag.
Talk to 180 Medical's Ostomy Specialists about your ostomy accessory options.
Talk To Our Specialists
3. Manage your weight.
You've probably heard this one before. Losing excess weight is one of the most common tips when it comes to health risk prevention. However, it's usually for good reason, especially in the case of parastomal hernias.
Evidence indicates that obesity or being overweight is one of the most common causes of stoma hernias.
Therefore, in order to reduce your risk of developing an ostomy-related hernia, you may want to consider incorporating gentle exercise and a healthier diet to manage your body weight. Again, talk to a healthcare professional about what's right for your individual body and needs.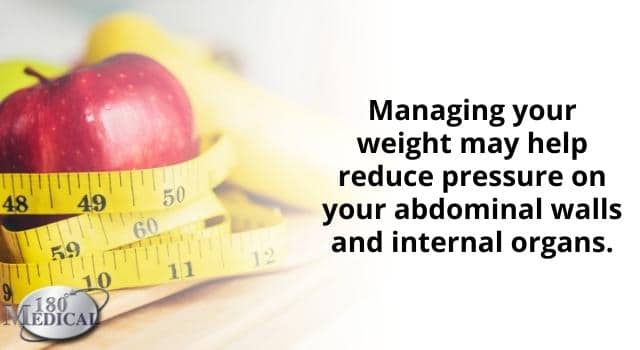 4. Avoid strain from heavy lifting.
Anything that causes excessive strain may increase the risk of developing an ostomy hernia.
So if you're lifting or carrying anything, be sure to do it safely with good form. That means you'll want to bend from your knees, not your waist, and keep a straight back while lifting with your legs.
Sudden pain or excessive strain is your body telling you that you need to stop. If what you need to lift is simply too heavy, don't be afraid to ask for help.
Also, if you're living with an ostomy and your job involves regular heavy lifting, you may want to talk to your boss. You may be able to qualify for some accommodations at work to reduce your risk of potential ostomy issues, such as hernias.
5. Stop smoking.
This might seem like a strange tip for reducing the risk of parastomal hernias. However, tobacco isn't just harmful to your body's overall health. It's also a cause of chronic coughing over time.
If you've ever had a respiratory illness, you already know how a lot of coughing can cause internal strain and not just to your lungs. Your organs and abdominal muscles often bear the brunt of excessive straining during coughing.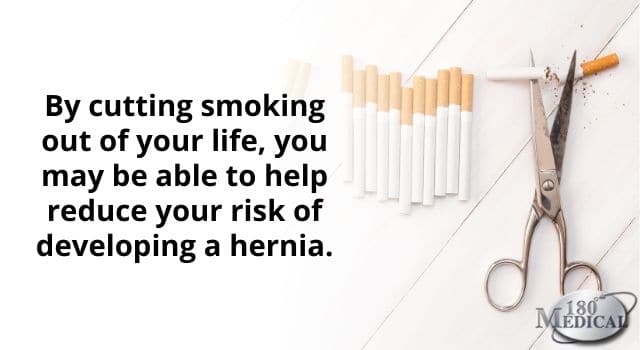 According to a 2005 study, smoking increases the risk of developing an incisional hernia. Plus, it is also associated with surgical and wound healing complications.
The bottom line is that kicking your tobacco habit is just good sense for your overall health. Talk to your doctor about safe ways to quit smoking.
What Do I Do If I Have an Ostomy Hernia?
So, if you have symptoms of a parastomal hernia, what do you do? First, don't panic. Stoma hernias are rarely dangerous and are actually pretty common. However, if you're experiencing unusual pain or stoma discoloration, get medical help immediately.
Even if it's not an emergency situation, you need to connect with your doctor or a certified ostomy nurse. They'll be able to assess your stoma and the surrounding area to make sure you're doing okay. Don't worry though. Surgery isn't always the recommendation, although it may be a possibility in severe cases.
If you prefer a phone chat, 180 Medical can connect our customers to a team of certified ostomy nurses for any medical questions or concerns you may have.
Also, if your hernia is impacting the way your ostomy pouch fits, our Ostomy Specialists are knowledgeable and highly trained in all ostomy product offerings. We'll gladly help you find the right ostomy supplies to fit your changing needs. Contact us today!
Request Free Ostomy Samples
Disclaimer: Please note that this blog post is not intended to be taken as medical advice. Do not use this information in place of a visit, call, or consultation with a qualified healthcare provider.