Earlier this fall, we announced all of our 2015 180 Medical College Scholarship recipients. As the fall semester progresses, we will continue to feature our individual scholarship recipients, so be sure to sign up for the newsletter to get notified when new blog posts are published. Today, meet Emily Barnett, a spina bifida scholarship recipient!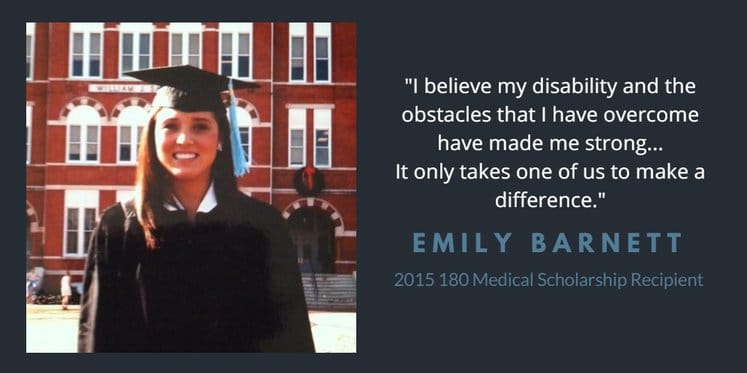 Meet Emily Barnett, 2015 Spina Bifida Scholarship Recipient
Emily was born and grew up with spina bifida. Because of this congenital condition, she had to go through multiple operations throughout school. Even though she had to miss over 65 days of school in her freshman year of high school, she was still able to maintain her high GPA.
It was during her various encounters with doctors, nurses, and therapists that she found her calling. She wanted to use her future career to help encourage and support others in similar situations. So she set out on her educational journey to becoming an occupational therapist.
Over the years, Emily has volunteered her time to various organizations and activities while carrying a heavy course load. She has participated in Auburn University's IMPACT opportunity, Boys and Girls Club, and the Tiger Tuesday REACH program. She also made time for off-campus volunteering with the American Red Cross and Salvation Army, among others.
Emily is attending Tennessee State University for graduate school in Occupational Therapy. Good luck on your path to becoming an Occupation Therapist, Emily! We're happy to be able to contribute to your future.
180 Medical Spina Bifida Scholarship Opportunities
We are honored to offer an annual scholarship program to help those with spinal cord injuries, spina bifida, transverse myelitis, ostomies (ileostomy, urostomy, and/or colostomy), and/or neurogenic bladder. We know paying for college isn't easy these days, and we also understand that there can often be extra financial difficulties for aspiring students who live with these conditions.
The 2016 Scholarship application period will begin on January 1st, and applications are now available to download. To learn more about 180 Medical's annual scholarship, visit www.180medical.com/scholarships.