If you haven't already heard about or tried Convatec's GentleCath™ Glide hydrophilic catheters, you may want to learn about this convenient, quick, and clean way to self-cath.
At 180 Medical, we love sharing news about the latest and greatest products from the many brands, types, and sizes we carry. Check out our latest product news all about GentleCath™ Glide catheters.
All About the GentleCath™ Glide Catheter
The Glide catheter is a new low-friction hydrophilic catheter with some very unique technology. It's available in unisex male length with a straight tip and female length. These lengths can also work for children and adolescents because it's available in French sizes as small as 8 Fr.
Request Free Samples
Plus, it's available in unisex/
male length with a coudé tip
.
Coudé catheters are ideal for users who have difficulty inserting a standard straight insertion tip. The curve or bend in the tip often helps bypass urethral strictures, obstructions, and other issues such as an enlarged prostate.
FeelClean™ Technology: What Makes the Glide Catheter Unique
So what else makes the Glide catheters so unique? Why is it such a popular option for many catheter users? One thing that sets it apart is FeelClean™ Technology. Keep reading to learn more about the different features of FeelClean™ Technology in the GentleCath Glide™.
Built-In Hydrophilic Technology
First, the Convatec GentleCath™ Glide hydrophilic catheter is the first and only catheter with hydrophilic technology built-in rather than added on. That means even if the catheter starts to dry out, it never gets sticky.
PVP, a component in types of glue, is often used by other manufacturers in coated hydrophilic catheters. Convatec is the only company that uses embedded hydrophilic technology instead. So each PVP-free Glide catheter will not get sticky during use.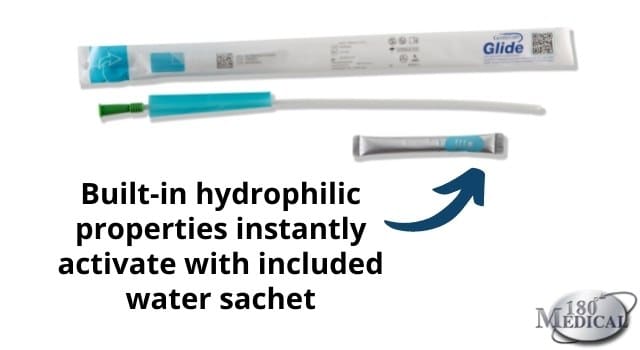 Less Mess, Less Residue
Standard coated hydrophilic catheters often swell as they absorb water. This can create a messy residue that gets sticky and can leave behind a mess during the withdrawal of the catheter. The GentleCath™ catheter with FeelClean™ Technology doesn't take as much effort to remove and it leaves behind less mess and residue.
Comfort and Ease of Use
The Glide catheter is a fast and easy option for those who want a comfortable, super-smooth catheterization experience from start to finish.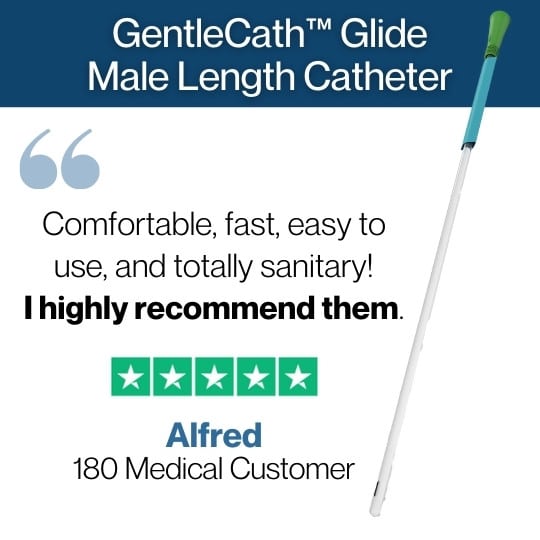 Its insertion tip is rounded and smooth to keep insertion comfortable.
And it's so easy and fast to use too! Thanks to its low-friction hydrophilic properties embedded in the catheter, all you have to do is break the included water sachet to instantly activate it with no wait time. It's ready to use as soon as you're ready to go.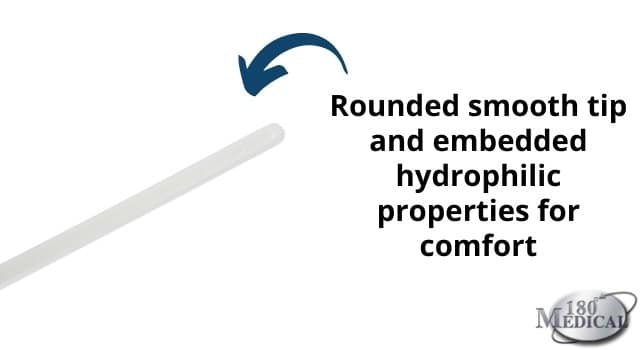 Game-Changing Relief
Because the Glide never gets gummy or sticky, it's easier to insert and withdraw.
In fact, a recent study indicates that catheters with FeelClean™ Technology take 24% less effort than the leading coated catheter to withdraw completely. It also takes 39% less force to get moving.
May Help Reduce UTIs from Hand Contamination
Additionally, the No-Touch guide sleeve helps simplify insertion while reducing the risk of contamination from your hands. This may help reduce the risk of recurring urinary tract infections (UTIs). Plus, it keeps catheterization less messy.
The packaging also includes a convenient sticker on the back so you can hang the catheter on the wall or against the bathroom stall until you're ready for catheterization.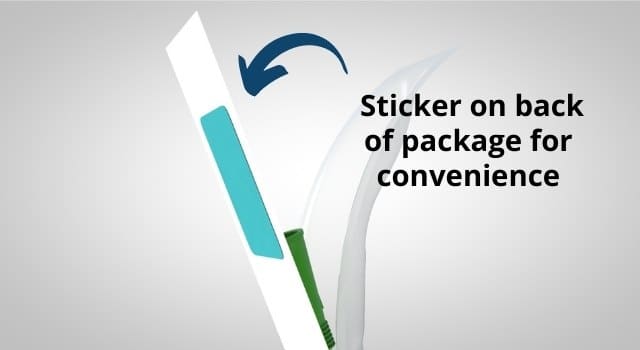 More GentleCath™ Glide Product Features
Manufactured without DEHP or latex
PVP-free
No-Touch handling sleeve to minimize the risk of infection
Water sachet included for quick activation
FeelClean™ Technology with embedded hydrophilic properties

How to Use the GentleCath™ Glide Catheter
GentleCath™ offers a fully customizable catheter video training guide. You can choose from instructions for adults, children, or parent/caregiver as well as options between male, female, and whether you are a wheelchair-user or not.
Once you have selected the options that fit your situation best, a personalized video will be ready for you to watch, offering step-by-step instructions for this easy-to-use hydrophilic catheter.
In addition, here are some basics of how to use a GentleCath™ hydrophilic Glide catheter.
First, prepare for catheterization by washing your hands or putting on gloves. Then use a disinfecting wipe around the urethral area.
Next, make sure the included sterile water sachet is near the funnel end of the catheter. Then break the sachet by pressing on the blue guide dot.
Let the water coat the entire tube from end to tip. Now, your GentleCath Glide is ready to use with no waiting or setting a timer!
Open the package by peeling apart the easy-open tabs.
Be sure to handle the catheter by the funnel and the blue No-Touch sleeve as you insert it, which will help reduce the risk of contaminating the catheter with your hands.
For step-by-step information about how to catheterize, visit www.howtocath.com, which offers instructions for men, women, and children in all options from straight, hydrophilic, and closed systems.
Also, feel free to contact us at 180 Medical. One of our friendly Product Specialists can help. Plus, we offer one-of-a-kind instructional materials that can be sent to you with your order, including printed color brochures and a DVD.
Which GentleCath™ catheters does 180 Medical carry?
180 Medical is proud to carry the full catheter product line from GentleCath, including GentleCath straight catheters, GentleCath coudé catheters, GentleCath hydrophilic catheters, GentleCath closed system catheters, and more.
How can I find a catheter that's right for me?
Contact 180 Medical to speak to one of our trained, friendly specialists.
We'll listen to what you want and need in a catheter. Then, we'll help you customize an order that's just right for you.
Additionally, we can send you free catheter samples, including free GentleCath samples. Just contact us today!
Request Free Samples