For some people with ostomies, pre-cut ostomy skin barriers don't always give the best fit. On the other hand, cut-to-fit skin barriers can be difficult to trim just right with ostomy scissors. This can end up being a frustrating and time-consuming daily process. Convatec has introduced a way to get a perfect fit with Moldable Technology™.
Find out more about how this unique ostomy product technology can make your ostomy pouching routine easier and more secure.
How Moldable Technology™ Can Change Your Ostomy Routine
First, what is Moldable Technology™? It's Convatec's answer to multiple common issues that ostomates face. Moldable Technology™ can simplify the process of applying your ostomy pouching system. Plus, it can improve the fit while providing a more secure seal. Its patented Leak-Lock™ system swells when in contact with stoma output, which can help reduce leakage.
You can find ostomy supplies with Moldable Technology™ in one-piece ostomy pouches as well as two-piece ostomy pouching systems with separate ostomy skin barriers. Whether you need a flat or convex skin barrier, you have options.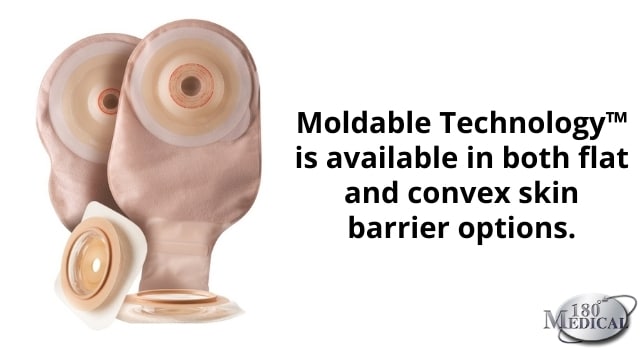 Here are just a few of the products 180 Medical carries with Moldable Technology™:

Curious about whether trying a free sample could benefit you? Here are some more details to know.
Triple-Layer Design for Maximum Protection
The top layer features Durahesive® technology for leakage protection. The hydrocolloid materials swell when in contact with stoma output, which creates a seal for more security.
Next, the middle layer is a thin center of water-resistant, durable polyethylene film. Featuring Convatec's Rebounding Memory Technology™, it provides a precise fit to expand and contract with your stoma as it changes sizes throughout the day for a continuously secure fit.
Lastly, the bottom layer adheres to peristomal skin with Stomahesive® or Durahesive®, which are skin-friendly hydrocolloid adhesives. This layer forms a secure seal to the skin to keep your pouching system in place. Also, it protects skin from stoma output for a longer wear time. The adhesive gently recoils against the wall of the stoma, leaving no exposed areas. This may help reduce the risk of ostomy leakage.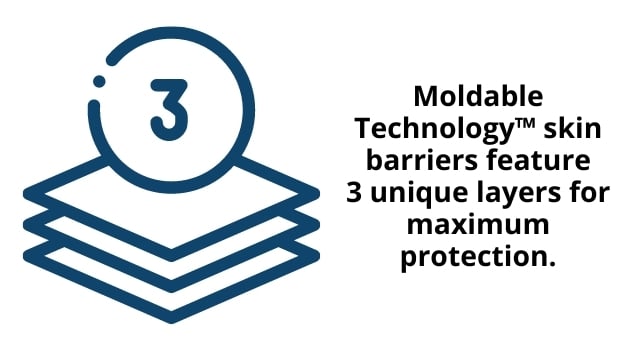 A Customized Fit for Your Unique Stoma
People with ostomies can face challenges in getting a truly secure fit for their ostomy pouching system. Pre-cut or cut-to-fit skin barriers don't always work for everyone because every anatomy is different and unique. For example, one person may have a perfectly round stoma while another may have an oval or irregularly shaped stoma. Moldable Technology™ offers an easier and more secure way to pouch these unique stomas.
Not only is it easy to mold and apply, but it also gives you the option to have a customized, snug fit.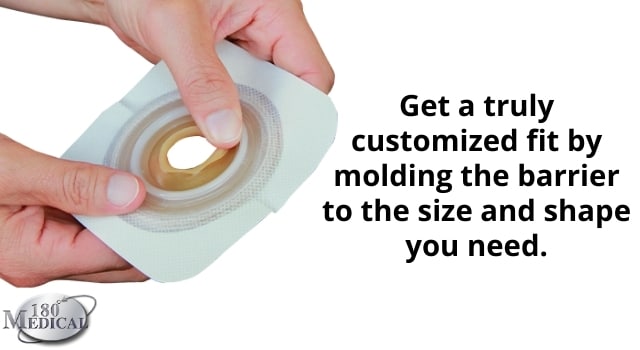 It's Quick and Easy to Use and Change
Trying to trim a skin barrier perfectly can be frustrating. In addition to taking valuable time from your day, it can also lead to product waste. Just one mistake in over-cutting a barrier can mean an entire product has to be tossed before trying again with a new one. Also, some people with an ostomy may find ostomy scissors difficult to use if they have limited hand function.
However, when compared to cut-to-fit skin barriers, most users find ostomy supplies that feature Convatec Moldable Technology™ are more convenient to use. In fact, in a recent consumer study, over 90% of patients agreed that Moldable Technology™ skin barriers are easier and faster to use and change than standard cut-to-fit skin barriers (Consumer sampling survey, N-61, Convatec Inc. February 2021).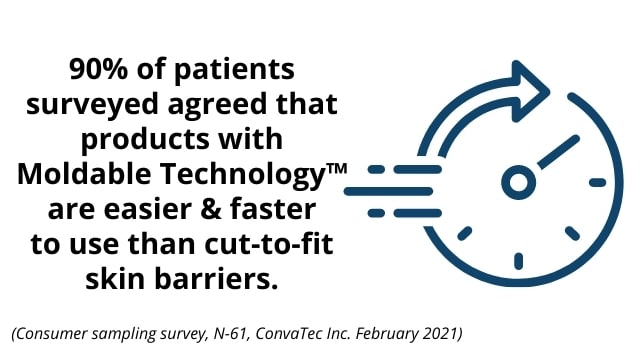 With Convatec ostomy products with Moldable Technology™, it's a quick and easy process. Simply use your fingers to gently shape the skin barrier into the right size and shape. Then the material of the skin barrier creates a thick roll of adhesive around the stoma, which is where protection is critical.
The Only Thing to Cut is Worry About Leakage
One issue that's common among people with ostomies is leakage around the seal. This can cause skin irritation as well as embarrassing accidents.
When you apply a skin barrier, you want it to create a strong seal that protects against leakage. Moldable Technology™ provides a snug fit with its patented Rebounding Memory Technology™, which gently expands and contracts with the stoma as the wearer goes about their normal daily activities.
Plus, the patented Leak-Lock™ system swells when in contact with stoma output. This can help provide some peace of mind while reducing the risk of ostomy leakage. With a more secure seal, you may have more confidence to go out and live the fullest life possible.
How to Apply Ostomy Products with Moldable Technology™
Here are some basic application instructions.
1. Warm the barrier in your hands, then roll and mold the adjustable seal with your thumbs or fingers. No need to stretch it or cut it using ostomy scissors. Just mold it into the shape and size you need to fit your stoma.
2. Next, apply the skin barrier or one-piece ostomy pouching system to your skin around the stoma. Gently push the rolled Moldable Technology™ towards the stoma.
3. The moldable seal will gently rebound to hug your stoma while the Leak-Lock™ "turtleneck" activates to absorb any liquid output. This lightly swells for the ultimate leakage protection.
Get more details in the below application video from Convatec.
Ready to Try Convatec Moldable Technology™?
Are you ready to try an easier and more secure way of pouching your ostomy? We're ready to help you!
At 180 Medical, we specialize in ostomy supplies as well as catheters and incontinence products. That means we truly know our products inside and out.
With hours of extensive training under their belts, our Ostomy Specialists have the expertise to help find a product solution that fits your needs. We'll listen to any concerns or preferences you have while working together with you and your doctor to customize your order with the ostomy products and accessories you need. Plus, you'll get access to a team of certified ostomy nurses who are just a phone call away if you need support or insight into any issues with your ostomy.
We're dedicated to providing products that can help turn your life around. Take the first step by contacting us. It's time to start living a full, confident life again with your ostomy.