You've likely noticed the increased media coverage surrounding the spread of the coronavirus (COVID-19). It's understandable to have questions regarding how this outbreak could impact your medical supplies.
At 180 Medical, our customers and their health remain our top priority. If you rely on us for your catheter, ostomy, and incontinence supplies, we take that responsibility seriously. First, we want to assure you that we're keeping a close eye on the outbreak, and we have plans in place in case the situation worsens. We also believe it's a good idea to be prepared so we're addressing a few questions you may have surrounding the coronavirus and your medical supplies.
Will my supplies through 180 Medical stop because of the Coronavirus?
We are not experiencing any disruptions in supplies or services at this time. The same great service and high-quality catheter, ostomy, and incontinence products you've come to depend on from 180 Medical should continue as normal.
However, with the current situation being uncertain, we've established contingency plans in case this outbreak escalates. Ultimately, making sure you continue to receive your regular orders is our goal.
We will continue to keep you updated if the situation changes. However, we encourage you to subscribe to our email newsletter so you can be among the first to receive updates.
We will continue keeping close contact with the manufacturers of the brands you know and use. Because of this, we will be able to offer potential backup supply options in case of any unexpected disruption to the supply chain.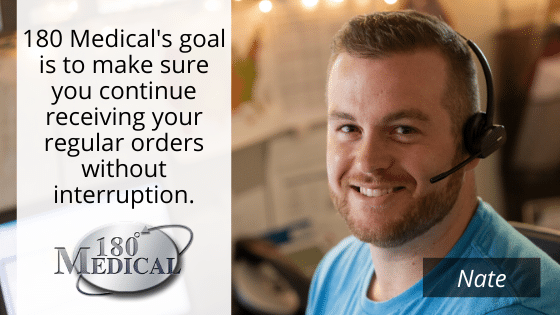 What safety precautions is 180 Medical taking?
Currently, the majority of our workforce is now working remotely from home to safely practice social distancing. Our normal business hours have not changed, although we are still fully able to serve our customers from the safety of our homes.
In the 180 Medical warehouse, our Shipping Specialists are wearing masks, safety goggles, and gloves. In addition, they clean and disinfect their workstations before and after each and every shift, including their shipping carts and anything else they may touch. When employees leave the work floor, they are required to wash their hands before coming back. All employees are practicing social distancing by staying at least 6 feet apart from one another at all times. If any employees were to begin demonstrating symptoms, they have been instructed to stay home and utilize their sick leave benefits.
Researchers are still learning about this virus and how it transmits. However, the CDC states that the virus appears to have poor survivability rates on surfaces such as paper and cardboard. Furthermore, they state that no evidence exists right now to support the transmission of the coronavirus through shipped products.
We're doing all we can to make sure our employees and customers stay safe.
Could my supplies be contaminated with the coronavirus?
The latest information we've received indicates that COVID-19 cannot survive for long outside of a host's body. The medical supplies that you receive from 180 Medical should not be able to actively carry any virus, although it may be a good idea to practice proper hand hygiene like handwashing or using a hand sanitizer after handling a package from outside your home.
If you receive catheter supplies, please note that all catheters are sterilized. Therefore, your catheter products should not be contaminated.
If you receive Convatec ostomy supplies, we would also like to reassure you that our ostomy products are not manufactured in countries with high levels of reported cases of coronavirus, including China.
Should I have an emergency backup of medical supplies on hand?
180 Medical always aims to make sure you have just the right amount of your catheter, ostomy, and incontinence supplies at home between shipments. Because we follow insurance guidelines strictly, we may not be able to provide you with an emergency backup supply. This may depend on the type and amount of supplies you receive, your prescription and doctor's notes, and your insurance plan's guidelines.
If you prefer not to rely on your insurance coverage and want to buy an emergency backup supply, you have options. We recommend Personally Delivered for great prices in purchasing intermittent catheters, Convatec ostomy products, adult diapers, disposable underwear, underpads, gloves, antiseptic wipes, and more.
What can I do to reduce the risk of contaminating my supplies?
We understand that if you go to school, work, or travel anywhere in public, chances are, you'll have to use a shared or public restroom at some point. Just as you must practice healthy hand hygiene at all times, it's a good idea to also practice hygiene when it comes to using and handling your catheters as well as your incontinence and ostomy supplies.
1. Regularly disinfect surfaces at home and/or work.
To reduce the risk of contamination, you may want to use a disinfectant spray or wipes regularly. Focus attention on places that are regularly touched throughout the day such as doorknobs, countertops, computer keyboards, and even the handle to flush your toilet.
You may also want to wipe down your belongings, such as your keys and cell phone, as well as any bags, boxes, lockers, or other places you may store your medical supplies.
2. Keep your medical supplies inside their packaging until you're ready to use them.
Especially in the case of sterile intermittent catheters, always keep them inside their sterile packaging until it's time to use them. Some people prefer to use the sterile underpad included with their catheter insertion kit to lay their supplies on when in public restrooms. Others use clean paper towels or a towel from home.
Either way, make sure your supplies never touch public floors, countertops, or other places where germs could be.
3. Always be sure to have clean hands before and after using your medical supplies.
Above all, keeping your hands clean is a high priority. Proper hand hygiene may help reduce the risk of contamination. Follow the CDC's recommendations and wash your hands with soap and water for at least 20 seconds. When soap and water are not available, use an alcohol-based hand sanitizer that is at least 60% alcohol.
During this time, many health experts recommend not shaking hands with others. Also, you should try to avoid touching your own eyes, nose, and mouth.
Again, many catheter insertion supply kits contain a pair of ambidextrous gloves, which you can use to keep your supplies clean or sterile. Also, you can contact 180 Medical to see if your insurance will cover additional accessories such as gloves or wipes.
Lastly, here are a few additional resources for help in learning how to hygienically use catheters and/or ostomy supplies.
Contact 180 Medical
Do you still have some questions about how the coronavirus could affect your medical supplies? Please contact 180 Medical. We'll gladly answer any questions and assuage any concerns about your products. Plus, we're always available to help adjust your order as needed.
Finally, we want to reassure you once again that we will continue closely monitoring the coronavirus outbreak. Thank you for choosing and trusting 180 Medical for your supply needs.