It's the most wonderful time of the year, a time when many people are planning on holiday traveling. But is it possible to travel with your catheters? Absolutely! Many of our customers are frequent travelers.
However, it's totally understandable to have some concerns about the journey ahead if you have to pack catheter supplies.
Here are some helpful tips for your holiday travels!
Top Tips for Holiday Traveling with Catheters
Here are some tips to help you feel more comfortable holiday traveling with catheters.
1. Prepare for TSA security when flying.
First, if you're flying, you should be prepared for the security lines.
Remember the 3-1-1 rule for carry-on luggage. For instance, if you are a tube of catheter lubrication or sterile water for bladder irrigation, you should be able to bring this aboard the plane in a carry-on bag as long as the item is 3.4 ounces or less in volume. Also, your items must fit inside a quart-sized clear plastic zip-top baggie.
In addition, if you use sterile lubrication packets, you should probably include those in the clear bag.
Also, some people like to get medical documentation, such as a signed doctor's note or a travel card for catheters. This may help bypass holdups at TSA security checkpoints.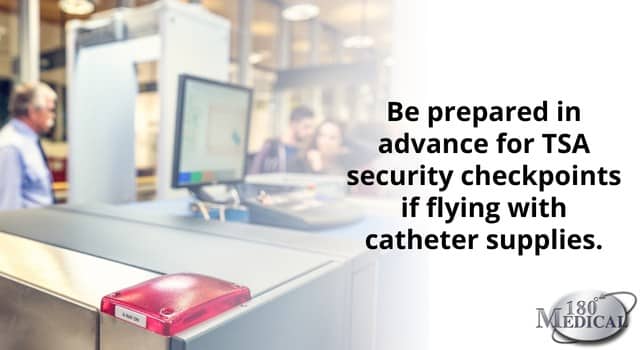 2. Take enough catheter supplies with you to last your trip.
Before you head out on your trip, count how many times per day you use your catheters and any other medical supplies. Then multiply that by the number of days you plan to be away. Next, include a few more days in case of delays or emergencies.
You want to pack enough supplies to last throughout your entire trip at a minimum.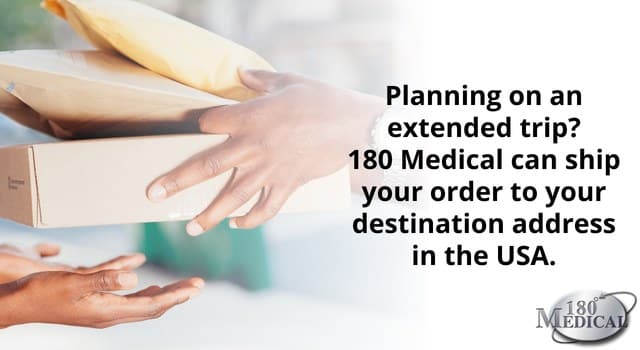 If you plan an extended stay at your destination, contact 180 Medical. We can ship your supplies to your destination as long as it is anywhere in the United States, including Hawaii and Alaska.
Shipping your supplies will help free up space in your suitcase for clothes, souvenirs, and gifts. Plus, you will know you have the supplies you need when you need them without worrying about your luggage getting lost or delayed.
3. Talk to 180 Medical about trying out a travel catheter.
When you're traveling, you're making a lot of stops in public restrooms, hotel rooms, etc., and a sterile environment isn't a guarantee!
Many people ask us about travel catheters, and 180 Medical certainly has all kinds! You might consider trying an intermittent catheter specifically designed to be "touch-free" and travel-ready, like a closed system catheter or a pre-lubricated catheter (depending on what your insurance covers). Or you might want to look into pocket catheters that are more discreet.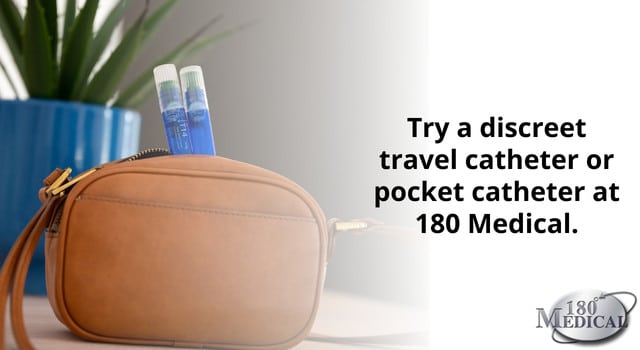 Often travel catheters also include insertion supplies like antiseptic wipes and gloves to reduce the risk of UTIs.
Get Free Samples
180 Medical's Product Specialists will be glad to help you find a catheter option that will suit your needs and work well for travel. Contact us to request free samples and get started!