Have you heard about hydrophilic catheters? If so, you may also have some questions. For example, what exactly are hydrophilic catheters? Are there benefits of using hydrophilic? And how do you use them?
As a leading medical supply provider that specializes in catheters, 180 Medical loves being an available source of product knowledge for you. Let's shed some light on this topic and dive into Hydrophilic Catheters 101! Plus, we'll go over a few of the most popular hydrophilic catheter products.
All About Hydrophilic Catheters
For many years, the most common type of catheter has been the straight catheter, which is also known as an uncoated catheter. This means you must manually lubricate the catheter with a separate lubricating jelly, which usually comes in a sterile packet or tube.
While straight catheters have been a reliable standard throughout history, some people may experience pain or discomfort during catheterization. Sometimes this can be due to the lubrication sloughing off during insertion or withdrawal, which can create friction.
Therefore, to help with this type of situation and other common issues, catheter manufacturers began creating new options with updated technology, including hydrophilic catheters.
What Are Hydrophilic Catheters?
So, what exactly are hydrophilic catheters? This is a unique type of urinary catheter that features hydrophilic properties. Hydrophilic actually means "water-loving." In other words, it is a unique property that activates by binding to water to become super slippery and well-lubricated.
Many brands have a hydrophilic coating over the length of the catheter tube, which is bound to the surface of the tube itself. This means that once that lubricated coating is activated, it will not slough off.
This means that hydrophilic catheters, once ready to use, are designed to stay smooth and slippery throughout the entire process of catheterization.
What Are The Benefits of Using a Hydrophilic Catheter?
So, in addition to the awesome benefit of friction-free catheterization, hydrophilic catheters have some other helpful benefits.
Here are just a few of the benefits of hydrophilic catheters:
Provides a comfortable and hygienic no-touch catheterization
May be less likely to cause UTIs and bladder infections
Easy to activate; does not require manual lubrication
Comes in a wide variety of options from many of the leading brands, including pocket catheter options
May reduce risk of urethral trauma and discomfort by minimizing friction inside the urethra
Request Free Samples
More About Hydrophilic Catheters: Popular Types and Brands
180 Medical specializes in providing catheter supplies, so we really know our products inside and out. Plus, we carry one of the widest varieties on the market today from all the leading catheter brands, including Cure Medical, Coloplast, GentleCath, Hollister, Bard, MTG, Rusch, CompactCath, LoFric, and more.
We have all sorts of sizes, lengths, and types of catheters to accommodate a diverse range of preferences, anatomies, and needs. Plus, we carry hydrophilic catheter products with either straight or coudé (curved, bent) insertion tips. 180 Medical's trained Product Specialists can help you find the catheter that feels and works best for you.
Take a look below at some of the many popular hydrophilic catheters today, which are available at 180 Medical.

Request Free Samples
Travel Catheters (Discreet Pocket Catheters)
If you're looking for a hydro that's pocket-sized and discreet, we carry plenty of pocket catheter options too. These are not just ideal for travel, however. Many people prefer discreet hydrophilic catheters for daily use at home, work, or school.
Some hydrophilic pocket catheters come in smaller packaging, such as the palm-sized, pre-lubricated CompactCath Catheter. Others may come in curved or foldable packaging, like the LoFric Origo Hydrophilic Catheter.
Here are just a few more of the many discreet hydrophilic catheters we offer:

At 180 Medical, we offer these and many more options. Our Product Specialists will gladly listen to what you want and help you find the right product for you, based on your doctor's prescription and your health insurance coverage. Contact us to request free hydrophilic catheter samples and learn more!
Request Free Samples
Hydrophilic Closed System Catheter Kits
Did you know that hydrophilic catheter options can also come with their own attached urine collection bag? Many even include kits of insertion supplies, such as gloves and antiseptic wipes. This can help make catheterization even more hygienic and sterile.
Closed system catheters are great for anyone who wants an all-in-one urinary catheter product. For example, many people in wheelchairs prefer closed systems for their portability and ease of use. They don't even have to transfer from their chair if they don't want to. Also, if your child is ready to catheterize on their own and needs a little extra help in the hygiene department, a closed system catheter could be ideal.
180 Medical carries a wide variety of closed system catheters, and here are a few with hydrophilic properties:

Request Free Samples
How To Use a Hydrophilic Catheter
Now that we've gone over some of the benefits, features, and types, you probably want to know one more pretty crucial part about hydrophilic catheters. How do you use hydrophilic catheters?
180 Medical offers step-by-step instructions for all types and lengths of catheters at howtocath.com.
We also provide How to Cath instructional booklets for men and women, available in both English and Spanish. Plus, we have some helpful educational material for kids who need to use catheters. By joining the 180 Medical Kids Club, you and your child will receive a book and some fun activities, which can help make the process of catheterization feel normal for them as well as their parents or caregivers. You can start by signing up for the 180 Medical Kids Club today.
In addition, here are a few tips for using a standard hydrophilic catheter:
Start by examining the type of hydrophilic catheter you have. If it's already activated or packaged in its own sterile water solution, you can skip the next step.
Next, if the catheter has an included packet or water sachet, you must burst it first. This will activate the properties of the catheter and lubricate it for use. All you have to do is either fold the water packet at the middle and apply pressure with your thumb and forefingers or use your palm to apply pressure. This will burst the packet to release the sterile solution.
Depending on the brand you're using, you may need to allow anywhere from 15 to 30 seconds for the solution to fully coat and activate the catheter. You may need to tip the catheter from end to end to make sure the water has fully coated the tube.
Lastly, you're all ready to insert your catheter into the bladder for draining urine.
How Do Hydrophilic Catheters Activate?
You can activate your hydrophilic catheter with sterile water or a saline solution, which usually comes in a small foil sachet or packet. You simply use pressure (typically with the palm of your hand) to burst the packet. Then you'll want to make sure that water runs over and soaks the full length of the catheter to activate its lubrication coating.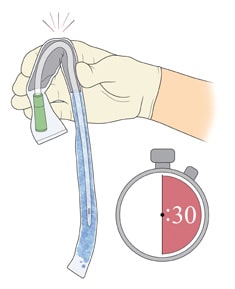 Some catheters may take anywhere from 15 seconds to 30 seconds of waiting before the coating is fully ready. Others, such as the popular GentleCath Glide Hydrophilic Catheters, activate instantly.
In addition to male length, the Glide also comes in female length and a coudé insertion tip option:

Some hydrophilic catheters today, such as Coloplast SpeediCath Catheters, are packaged inside their own sterile saline or water solution. This means they're ready to use as soon as you take them out of the package.
The hydrophilic properties remain intact upon introduction into the urethra to ensure a comfortable, fully lubricated catheterization.
How Do I Handle a Hydrophilic Catheter After It's Lubricated?
The great thing about hydrophilic catheters is that they are also no-touch catheters. They typically include a handling sleeve, insertion guide, or gripper of some sort that you can use to handle the catheter without directly touching the tube.

This feature may help minimize the risk of contamination. Plus, it may also help reduce the risk of infections, such as the common and dreaded urinary tract infection (UTI). Of course, it also makes it easier to insert, advance, and withdraw the catheter without dropping or fumbling it due to the slippery lubrication.
Handling sleeves are more common in catheters longer than 6 or 7 inches, such as pediatric length (10 inches) or male length hydrophilic catheters (16 inches). Female length hydrophilic catheters, which are typically around 6 inches on average, sometimes include a handling sleeve, although many users prefer to handle their catheter by the funnel end (connector).
Where to Buy a Hydrophilic Catheter
Now, if you're ready to start thinking about a hydrophilic catheter, your next step is to contact 180 Medical. Our friendly specialists are ready to help you find the right catheter for you!
Not only do we help you with your order, but we'll also verify your insurance for you, navigate your coverage, and even work with your doctor to get any required documentation. We can send free samples as well as educational material to help you begin your journey of learning to use hydrophilic catheters.
Contact us today!