The International Day of Acceptance, celebrated each year on January 20th, encourages the social acceptance of people with disabilities.
It also honors the late Annie Hopkins, who created the International Symbol of Acceptance, a wheelchair with a heart. Learn more about this special day and how you can take part!
What is the International Day of Acceptance?
The annual Day of Acceptance began to help spotlight the need for social acceptance and inclusion of people living with visible or invisible disabilities.
Whether or not someone lives with a disability, they are still human. The Day of Acceptance reminds us that we all deserve equal access to opportunities and fair treatment, no matter our differences.
Many people with disabilities worldwide join together on this day to share their stories. Allies can also participate by starting a conversation about the importance of social acceptance.
January 20th serves to help encourage us all to create a more inclusive world. We can all take part in creating a society that values each of our diversities and unique strengths.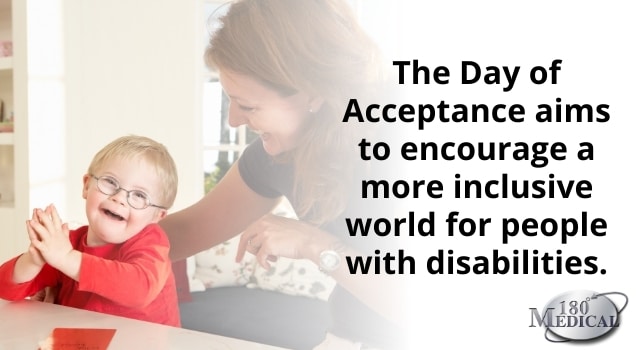 How Did the International Day of Acceptance Start?
According to the Day of Acceptance website, Annie Hopkins was born in 1984 with a disability. She, like many, grew up in a society that put limits on what she could accomplish as a person with a disability. She also saw how many of her peers with disabilities faced discrimination in various ways. However, Annie had a fiery spirit and a desire to live her life how she wanted.
In addition to creating her own YouTube channel to show people some of the daily challenges she faced, she created a unique symbol of a wheelchair with a heart, known as the International Symbol of Acceptance. After that, she started a company called 3E Love to help unite people with disabilities.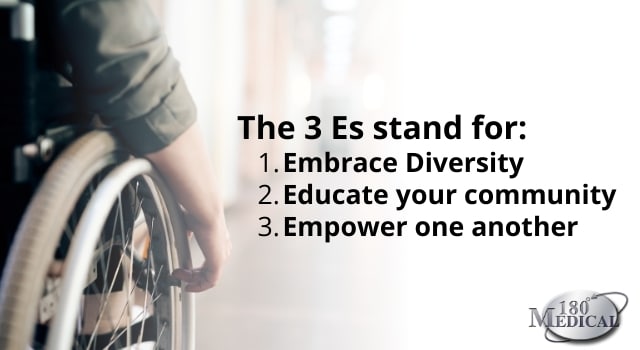 The three Es stand for:
Embrace diversity
Educate your community
Empower one another
On January 20th, 2009, Annie tragically passed away after complications from a medical procedure. Her brother Steve, who helped create 3E Love, decided to change January 20th from a day of loss to a day representing Annie's mission and vision.
Today, 3E Love offers merchandise with the International Symbol of Acceptance. Many feel this symbol helps unify everyone living with a disability.
How to Participate in the International Day of Acceptance
Wondering how you can participate in the International Day of Acceptance for People with Disabilities? You can use social media to help bring visibility and awareness to this movement.
If you feel comfortable doing so, you might share your stories of living with a disability, such as spina bifida, multiple sclerosis, epilepsy, spinal cord injury, diabetes, neurogenic bladder or bowel, chronic fatigue syndrome, or autism, to name a few. Let the world know what challenges or discriminations you have faced. Talk about if and how you overcame those challenges.
This is a crucial part of helping people not only accept people with disabilities but also to understand them.
You can post pictures or a video while using the hashtag #DayofAcceptance. Share what acceptance means to you.
Additionally, you could change your profile picture to the Day of Acceptance symbol. You can also share others' posts to spread awareness.
Remember, everyone is a valuable part of helping our world become more inclusive.
Learn more at dayofacceptance.com.
Acceptance, Diversity, and Inclusion at 180 Medical
From the very beginning, as a company founded by a person with a disability, 180 Medical has been committed to values of inclusion and diversity.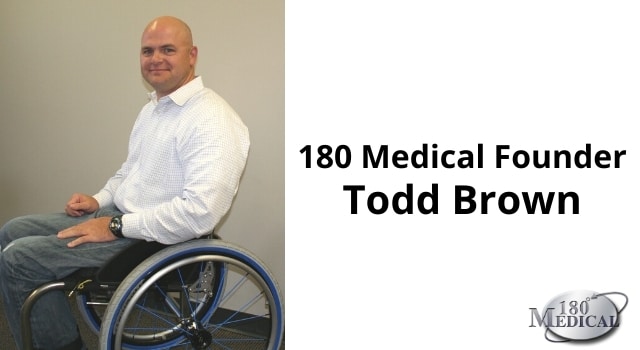 After Todd Brown, the Founder of 180 Medical, sustained a spinal cord injury in a motocross accident in 1994, he faced many new challenges. Among those challenges, he dealt with adjusting to life in a wheelchair. He experienced multiple urinary tract infections (UTIs) from washing and reusing his catheters. On top of that, he dealt with medical supply companies that didn't seem to understand or care about what he was going through. He needed someone with compassion and superior product knowledge to help him figure out which catheter supplies would work best for his needs.
Over time, Todd made new friends with spinal cord injuries who helped him discover advanced catheter products. Plus, he learned how to sterilely use catheters, which helped reduce the occurrence of those pesky UTIs. Todd's quality of life had done a 180° turnaround.
However, he realized other people with disabilities were also facing challenges like he had. It was then that Todd decided to create a medical supply company that could help turn more lives around with compassionate service and high-quality products. He committed to the vision of a highly-trained staff with a heart for helping others.
As one of the leading medical supply companies in America, providing intermittent catheters, ostomy products, and incontinence supplies, 180 Medical continues to live up to Todd's vision. We work hard to take care of our customers, and we treat everyone with kindness and dignity, no matter our differences.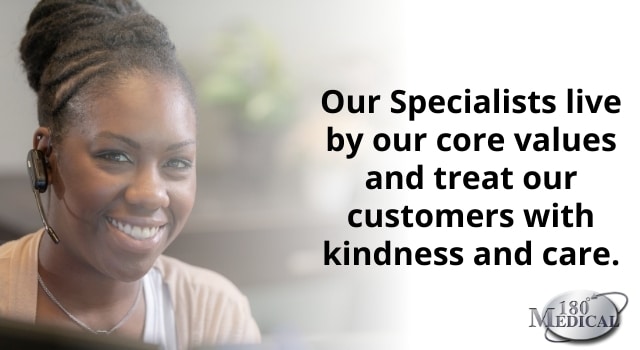 180 Medical's Positive, Inclusive Work Culture
180 Medical maintains and fosters an inclusive workplace for everyone, including people with disabilities. We believe a diverse workplace provides new opportunities to learn from others and their experiences. Employees are valued for their unique strengths and abilities, which ultimately contributes to a happier, healthier workplace.
In our diverse work culture, each team member has equal access to opportunities and resources. Also, 180 Medical has multiple Employee Resource Groups and clubs devoted to inclusion and diversity. In these groups, employees are welcome to share their unique perspectives while learning from others.
We believe our positive work culture is just one of the many reasons why we've been one of the Best Places to Work in Oklahoma for 11 years.
Giving Back to Our Communities
Our values don't end with our employees and our customers. We also contribute in many ways to our local communities across America. For example, we proudly support various charitable organizations that provide help and resources for people with disabilities.
One of our favorite annual events is the OKASA Wheelchair Basketball tournament, pictured below. This great event helps benefit the local youth wheelchair basketball team, Wheels of Thunder. We always love to help sponsor and attend this fun event. Plus, 180 Medical employees annually volunteer to play in the tournament too.
Additionally, 180 Medical offers two annual scholarship opportunities, which are for college students either living with or caregiving for a loved one with a disability. You can learn more about the 180 Medical College Scholarship and the Ron Howell Caregiver Scholarship.
Join Us in Honoring and Celebrating the Day of Acceptance
We hope you'll join 180 Medical by participating in the International Day of Acceptance on January 20th each year. A more inclusive world with equal opportunities for everyone is ahead.
If you or a loved one requires incontinence, catheter, or ostomy supplies, contact us to experience our renowned customer service. Our specialists are ready to help you find the supplies to help turn your life around.