We're excited to introduce you to our unique program for children who need to cath, the 180 Medical Kids Club, which is now available in Spanish as well as English.
About the 180 Medical Kids Club (Now Available in Both English and Spanish)
We created the 180 Medical Kids Club to help ease the concerns of parents and caregivers of children who need to use catheters.
Now, our colorful informative booklets come in Spanish. These books featuring lovable characters Ethan and Emma will help you adjust to this new way of life with one-of-a-kind educational materials as well as fun activities for your child. Plus, it includes help in learning how to use catheters correctly, which may help reduce the risk of infection.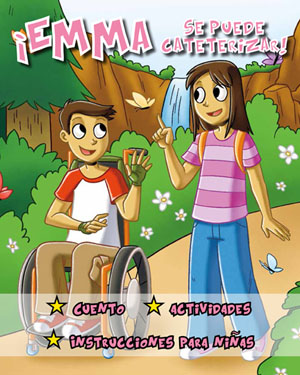 Meet Ethan and Emma!
Ethan is just like any other 10-year-old boy. He likes playing games with friends, playing basketball, and going to school. He gets around a little easier with his wheelchair and likes to race and learn new tricks.
Emma is Ethan's twin sister. She likes to play with dolls, go to the zoo, and swim.
Both Ethan and Emma have something called Spina Bifida.
According to the Spina Bifida Association, this condition occurs when the spine of a baby fails to close during the first months of pregnancy. Spina Bifida is the most common permanently disabling birth defect in the United States. It affects everyone differently.
In this book, Ethan and Emma both have to use urinary catheters because of their condition, known as neurogenic bladder.
Learn to Cath with the 180 Medical Kids Club
Whether you need instructions in Spanish or English, the 180 Medical Kids Club is a great resource for parents, caregivers, and children.
Each colorful booklet includes information about the various types of catheters as well as catheterization basics. Plus, we include a helpful guide to assist caregivers how to when their child is ready to self-cath.
The last few pages of each booklet include activities and a coloring page as well as detailed instructions for catheterizing. Learn how to cath through a stoma too or keep a catheterization diary.
180 Medical is committed to educating, and supporting our patients and their families.