5 Ways to Help Reduce UTIs
---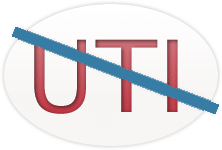 Urinary tract infections (UTIs) affect millions of people each year and rank as the second most common type of body infection. Catheter-associated urinary tract infections (CAUTIs) are the most common type of infection that occurs in acute and extended care facilities.
At 180 Medical, we are passionate about helping people stay healthy and become independent. Because our founder, Todd Brown, battled constant UTIs after his spinal cord injury too, we understand how much this infection type can drag down your health. We want to help turn your life around. That's why we compiled a list of tips that may reduce your risk of urinary tract infections.
1. Don't reuse catheters.
While washing and reusing catheters may work for some, many people who reuse their catheters experience recurring UTIs. Multiple studies have shown that sterile use, which is the one-time use and disposal of a urinary catheter, lessens the risk of UTIs.
Additionally, most major insurance companies, including Medicare, some state Medicaids, and many private insurance plans, will cover enough catheters for sterile single-use. This is because reusing catheters may lead to infections that can end up costing insurance companies millions of dollars annually.
Finally, it's important to note that the FDA (United States Food and Drug Administration) guidelines consider urinary catheters as single-use only devices. You can find these guidelines stamped on any intermittent catheter packaging. Typically, you can find this as a number 2 crossed out, indicating each catheter is to be used no more than one time.
2. Hydrophilic catheters may help reduce infection.
Hydrophilic catheters help you avoid discomfort and infection by reducing friction and trauma to the urethra. Unlike traditional catheters, hydrophilic catheters have a surface that stays smooth and slippery all the way from insertion to withdrawal. This is due to a coating of lubrication that is bound to the catheter surface and activated by water. Because hydrophilic catheters do not require manual lubrication, your hands will never need to touch the catheter tube, thereby reducing the risk of contamination by stray bacteria or pathogens that might be on your hands.
3. Use a catheter with an introducer tip, such as a closed system catheter.
Most closed systems have an added safety feature called an introducer tip. The soft, flexible introducer tip allows the pre-lubricated catheter to bypass the highest concentrations of bacteria inside the urethra. In other words, this added safety feature helps you avoid pushing bacteria back into your body and reduces the risk of contamination that could lead to infection.
4. Learn the correct way to catheterize.
Learning how to catheterize correctly can help you avoid irritation and infections that may occur from incorrect or unhygienic cathing techniques.
180 Medical is here to help you through the process of learning how to cath.
Did you know we have employees on staff who also use catheters? In addition, we have our own How to Catheterize DVD and instructional How to Catheterize booklets that we can send with your order.
5. Use insertion supplies.
Insertion supplies often come alongside a urinary catheter in many closed system kits, many hydrophilic catheters, and some intermittent catheters to help create a more sterile environment. Insertion supplies typically include sterile gloves, benzalkonium chloride wipes, a collection bag, and an underpad.
Sources: "Hydrophilic-Coated Catheters Shown To Reduce Urethral Microtrauma When Used For Clean Intermittent Catheterization." UroToday.
Bennett, CJ, MN Young, SS Razi, R. Adkins, F. Diaz, and A. McCrary. "The Effect of Urethral Introducer Tip Catheters on the Incidence of Urinary Tract Infection Outcomes in Spinal Cord Injured Patients." J Urol. Aug. 1997.
Please note: This information is not medical advice. The information on this site is a summary to provide a general consumer understanding of healthcare topics. Do not use this information in place of a visit, call, or consultation with a physician. People using information accessed on this website should also research original sources of authority, including your physician. Should you have any questions or require medical advice, please call or visit your prescribing healthcare provider.