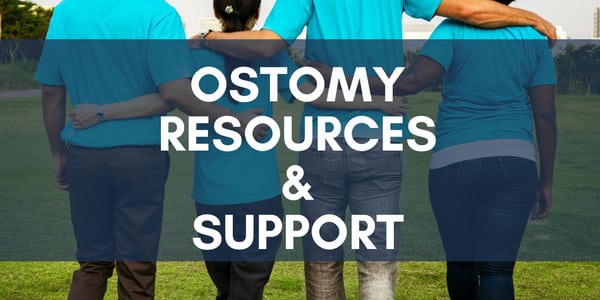 Ostomy surgery, whether planned or unexpected, can bring a lot of changes to your life. No matter where you are in your ostomy journey, it's likely you're going to need some tips, help, support, and ostomy products that will fit your unique body and needs best. As a leading provider of ostomy supplies and catheters in America, 180 Medical has some helpful ostomy resources.
Let's dive into some of the top resources you'll want to save.
Must-Have Ostomy Resources and Help
Here are some great resources that may help you get back to being you while you learn more about life with an ostomy.
WOCNs (Wound, Ostomy, and Continence Nurses) 
180 Medical is proud to be your top resource for your ostomy product questions and concerns. However, we also know sometimes you need the kind of advice and support that only a qualified healthcare professional can provide.
For the times when you have questions our highly trained Ostomy Specialists may not be able to answer, 180 Medical's Ostomy Specialists can connect our customers with a team of certified WOCN (Wound, Ostomy, & Continence Nurses) who are available to talk with you.
Whether you're dealing with crusting, pouch leakage, or concerning symptoms like stoma color changes or peristomal skin irritation, a certified ostomy nurse can help. Just reach out to 180 Medical to get started.
Contact Us
Ostomy Resources at 180 Medical
180 Medical is constantly adding new content regarding life with an ostomy on our website and blog, including ostomy product news, tips, answers to frequently asked questions, and more.
Plus, we have an ongoing blog series about common ostomy issues, which addresses hot topics like leakage, ostomy odors, intimacy when living with an ostomy, and more.
Also, you can check out our blog's ostomy resources to find tons more information, product news, and tips for ostomates.
Want more? Check out our For Ostomy Customers page, where we provide helpful topics and answers to questions you want to know. For example, you can find out how your ostomy supplies will be covered by insurance or learn how to apply and change pouches with educational videos.
OstomySecrets
Ostomysecrets is a company created by ostomates for ostomates. They carry specialized underwear and swim wraps for men, women, and children with ostomies. Ostomysecrets products help provide discreet support for your ostomy system, which may offer confidence and peace of mind.
Since the employees of their companies also have ostomies, they are able to offer personalized insight and share their experiences.
OstomySecrets founder, Lisa Becker, says: "When was the last time you forgot you had an ostomy? For me, it's every time I wear my Ostomysecrets. These undergarments changed my life, and I hope they change yours too. Join me and feel as good as I feel now!"
Website: www.ostomysecrets.com
Facebook: www.facebook.com/OstomySecrets
me+ Talk Ostomy Podcast
IF you're living with a colostomy, ileostomy, or urostomy, then you seriously can't miss the new me+™ Talk Ostomy Podcast.
Hosts Matt, a Convatec Product Specialist, and Renee, a Certified Ostomy Nurse (WOCN), go over topics regarding ostomies. They often have guests on to talk about their experiences of living with an ostomy as well.
For example, just a few of the recent podcast topics have included physical recovery, emotional impacts, dating and intimacy, diet, and more.
Get the scoop with our episode-by-episode breakdown with links to the podcasts and YouTube videos with our blog post about the Convatec me+™ Talk Ostomy Podcast.
Ostomy Support Groups and Online Communities for Ostomates
me+™ Community

With the me+™ Community, you can find a home alongside hundreds of other people living with ostomies. Fellow ostomates in the online community share their experiences, including some inspiring, frustrating, and even funny stories. Many of them offer personalized advice on what has worked for them as someone living with an ostomy.
Enroll today to get support and personalized insights.
Website: www.convatec.com/ostomy/meplus-community
Ostomy Inspire
Ostomy Support Groups by Inspire is an online support community for people living with an ostomy.
There are many different forums where you can talk to other ostomates, discuss health and lifestyle issues, get emotional support, inspire and motivate others, and find additional ostomy information and resources.
Website: www.inspire.com/groups/ostomy
United Ostomy Associations of America
The United Ostomy Associations of America (UOAA) helps provide support for those who have had or will have an ostomy or continent diversion surgery. They have many ostomy resources available and provide support group details from all across the country.
One of the many resources from the UOAA is an Ostomy Travel Communication Card. Travelers can use this card to simplify communication with TSA and airline personnel.
Website: www.ostomy.org
Facebook: www.facebook.com/UOAAinc
Phone: (800) 826-0826
180 Medical is Here for All Your Ostomy Supply Needs
180 Medical also offers a vast array of ostomy resources on our website for people living with an ostomy. Check out our ostomy resources on the blog, such as our Common Ostomy Issues series, which aOn top of all these helpful ostomy resources, it's important to find a trustworthy ostomy supplier who you can depend on for compassionate service and reliable shipments.
180 Medical has a staff of highly trained and friendly Ostomy Specialists. We'll be glad to work with you to find the right ostomy products for your individual preferences and needs.
Contact us toll-free at 1-877-688-2729, or get in touch with us through our Live Chat option online today!