At 180 Medical, we believe it's important to know all you can about the different types of catheters and their benefits. With the right information, you can make an informed decision about what type of intermittent catheter may be best for you.
Basics of the Different Types of Catheters
First, you should know that no single catheter brand or type works for everyone. Because we've specialized in catheters for nearly 2 decades, 180 Medical understands that each person's needs, preferences, and anatomies are different. That's why we work together with you and your physician to help you find the best catheter for you.
Different Types of Catheter Materials
Catheters come in all kinds of different materials, which can offer different benefits. For example, if you prefer a more rigid catheter, you might like vinyl catheters. If you want something very flexible, a red rubber latex catheter might be a better option.
The main catheter materials to know are:
Plastic, vinyl, or PVC
Silicone
Red rubber latex
Antibacterial coating
DEHP-free
Latex-free
The material you choose comes down to personal preference. However, 180 Medical's Catheter Specialists can provide you with free samples to help you try out different options before committing to a full order.
Ready to try a free catheter sample?
Catheter French Sizes and Lengths
Your prescribing doctor will determine your ideal catheter French size, which is the diameter of the catheter tube. However, you can let them know if the prescribed catheter French size feels too small or too large.
Most catheters range between 10 French to 20 Fr, although you have options for specialty sizes outside of this range. In addition, if your child requires catheterization, you can get catheters in a small pediatric size.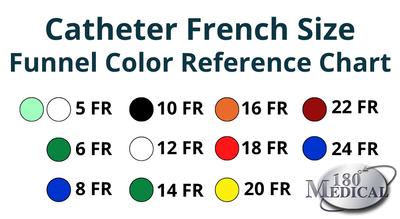 Curious about the different lengths of catheters available?
The three main catheter lengths to know are:
Male length catheters (typically 16 inches)
Female length catheters (most often 6 to 8 inches)
Pediatric length catheters (10 inches)
Different Types of Catheter Insertion Tips
The two main kinds of catheter insertion tips are:
The majority of catheter users use straight tip catheters, which is the standard. Coudé tip catheters feature a curve in the insertion tip, which may work better for those who have difficulty passing a straight catheter.
Since this need occurs most often in males due to conditions like an enlarged prostate or urethral blockage, coudé catheters are typically available in male length or pediatric length.
If you think you need a coudé catheter, please let your doctor know. They must make the official determination on which catheter insertion tip is right for you.
Three Most Common Types of Intermittent Catheters
The three different types of catheters are:
Straight Catheters
The straight catheter is considered the standard and features much of the original technology of catheters. However, advancements continue with new innovations in all different types of catheters, which may help increase comfort and convenience. For example, polished drainage eyelets may make insertion and withdrawal feel smoother.
Since straight intermittent catheters are uncoated, they need to be lubricated before use. This can be done with sterile, single-use lubrication packets or your desired amount from a tube of lubricating jelly.
As with all intermittent catheters, the insertion tip of the catheter is on one end. Depending on the manufacturer and make, a catheter may have anywhere between one to four drainage eyelets, although most have one or two. The insertion tip goes into your urethra or stoma to drain the bladder.
The other end usually has a funnel, which can be used as a grip to direct your urine flow to a toilet or urinal. Some prefer to use the funnel as a connector to a drain bag.
Sometimes, people may also prefer their catheter without a funnel. This is called a luer end catheter.

Hydrophilic Intermittent Catheters
Hydrophilic catheters are very similar to straight intermittent catheters. What sets this type of catheter apart is its special hydrophilic coating that acts as lubrication once activated by water.
The coating is bonded to the surface of the catheter and becomes slippery when wet. This makes catheterization more comfortable and reduces friction in the urethra.
Most variations of hydrophilic catheters include a sterile water packet inside the catheter package that will burst easily with applied pressure. This soaks the catheter and activates its lubrication.
Hydrophilic catheters are a great option because of their optimal comfort and ease of use, whether you're cathing at home, work/school, or on the go.
Closed System Catheters
Closed system catheters are unique because the pre-lubricated or hydrophilic catheter is housed inside a sterile collection bag, which is a self-contained environment. Depending on the brand, the collection bag will vary in size, but most are metered so you can measure your output.
Because the system is completely integrated as one piece, you can self-cath anywhere you have privacy.
Closed systems are a great option for reducing the risk of UTIs and bladder infections for a few reasons:
1. Closed system catheters are "touch-free," because you never touch the catheter tube directly.
2. A soft, pre-lubricated cover known as an introducer tip helps the catheter get past the highest concentrations of bacteria as you insert it. This reduces the possibility of pushing pathogens up the urethra and into the bladder, which minimizes the risk of infection.
3. Many closed system catheters also come with insertion supplies that help you prepare for cathing. Many catheter kits like this will include cathing accessories such as gloves, an underpad or drape, gauze, disinfecting wipes or swabs, and even a refuse bag to maintain your privacy after you're done.
Closed systems are popular with those who are in wheelchairs because it gives them the ability to intermittently self-cath without having to transfer from their chair to a toilet every time. It's also in demand with frequent travelers and those who prefer convenient, hygienic packaging.
What Type of Catheter is Right for Me?
The decision about what type and size of intermittent catheters to use should be made with your prescribing physician after a thorough assessment of your medical condition and needs.
At 180 Medical, we understand that talking about personal issues like the need for catheters may sometimes feel embarrassing. When you call us, we will treat you with the respect and compassion you deserve.
Also, we recognize that you are a unique individual with unique needs. Our catheter experts will take all of that into consideration while working to tailor your catheter supply order based on your doctor's prescription, your insurance plan's coverage, and your preferences.
Together, we can find the right catheter from one of the many brands we carry.
Get in touch with us today at 1-877-688-2729 to discuss your options!