180 Medical Kids Club
---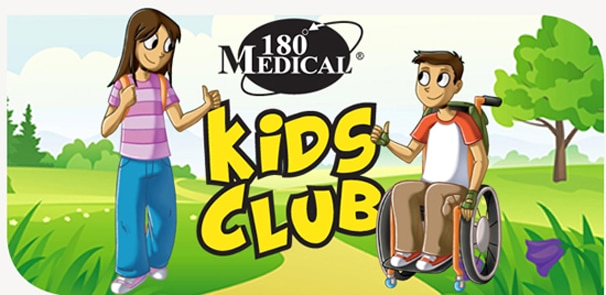 Does your child need to use catheters? You don't have to face this new journey alone. 180 Medical has over 20 years of experience in helping parents and caregivers of kids who need catheters, and we created the 180 Medical Kids Club just for families like yours.
Why Join the 180 Medical Kids Club?
The 180 Medical Kids Club is here to help you and your child adapt to this new process in a fun, educational, and safe way.
Help normalize needing to use catheters
Learn when your child is ready to self-catheterize
Get easy-to-understand instructions for how to cath through the urethra or a stoma
Emphasize the importance of hygiene and safety to avoid injury and infection
Engage your child with relatable characters in a story and some fun activities
Plus, there's an informative section in our booklet just for parents and caregivers about the different pediatric catheter options available at 180 Medical

Our original storybook characters, Ethan and Emma, are two children who live with Spina Bifida and need to use catheters. They help to normalize the experience of self-catheterization for kids and make it less scary.
We're More Than a Supplier; We're Your Partner
As a leading nationwide catheter supplier, we don't just offer the best and widest selection of pediatric catheter supplies from all major brands and types. We provide compassionate support every step of the way — from helping to navigate your insurance coverage to discreetly shipping your child's orders on time every time.
We also offer free samples, free shipping, easy reordering options, and lots of online resources for you as a parent or caregiver of a child who needs to use catheters.

Ready to Join the Kids Club?
Don't miss out on an opportunity to make your child's journey with self-catheterization easier.
Join our completely free program today by contacting us online or calling us toll-free at
877-688-2729. Just mention you'd like to join the Kids Club, and you'll receive a 180 Medical Kids Club drawstring backpack, an "Ethan Can Cath!" or "Emma Can Cath!" book, and a few additional fun surprises. Available only in the U.S.
Learn More About Catheters for Children
180 Medical offers one of the widest varieties of catheter supplies available from all brands and types in pediatric sizes.
If you'd like to request free pediatric catheter samples or talk to one of our friendly specialists, just reach out to us. We're ready to help take your worries off your plate and make the process of getting your child's catheter supplies easier.
Request Free Samples