On August 1st, 2014, we proudly announced the 2014 recipients of our annual college scholarship program. As the fall semester begins, we're shining a spotlight on each one of our winners on the 180 Medical blog. Today, meet 2014 180 Medical Scholarship recipient, Danielle.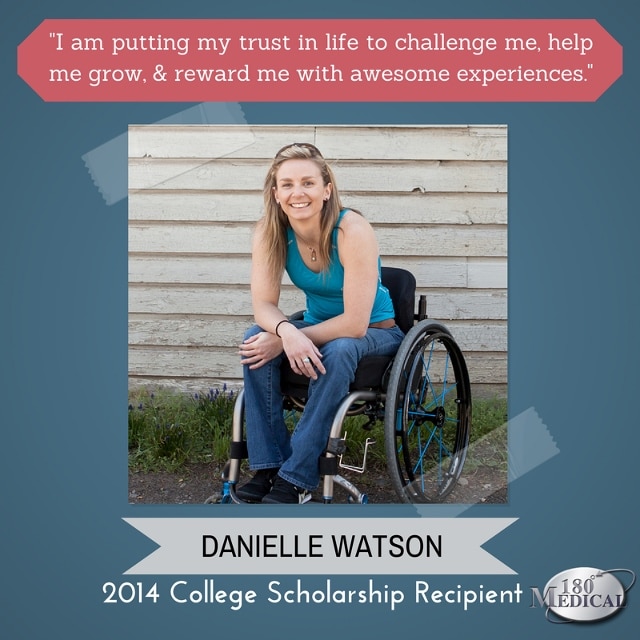 Meet 2014 180 Medical Scholarship Recipient Danielle
In the summer of 2011, Danielle fell 300 feet in a rock-climbing accident, breaking her back at and leaving her paralyzed.
Despite the long rehabilitation process in the hospital and multiple surgeries that followed this grueling ordeal, when her surgeon told her that she had "survived the unsurvivable," she decided to honor every moment. The realization that she was still alive helped her to keep her outlook positive, despite the hard process of adapting to life in a wheelchair.
Since that time, she has gone back to school, maintaining a 4.0 GPA and an Honors student standing. She currently volunteers at Volunteers in Medicine and Oregon Adaptive Sports. Also, she continues to travel for inspirational speaking engagements. She stays active with many hobbies, including mono-skiing with Oregon Adaptive Sports, mountain biking and ski camps at Adaptive Sports Center, and art. Plus, she has completed 3 half-marathons, one marathon, and a triathlon.
What's Ahead for Danielle?
This fall, Danielle is attending the University of Puget Sound to pursue a career in Occupational Therapy. She hopes to use her experiences to help others in similar situations.
Meanwhile, Danielle continues to demonstrate an unbreakable spirit and a drive to keep staying active, no matter the circumstance.
About Our Scholarship for Students with Spinal Cord Injuries
Our scholarship program was created to help college students with spinal cord injury, spina bifida, transverse myelitis, and/or a neurogenic bladder. Paying for college isn't easy these days. Plus, aspiring students who live with these conditions often encounter extra financial difficulties.
To learn more about 180 Medical's College Scholarship program, visit https://www.180medical.com/Scholarships.