Many physical disabilities can impact aspects of day-to-day living. 180 Medical serves customers of diverse backgrounds and varying needs. Our mission is to provide products that can help turn lives around while providing resources to empower those going through life changes and challenges. One such resource is the Challenged Athletes Foundation.
What is the Challenged Athletes Foundation?
Since its founding in 1994, the Challenged Athletes Foundation (CAF) has grown from supporting a single athlete after a life-altering accident to a whole community of people with diverse stories. The mission of the Challenged Athletes Foundation is to help people find sports after challenging life events.
This foundation has enabled many to pursue their passions or discover new ones, despite any physical challenges. Their mission continues through the foundation's grant program.
About the Challenged Athletes Foundation Grants Program
Seasoned athletes, as well as people new to adaptive sports, have found assistance fulfilling their passions through Challenged Athletes Foundation Adaptive Sports Grants.
Visit the Challenged Athletes Foundation Grants Program. There, you can find more details on applying for one of their available grants. The application period is from October 1st through November 30th each year.
Below, Travis Ricks, Director of Programs, and Jayme Jarvis, Programs Manager, explain the CAF Grants Program.
Applications will be open from October 1st through November 30th each year.
How do the Challenged Athletes Foundation grants work?
Challenged Athletes Foundation grants assist individuals with permanent physical disabilities to purchase specialized adaptive sports equipment, such as sports wheelchairs, handcycles, and mono-skis. This kind of equipment can be costly, and many insurance policies do not cover the cost. By removing some or all of the expense of this essential equipment, the foundation hopes to ensure athletes from all backgrounds and needs receive the equipment they need.
Additionally, the Challenged Athletes Foundation provides grants with their Operation Rebound Grant Program. This program offers assistance to help members of the U.S. Armed Forces, including active military personnel and veterans, as well as first responders (police, federal law enforcement officers, firefighters, and paramedics) who live with disabilities.
Operation Rebound grants cover the same types of supplies and equipment. The application period is open year-round.
Are you or a loved one considering pursuing adaptive sports? If so, the Challenged Athletes Foundation's various resources may help you find new opportunities.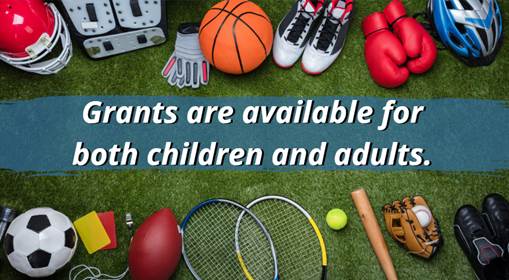 The Challenged Athletes Foundation grants are not just for professional athletes.
In addition to the CAF's grant program, they also provide resources to help both children and adults who want to live an active lifestyle. They work to establish opportunities for those with physical challenges to engage in sports and volunteer opportunities to build the community.
Whether these sports are for recreation, exercise, or competition, the Challenged Athletes Foundation has many resources to help others reach their goals. From a cycling club to jogging groups, the CAF offers plenty of activities at any time.
In addition, check out their online event calendar for upcoming virtual and live programs. The CAF offers streaming adaptive exercise routines as well as other various group events throughout the year. Check out their YouTube channel for more content, such as yoga courses, inspiring stories, Q&As, and other great videos.
Because the CAF supports athletes at all levels, they have all kinds of assistance options to help get you started. In addition to grants, they also offer mentor plans, camps, and local clinics. Through its mission, the Challenged Athletes Foundation is making a big impact.
Need more information?
180 Medical is committed to our customers, many of whom live with disabilities and chronic medical conditions. We're proud to share more resources and organizations like the Challenged Athletes Foundation, which helps so many people with disabilities.
If you have a physical disability and want to get involved in adaptive sports, check out the Challenged Athletes Foundation. Also, you can read testimonials, make an impact by donating or fundraising, and participate in in-person or virtual events across the country.