Today's HR employee spotlight is 180 Medical's very own Director of Human Resources. Angie joined the 180 Medical family about a year and a half ago, and there hasn't been a dull moment since! She keeps quarterly meetings lively and is always the first to bust a move. Angie is always on the go, but I had an opportunity to ask her a few questions so we could all get to know her a little better.
What's an average day in the life for you as HR Director?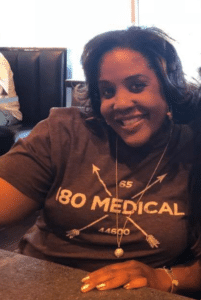 I serve as the lead administrator for Human Resources for the companies in the 180 family. This includes assisting employees with various employee matters, reviewing and creating policies, and developing employee engagement opportunities.
What do you enjoy most about your job?
I enjoy interacting with employees and finding new and innovative ways to enhance their employment experience at 180 Medical.
What is the best part of working at 180 Medical for you?
The best part is the culture and the true family feel of this company.  We work hard, and we play hard, which shows up as world-class service for our customers.
What is a favorite 180 Medical tradition here?
Quarterly meetings. It is the one time during the quarter that we all have the opportunity to get together and celebrate our successes for the quarter. I always leave that event energized and excited about who we are.

What advice would you have for someone who was considering applying for a job with 180 Medical?
I would advise them to take a look at our website to get a good idea of who we are and then ask themselves if they have true compassion for assisting others, want to work in a positive environment, and want to work for a company that invests in their employees. If so, then this might be the right place for you!
What are a few words that describe 180 Medical?
Best Place to Work!
Tell us a bit about your life outside of work.
Outside of work, I spend time volunteering in my community. I enjoy spending time and investing in the lives of young people. I have founded an organization, Diamond Daughters, that addresses the needs of young girls and encourages them to be successful in everything they do. I also love to travel. I am a true foodie, and I love finding exotic places with wonderful food.
Thank you, Angie, for all that you do each day to help make 180 Medical such an awesome place to work!