Here at 180 Medical, we always want to make sure that our customers know all they can about the catheter supplies we carry and the products they use. Today, we're excited to announce a new change for LoFric brand catheters by Wellspect Healthcare. Learn more about LoFric catheters with POBE in today's post!
LoFric Catheters Now Made With DEHP-Free POBE
In July of 2013, we received some news from Wellspect Healthcare. They have updated the material of all their LoFric line of catheters.
Request Free Samples
Due to increasing concerns about plastic softeners and phthalates like DEHP, LoFric catheters are now made of POBE. POBE, which is an abbreviation of polyolefin-based elastomer, is free of DEHP, PVC (polyvinyl chloride), plastic softeners, and latex.
POBE is already widely utilized in a multitude of safety-proven medical devices, which speaks to the safety and reliability of this material.
Benefits of Using LoFric Catheters with POBE
One primary benefit of using LoFric catheters with POBE is overall comfort. According to a study in 2013, catheter users used both PVC and PVC-free POBE catheters. This study concluded that using PVC-free LoFric catheters resulted in a more comfortable catheterization.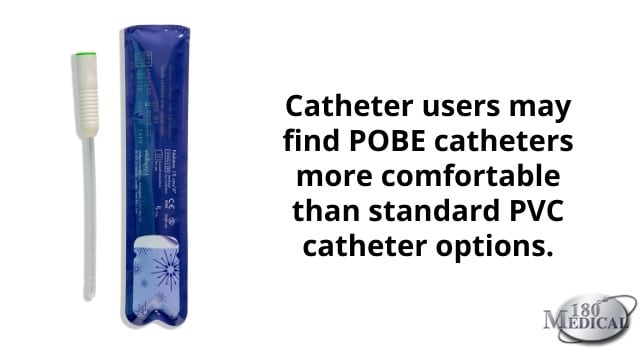 Additionally, many people today now have concerns about plasticizers like DEHP in vinyl catheters. DEHP is often a component in certain vinyl catheter options, and it may be related to health conditions, such as the development of cancer or reproductive issues.
Using a catheter made with POBE rather than PVC can be a great option if you have concerns about using catheters with DEHP.
180 Medical carries plenty of catheter options, including catheters without DEHP. In addition to LoFric hydrophilic catheter products, check out our other DEHP-free catheter options on our online catheter showcase.
What Else Has Changed About LoFric Catheters?
So you may be wondering, has anything else changed about LoFric catheters? Not at this time.
LoFric only changed the catheter material from PVC to POBE. What does this mean for you? You can count on the same high quality from Wellspect catheters as well as the same packaging. Plus, each catheter still has that special hydrophilic coating with Urotonic™ Surface Technology, which helps reduce friction inside the urethra.
Now with POBE, you can count on LoFric for an even more comfortable catheterization.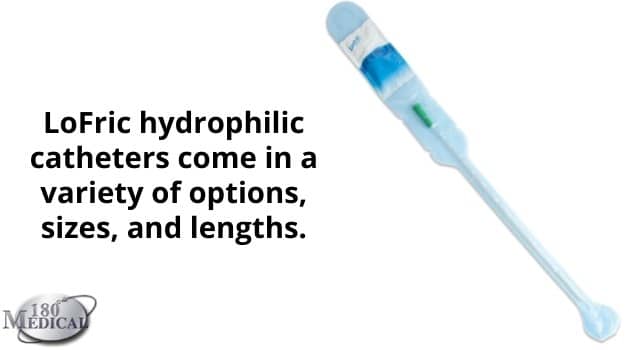 Which Catheters Are Available with POBE?
Now, all of Wellspect Healthcare's catheter supplies are composed of POBE. That means the entire line of LoFric catheters, which are available at 180 Medical, are made with POBE.
This includes their pediatric catheters, female length catheters, male length catheters, and coudé tip catheter options.
Here are just a few of the many LoFric catheters with POBE available at 180 Medical right now:
Request Free Samples
Where Can I Find Insurance-Covered LoFric Catheters?
180 Medical has specialized in providing catheter supplies for nearly 20 years. We are passionate about helping each one of our customers find just the right catheter for their unique needs.
If you're wondering if your health insurance plan covers hydrophilic catheters, 180 Medical can help.
Our specialists can verify your insurance coverage and help you navigate your benefits as well as your doctor's prescription, and we'll help you put together a customized order, which could include Lofric hydrophilic catheter supplies.
Ready to get started? Contact us now! Our Catheter Specialists will be glad to help you.