At 180 Medical, we love providing you with the newest and highest-quality catheter supplies. We also regularly inform you any time new products become available. Have you heard about the new BD hydrophilic catheters?
BD (Becton, Dickinson, and Company) has developed a new line of Ready-to-Use Hydrophilic Catheters. Keep reading to learn more about these new catheters.
All About BD Ready-to-Use Hydrophilic Catheters
BD Ready-to-Use Catheters feature a PVP hydrophilic coating that is slippery smooth for a comfortable catheterization. But you might be wondering if it's a hydrophilic catheter, how is it ready to use? Don't most hydrophilic catheters require activation by a water solution or an included packet?
These convenient, travel-ready hydrophilic catheters are pre-activated in a water solution inside their foil packaging. You'll never have to worry about carrying additional catheter lubricant packets. Your catheter is ready to use as soon as you're ready to cath.
Also, each catheter, no matter the length, comes with its own insertion aid, which is a plastic sleeve you can use for a no-touch catheterization.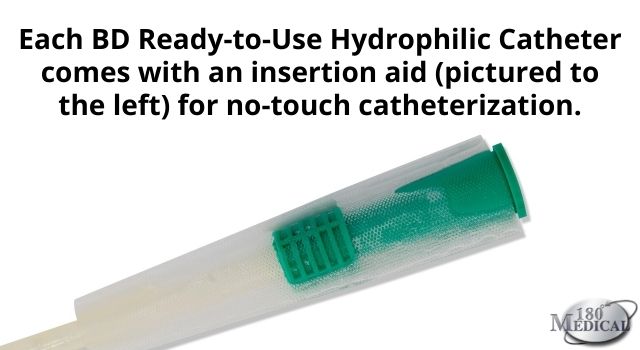 BD Ready-to-Use Hydrophilic Catheters' Features
Here are some more great features of the BD TRU catheters you should know.
Pre-hydrated, ready-to-use hydrophilic catheter
Available in male, female, and pediatric lengths and sizes
Straight or coudé tip available in male length
Package includes adhesive hanging sticker
Color-coded funnel for easy French size identification
Heat-polished drainage eyelets
Not made with BPA, phthalates, DEHP, or natural rubber latex
Includes insertion aid sleeve for no-touch insertion, including female and pediatric sizes
Easy-open foil packaging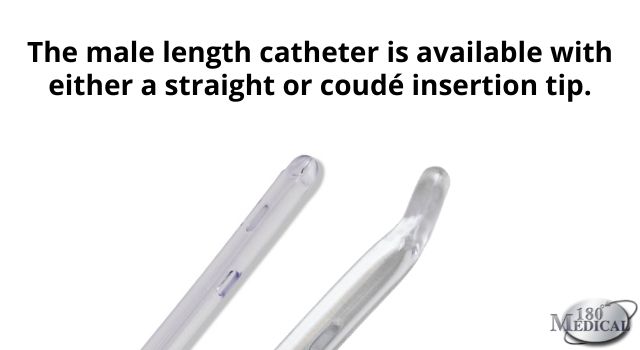 BD Ready-to-Use Hydrophilic Catheter Lengths
The new BD Ready-to-Use Hydrophilic Catheters are available in all lengths to suit men, women, and children. If you need a male length or female length hydrophilic catheter, BD offers options with a straight insertion tip.
The male length BD hydrophilic catheters are 16 inches long, while the BD female length hydrophilic catheters are 7.5 inches long.

male length coudé catheter
option for users who have difficulty passing straight catheters. The coudé tip is tapered, which may help the catheter get through difficult passages in the urethra, whether due to an enlarged prostate, urethral strictures, or other obstructions.
pediatric hydrophilic catheter
option as well.
180 Medical is proud to offer BD RTU Hydrophilic Catheters, along with many other high-quality catheter brands and types.
BD Hydrophilic Catheter Product Numbers and Sizes
Take a look at the below chart, which includes product numbers, lengths, and available French sizes.
BD Male Hydrophilic Catheters