There's a seemingly endless variety of brands and types of ostomy supplies on the market, including ostomy wafers. While it's great that so many options are available, it can be confusing to navigate your options. Plus, you might wonder which products are right for your individual needs.
180 Medical and our team of Ostomy Specialists can help. Let's break down one of the most essential parts of any ostomy pouching system: ostomy wafers, also known as skin barriers. You might be surprised that the right type and fit of your ostomy skin barrier can make all the difference in your ostomy experience.
What Is an Ostomy Wafer?
First, let's talk about what ostomy wafers, or skin barriers, are. The wafer typically features a skin-safe adhesive to attach to the skin on one side, while the other side is attached to the ostomy pouch. This allows output from the stoma to collect in the pouch without touching and irritating the skin.
It's important to get the right fit and type of ostomy skin barrier to reduce the risk of ostomy leakage, peristomal skin irritation, and more.
Should I Use One-Piece or Two-Piece Ostomy Pouching System?
Ostomy pouching systems are offered in two main options: a one-piece system or a two-piece system. In a one-piece system, the wafer and ostomy pouch are combined into one attached piece. These are great for people who don't have to change their pouches as often. For instance, someone with a urostomy may find they don't have to change out their pouch as often because they can simply drain their pouch throughout the day.
In a two-piece ostomy pouching system, the wafer and pouch come separately, which allows for quicker changing of your ostomy pouch. It's often an easier system of choice for those with a colostomy or ileostomy, particularly those who prefer closed pouches versus drainable. Also, many people who change their ostomy pouches out more frequently may prefer a two-piece ostomy system because it can help reduce the wear and tear on the skin.
What Ostomy Wafer Types Are Available?
Because stoma sizes and shapes, as well as needs and preferences, vary from person to person, manufacturers offer a wide variety of sizes and types of ostomy skin barriers.
Below are the three main types of ostomy wafers available on the market these days.
Pre-Cut Ostomy Wafers
Pre-cut skin barriers are ideal for ostomates with uniform, circular stomas. If you can use a pre-cut skin barrier without the need for cutting or alterations, pre-cut wafers could be a great solution for your needs. However, not everyone's stoma is a common size or shape.
Cut-to-Fit or Trim-to-Fit Ostomy Skin Barriers
Most people have an irregular stoma shape or size. For these ostomates, a cuttable skin barrier option may work best.
Cut-to-fit wafers come with varying sizes and shapes printed on them. These rings serve as guides, which help you cut your own opening to fit your individual stoma. This is especially great for ostomates who may be in between common sizes or those who have an irregular stoma shape.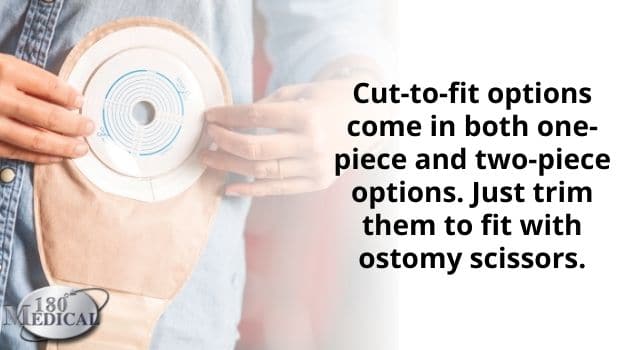 Skin Barriers with Moldable Technology™
Moldable Technology™ is the newest and most convenient option available. Moldable ostomy wafers provide the same benefits of customization as cut-to-fit wafers. However, it offers a few additional conveniences. For example, you can mold the shape to create a fully personalized fit around your stoma without scissors.
Skin wafers featuring Moldable Technology™ are made out of a flexible, skin-friendly material. All you have to do to get a custom fit is roll the material back with your thumbs or fingers.
After the wafer, or skin barrier, is molded to the right shape and size, you can place it on the skin around the stoma. Then the material will turtleneck back around the stoma to provide maximum comfort while also helping to prevent ostomy leakage issues.
If you're interested in trying out ostomy supplies with Moldable Technology™, contact 180 Medical. We're ready to help you!
What's the Difference Between Flat and Convex Skin Barriers?
There's another key aspect of wafers to know. Will you need a flat skin barrier or a convex skin barrier option?
Every individual with an ostomy has their own unique stoma. This means the size and shape can be different. Plus, ostomates may find differences in the length of their stoma's protrusion. While some people may have a significant protrusion from the skin, others might have a stoma that lays flat with the skin or even retreats a little bit into their body.
Flat Wafers
If your stoma protrudes at least a quarter-inch or more, your best option will probably be a flat ostomy wafer.
Flat wafers are very flexible in order to accommodate the contours of one's body. These typically work well for many ostomates.
However, if you have a stoma that's flat or retracts into the skin, effluent may leak underneath the wafer. This can cause skin irritation, leakage issues, and more.
Convex Skin Barriers
If your stoma protrudes less than a quarter-inch from your skin, you may want to try another option, such as convex wafers.
Also, if your stoma lays flat or retracts inwards, your best option will be a convex wafer too.
Convex wafers, while not as flexible as flat wafers, position the stoma in the bowl-shaped center. In other words, this creates a protrusion around the stoma. This helps your stoma drain cleanly and efficiently into your ostomy pouch without leakage.
Where to Buy Ostomy Supplies Online
180 Medical is your go-to for ostomy product questions as well as getting the best possible ostomy supplies delivered to your home.
Contact us today to try out some free samples or talk to one of our highly-trained Ostomy Specialists during our business hours. We'll be happy to help you find the right ostomy products for your individual needs and preferences.