Convatec Products
---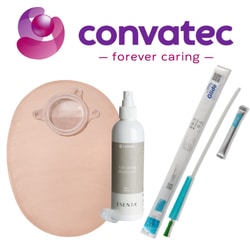 180 Medical proudly carries Convatec products, some of the best-quality intermittent catheters, and ostomy supplies available today. As one of the leading global developers of innovative medical supplies and technologies, Convatec aims to help improve the lives of people with chronic medical conditions.
Ready to get the supplies you need with friendly, reliable service? Contact 180 Medical! Our goal is to help you find the products that feel and work best for you while making the whole process as easy and stress-free as possible.
What Customers Are Saying About 180 Medical:

Convatec GentleCath Catheter Products
GentleCath catheters are high-quality intermittent catheter products. These catheters are designed to address the needs of actual catheter users. For example, GentleCath features elongated polished catheter eyelets, which not only help optimize drainage but also may help reduce friction inside the urethra.
GentleCath catheters are available in a wide range of French sizes, lengths, and insertion tips (straight or coudé). Also, whether you prefer a standard uncoated catheter or want a closed system catheter for hygiene or travel, you can find a GentleCath catheter type to suit any need.
Here are just a few of the many high-quality products we carry at 180 Medical:
GentleCath Glide™ Hydrophilic Catheters
GentleCath Glide™ Catheters, available in a wide range of french sizes as well as male and female lengths, are worth talking about by themselves. These hydrophilic catheters instantly activate with water to become fully lubricated.
All GentleCath Glide™ catheters are made with FeelClean™ Technology, which helps make catheterization quick, clean, less messy, and more comfortable. Plus, the included No-Touch guide sleeve makes handling and insertion easier while also helping to reduce the risk of contamination from hands.
Contact us today
to find out more. 180 Medical offers insurance-covered options from all the leading brands.
Ileostomy, Colostomy, and Urostomy Supplies
From high-quality, discreet ostomy pouching systems to skin-friendly ostomy accessories, 180 Medical has what you need.
Take a look below to see some of the many options available at 180 Medical.

Convatec Moldable Technology™ Ostomy Supplies
Do you ever have difficulty trimming your ostomy barriers with scissors? Are you tired of never getting quite the right fit?
Moldable Technology™ could be the answer!
Urostomy, ileostomy, and colostomy supplies with Moldable Technology™ provide a truly customized fit with a secure seal. You never have to use scissors or try to measure your stoma. Simply use your thumbs or fingers to gently mold the material to fit your unique stoma.
Concerned about ostomy leakage? The patented Leak-Lock™ system swells when in contact with liquids from stoma output, which helps reduce the risk of leakage and resultant skin irritation and breakdown.
Request Free Ostomy Samples
Why Get Your Catheter and Ostomy Supplies from 180 Medical?
We recognize there are plenty of other companies out there that provide similar supplies. But when you reach out to 180 Medical, you truly see the difference.
180 Medical offers truly personalized, friendly service from trained experts. We never treat the people who need us as just another number. When you're part of the 180 Medical community, you're family.

Additionally, our team members are insurance and product experts who undergo rigorous training to earn the title of specialist. When you call 180 Medical, you can rest easy knowing that you're talking with someone who knows our products inside and out and really wants to help you.
180 Medical Offers:
High-Quality Catheters & Ostomy Supplies

Free Samples

Compassionate Support & Reliable Service

Free Nationwide Shipping & Discreet Delivery

Easy Re-ordering Process
We encourage you to contact us for your catheter and/or ostomy needs. We're ready to help you find the products that can turn your life around.