Are hydrophilic catheters easy to use?
Yes! Hydrophilic catheters are designed to be easy to use.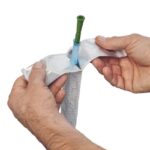 Some hydrophilic catheters are ready to use, while others may require a quick application of water (usually from an included packet of sterile water inside the package). This application may require a short period of soaking to fully activate its hydrophilic lubrication properties.
Once activated, hydrophilic catheters can offer a smooth, comfortable, low-friction catheterization.
Request Samples
Learn More
Disclaimer: This content is not intended to substitute for professional medical advice, diagnosis, or treatment. Please do not use it in place of a visit or consultation with a qualified healthcare provider.
Was this article helpful?